Fashion designer Minh Chau will introduce his latest ao dai (Vietnamese traditional dress) collections at Diamond Place next week.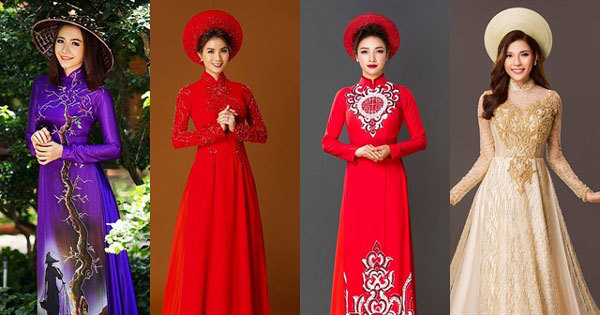 Famous cinema and theatre actresses in HCM City wear designs from new ao dai collections by fashion designer Minh Chau. Photo courtesy of the designer
The show features 60 designs from two collections, Bức Thư Tình Số 1 (The First Love Letter) and Ánh Sáng Phương Đông (Oriental Light).
Bức Thư Tình Số 1 includes ao dai with colours red, white, metallic silver and golden yellow, which are often used in wedding ceremonies.
The ao dai in the Ánh Sáng Phương Đông collection are designed for middle-aged women.
Both collections are for men and women and made from traditional silk, satin and velvet.
Chau invited famous film and theatre artists, including People's Artist Hong Van, young actresses Le Be La and Kha Ly, to wear his clothes on the catwalk.
"Famous theatre and film artists will perform on the catwalk along with fashion models in my show. I believe these artists will introduce ao dai in a different way to my customers, who are students and workers," said Chau.
Chau began his design career in 2009 after more than 10 years working in make-up.
In April he attended the Vietnam Aquafina International Fashion Week 2019 at the Nguyen Du Gymnasium.
Chau spent three months on his collections Bức Thư Tình Số 1 and Ánh Sáng Phương Đông.

His show will open at 8pm on July 30 at 15A Ho Van Hue Street in Phu Nhuan District.
VNS