A group of young Mong people in Hanoi will perform a Mong folk song with a new arrangement at the Our Music project review on December 27.
The project is being carried out by the Action for Hmong Development (AHD) team from March to December with funding from the British Council's Film, Archive and Music Lab Fund.
The project has recorded about 100 pieces and folk songs by travelling to largely ethnic Mong provinces in northern Vietnam like Dien Bien, Ha Giang, Yen Bai, Lao Cai and Son La.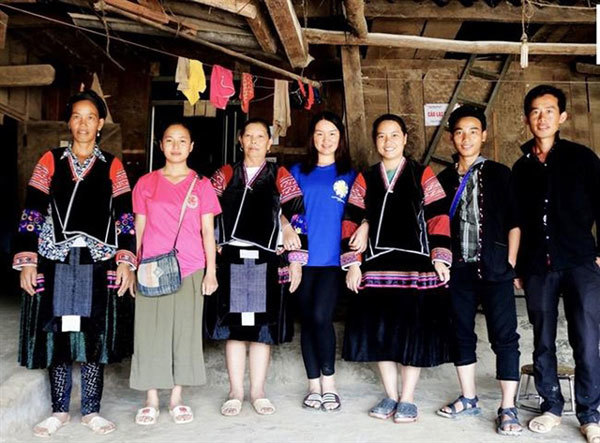 Giang A Be (second from right) and Action for Hmong Development members at Xinh Phinh Commune, Tua Chua District in Dien Bien Province.

The team members talked with local people and filmed them singing the folk songs and music which are performed in daily life and on festive occasions.
Established in 2015 by a group of Mong youths who have been studying in Hanoi with the support of the Institute for Studies of Society, Economy and Environment, the team aims to popularise not only Mong culture but also other ethnic groups, according to Giang A Be of the project.
"At present, young Mong people like to listen to songs composed by Mong musicians in Laos, Thailand and the US," says Be. "But there are no songs that are composed based on Vietnamese Mong folk songs."
Born in Yen Bai Province, a new graduate from Hanoi Culture College's Ethnic Culture Department, Be is the project's communicator.
He thinks young people need to be more aware of their role in preserving cultural values so that they are not lost.
With Our Music project, the team have run field trips to work with master singers/musicians such as Ly Thi Cho in Ha Giang; Thao Can Sua in Yen Bai, Giang Seo Ga in Lao Cai and Hang Giong Chang in Dien Bien.
The team met Cho by chance when they booked a homestay in Ha Giang run by her nephew.
Master singer Ly Thi Cho in Dong Van District, Ha Giang Province will come to Hanoi to talk and sing at the Our Music project review on December 27. Photos coutersy of Action for Hmong Development

Cho used to teach Mong language to Kinh people, or Viet ethnic majority group, who worked in the province. She is also late writer To Hoai's adopted daughter. The writer's Dế Mèn Phiêu Lưu Ký (Diary of a Cricket) is regarded as a classic children's novel and has been published in 40 countries.
"I was surprised by the project carried out by Action for Hmong Development because not many Mong young people want to sing folk songs," Cho says.
She doesn't remember when she first started singing, but can recall her father singing while they were harvesting and doing homework. And naturally Cho learned the tunes by heart.
The 67-year old musician also plays the nhị (two-chord fiddle) instrument.
With the lyrics, Mong people form a system of musical instruments to express affection and connect with each other such as khèn (pan-pie), nhị, and đàn môi (jew harp).
Mong folk songs are extremely rich and feature a variety of topics such as migration, becoming a daughter-in-law, love and brotherhood. The songs are taught by a mother to her children, according to Cho.
Schools in Dong Van District have invited her to teach folk songs to students, but few of them have the voice to hit the high notes in folk songs, she says.
"The project is great to preserve Mong culture. I'm worried that if master singers/musicians including me pass away, folk songs will fade away," says Cho.
Recently, she received a certificate from Yen Bai Province for her contributions to preserving and developing folk music.
She was excited to come to Hanoi at the invitation of the team to talk about Mong folk music and sing at the project review.
However, the team didn't always find master singers easily. Before the field trips, the team had to contact local singers through friends and acquaintances.
It was difficult for the team to find a master in Mu Cang Chai District in Yen Bai because they don't have contacts there, though the team still wants to there as 90 per cent of the population are Mong ethnicity.
Also very accidentally, they met a former military performer in the district who took them to master musician Thao Can Sua, who knows a lot about Mong folk music and Mong culture as well.
"Sua knows to blow khèn (pan-pipe) and make the instrument," Be says.
"He is also knowledgeable about other Mong groups in Son La, Yen Bai and in other countries such as Laos and Thailand. He provided us with a lot of valuable information which helped us compile a book on Mong folk music."
Young Mong people are more exposed than ever to new music from across the world, so a fresh take on traditional tunes is needed to draw attention.
While finding competent Mong musicians can be tough, it's essential, according to Be.
"Only Mong musicians can profoundly understand the songs," says Be.
"Plus, our target is young Mong people. So we want to invite Mong musicians who not only know Mong music but also know the music tastes of young Mong people and what they like."
Sung Ba Sai from Son La Province was invited to join the project. He listened to the master singers singing through video clips and wrote the musical notes on paper.
He chose six songs to remix.
"To lure young Mong people to folk songs, I use traditional and modern instruments such as nhị, bamboo flute, piano, guitar and violin to remix the songs," says Sai.
"At present, Mong music is known by other ethnic groups such as Tay, Thai and Kho Mu. I hope that through this project, the songs will enthrall young Mong ethnics and other ethnic groups and they will sing them," Sai says.
At the project review, the AHD will also release a book on Mong folk music, including the songs and information on Mong music.
The Our Music project is expected to contribute to preserving the artistic values of ethnic Mong people in modern society.
New experiments and creativity with folk music help young Mong people show the value of Mong folk music, making the treasure come alive, rich in identity and uniqueness. VNS
Nguyen Binh

A series of cultural activities are taking place at the Vietnam National Village for Ethnic Culture and Tourism throughout this month featuring the unique cultures of ethnic groups across the country.

Ly Thai To square in downtown Hanoi will play host to a festival which honours Mong ethnic cultural values on May 18-19.