Four young Vietnamese tennis players have earned a slot to compete in the main round of the boy's singles event at the ongoing PTT - ITF Junior Grade tournament which is currently underway in Nonthaburi, Thailand.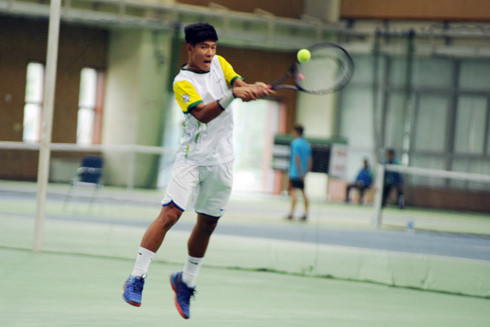 Vietnamese tennis player Tat Thai Nguyen (Photo: VTF)
Ranked number 1170 in the junior world rankings, Vu Ha Minh was able to proceed straight into the main round while four other Vietnamese players, Tat Thai Nguyen, Tu Le Khanh Duy, Tran Quang Truong, and Vu Long Kacper, were forced to take part in a qualification round.
Thai Nguyen, Quang Truong, and Khanh Duy all emerged victorious and will progress to the main round taking place on June 24.
Elsewhere, Duy lost out to a Chinese opponent while Minh Duc suffered a defeat by a rival from host-nation Thailand. 
Fortunately, Nguyen and Truong were able to enjoy a successful day after recording wins over Huang Boyao of China and Kittin Aeb Iem of Thailand, respectively, with both scores finishing 2-0. 
Nguyen will next play against number seven seed Hanchaikul of Thailand while Truong will face off against number 11 seed Inagawa of Japan in the second round. VOV