Thousands of people in HCM City and the Mekong River Delta region have been captivated by new theatre shows and TV programmes featuring cai luong (reformed opera), a 100-year-old traditional music genre of the south.
 Despite the challenges of revenue growth in the industry, young producers are making their mark and leading a new generation of artists who are inspiring audiences. Thu Anh reports.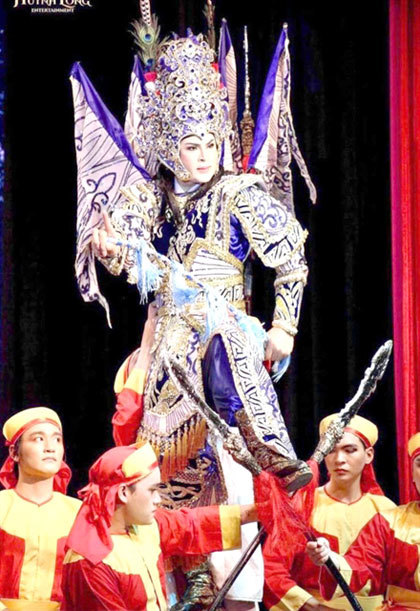 Huynh Long Theatre, founded in 2018, is known for its performances of cai luong and tuong which focus on historical events. Photo courtesy of the producer
In recent years, young producers in the theatre business have overcome serious challenges and proven their ability to produce quality shows about Vietnamese culture that both entertain and inform.
Gia Bao, who grew up in a traditional artistic family in HCM City, began his career as a theatre director and producer after more than 10 years working as a comedic artist. 
His first three-act comedy, Sui Gia Đại Chiến (Big Fight with My In-Laws), depicting social changes in Vietnamese families today, was a hit when it was released in 2012.
The play features two theatre styles of Vietnamese drama and cai luong. It attracted nearly 7,000 people in HCM City the first two weeks after its release.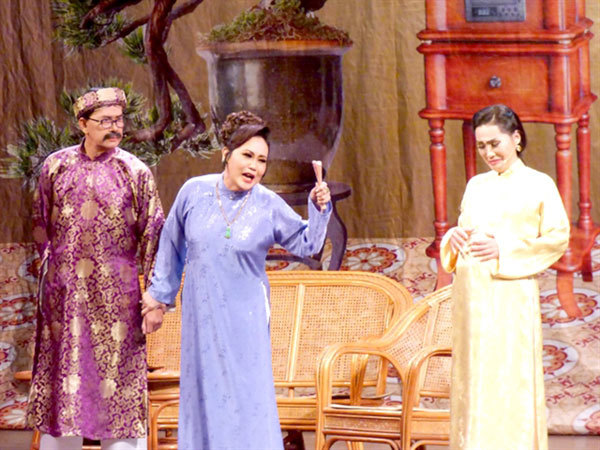 Actors perform in Tài Danh Đất Việt (Vietnamese Gurus of Cai Luong), a long-term project offering shows of vong co (nostalgic tunes), cai luong and tuong or hat boi (classical drama), produced by Gia Bao. Photo courtesy of the producer
Bao's long-term project, called Tài Danh Đất Việt (Vietnamese Gurus of Cai Luong), was launched last year and has attracted dozens of veteran actors and young talents.  
The project includes performances and shows of vọng cổ (nostalgic tunes), cải lương, and tuồng or hát bội (classical drama), traditional theatre genres in the southern and central regions.  
Its highlighted shows include the famous play Lan và Điệp (Love Story of Lan and Diep), a production about Vietnamese women living in the feudal society in the south by well-known scriptwriter Tran Huu Trang. 
Bao worked with Meritorious Artist Thanh Dien to restage Lan và Điệp in a new version 82 years after its premiere in Sai Gon (now HCM City). 
His 90-minute version, released in March, is a mix of cai luong and bolero, a type of slow-tempo Latin music. 
"Even though our new version is targeted to young audiences, we offer cai luong in a traditional style," said the 33-year-old, who spent several hundred million dong on production.
"Every show from the project Tài Danh Đất Việt offers tickets at only VND100,000 (US$4.5) because I want to encourage students and young workers to learn more about Vietnamese history and culture through traditional theatre," said Bao.
Many of Bao's older colleagues have affectionately described him as a "monster" as he directs them during staging and takes part in marketing and sales.
With the project's success, Bao was added to the list of blockbuster producers together with talented directors Thanh Loc and his grandfather, Meritorious Artist Bao Quoc. 
Bao has organised a mini live show, called Tài Danh Đất Việt-Đêm Tôn Vinh (Vietnamese artists of cai luong – Night of the Art), featuring cai luong star Hong Nga, who has 40 years of experience in theatre, in HCM City. 
The event featured extracts from historical plays in the 1970s and 1980s that made Nga famous. 
"Nga is a guru of cai luong. I hope her art will help fans, particularly youth, understand why and how cai luong is the spirit of the Vietnamese people," said Bao.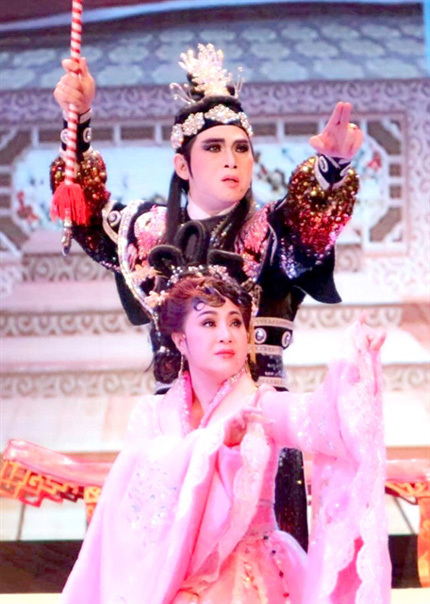 Theatre producer Gia Bao's cai luong shows feature dozens of veteran actors and young talents. Photo courtesy of the producer
Another talented producer is Binh Tinh of the privately owned Huynh Long Theatre. 
Huynh Long Theatre, founded in 2018, is known for its performances of cai luong and tuong which focus on historical events. 
Many audiences have focused on Huynh Long actors but have also been interested in the woman behind the shows, the female actress, director and producer Tinh. 
Last Sunday, about 150 people, including fans from Dong Nai, Ba Ria-Vung Tau and Binh Duong provinces, cried and laughed as they watched Tinh and her actors at the theatre's location at 144 Dinh Tien Hoang Street in Binh Thanh District.
The artists performed Mặt Trời Đêm Thế Kỷ (Sun after the Long Night), a new historical play written and directed by veteran actress Bach Mai, the troupe's owner. 
Though the play is about patriotism and loyalty, actors introduced new concepts for tuong.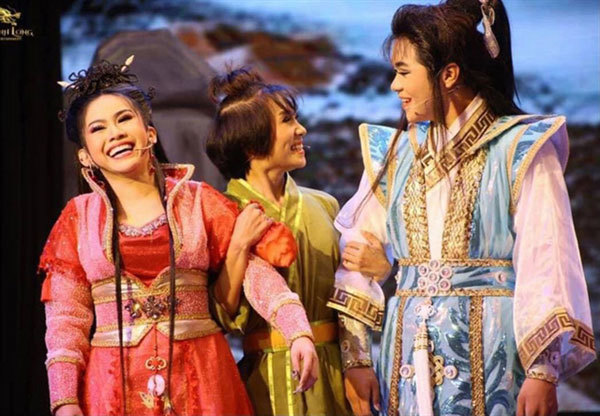 Actress and director-producer Binh Tinh (left) and actors of the Huynh Long Theatre. Photo courtesy of the producer
"Passion for work is not enough for young artists to overcome difficulties in the theatre industry. You should be dynamic and energetic, and be prepared for failure at any time," said Tinh, winner of the Chuông Vàng Vọng Cổ (Golden Bell) Award 2016, a national cai luong contest presented annually by HCM Television.
"Our plays feature very old stories but will be staged in a new style of tuong, which originated in the 12th century, to meet the demands of young people."
Her latest play, San Hà-Xã Tắc (The Country and the People), is a historical play written by her mother Bach Mai.
The work's main characters, young farmers, leave their village to devote their life to the country's independence. 
San Hà-Xã Tắc attracted more than 300 viewers at its debut in the city's Hong Lien Theatre on April 10. 
Director Tinh kept the audience spellbound during and after the performance. 
"A theatre is a channel for dreams. A director should be a mason building his or her own house," said Tinh. "With the increase in the number of cinemas featuring foreign films in the country, our actors have faced difficulty luring fans back to Vietnamese traditional theatre."
Tinh said that Huynh Long Theatre is facing difficulties providing a stable income to its staff of around 30 actors.
 "However, we love to stage traditional theatre and want to preserve it. We have never stopped developing the industry in a professional way," she said. 
VNS

A long-term drama project featuring the traditional music genre of the southern region, cai luong (reformed opera), organised by the Ministry of Culture, Sports and Tourism, is expected to attract young audiences back to the theatre this year.

Binh Tinh, a talented theatre actress of HCM City, will release two videos featuring cai luong (reformed opera) on YouTube this week.