A violinist from Hanoi took third place in the 2019 Viet Nam International Music Competition for Violin and Chamber Music, which saw musicians from South Korea, Japan, China, the US and Russia compete at the Viet Nam National Academy of Music.
Hoang Ho Khanh Van was the highest-placed local contestant. The 22-year-old spoke with Hoang Ho from Việt Nam News about her passion, hard work and success
Vietnam to host Int'l Music Competition for Violin and Chamber Music
First international violin competition to be held in Vietnam
Renowned Russian violinist serves as judge for int'l music contest in Vietnam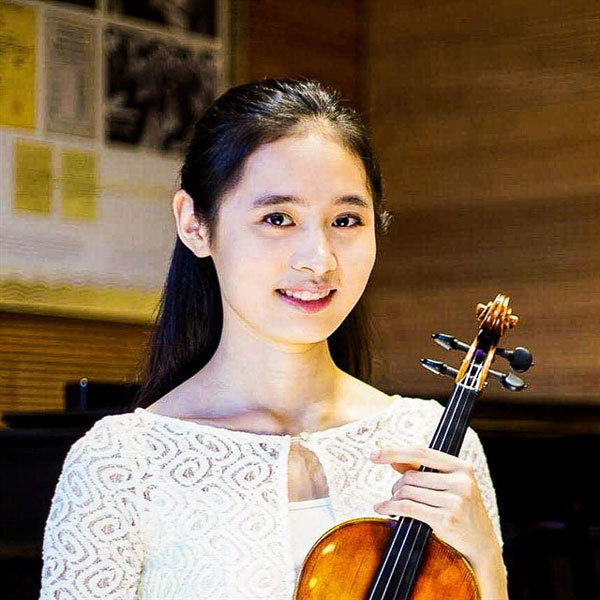 Hoang Ho Khanh Van was the only Vietmanese contestant to win third prize in the Vietnam International Music Competition for Violin and Chamber Music. Judge Xi Chen said Van, 22 years old, has the potential to become a great musical talent.
How did it feel to take part in such a big competition held in Vietnam for the first time?
I was very excited because this is the first time Vietnam has organised such a large competition on a par with famous competitions worldwide. The judges have lots of experience, having previously supervised many prestigious events like the International Tchaikovsky Competition. It also featured a large number of outstanding young artists who have won numerous competitions and performed many concerts around the world.
I saw taking part in this competition as a way to support my country, motivate students to study classical music in Vietnam and prove the ability of young Vietnamese artists to the world.
Apart from national pride, I personally felt more pressure because it was in my home country and more people know me here, but I received lots of love and encouragement which helped motivate me.
How do you prepare for a competition of this magnitude?
I knew about the competition a year ago, so I selected some of the compositions that I had studied before. In the first round, I played Bach's Solo Sonata in a Minor (Grave and Fuga), Paganini's Caprice No.24 and Mozart's Sonata in Minor K.304. I chose Brahms's Sonata No 3, Kreisler's Caprice Viennois, Dam Linh's The Hawk Song rhapsody and Sarasate's Carmen Fantasy in the second round. In the third round, I played Brahms's violin concerto.
This competition had a special feature in the violin category: all of the contestants had to play The Hawk Song composed by Vietnamese musician Dam Linh. This helped introduce international artists to the treasure trove of Vietnamese music. For me, playing a Vietnamese piece not only increased my national pride but was also an advantage over the other contestants; I understand the spirit of Vietnam's folk music, so learning and performing the song was easier for me.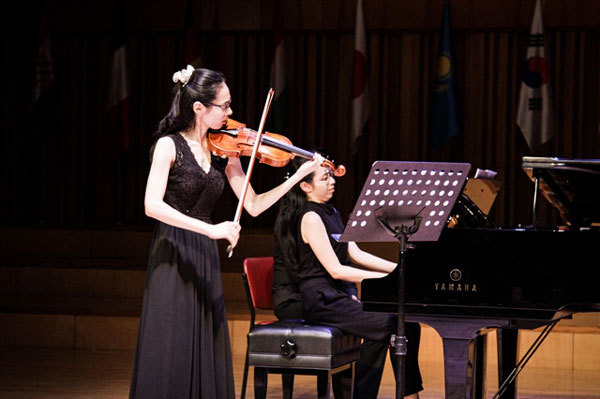 Van (left) performing with older sister Hoang Ho Thu during the competition in Hanoi. VNS Photos Ho Hoang
How important is the support you receive from family, friends and teachers?
During my whole career, the support from my teachers, family and friends has been indispensable. I am fortunate to learn from excellent teachers, who are experienced international performers and have a strong interest in teaching, like my two recent teachers, Bui Cong Duy (in Vietnam) and Vilmos Szabadi (in Hungary). Their mentoring taught me not only music skills but also how to navigate my career path.
Family support is also extremely important. From my first year of university, my parents always stood by my sister and me, listening to every competition and taking care of all our needs. Returning to Vietnam has been a blessing because I can once again receive the care and support of my parents. And it is impossible not to mention my older sister, pianist Hoang Ho Thu, who played two Mozart and Brahms sonatas with me during the competition. She is a sister and also a best friend, a chamber music partner and a "parent", especially when I was at university in Budapest.
What is your mentality like when you compete and how do you prepare for the pressure you will face?
Participating in such a big competition and facing talented contestants from South Korea, China and Russia make me feel quite nervous. Many of them have performed a lot and won many competitions.
Also, the pressure of being Vietnam's last hope was huge since I was the only Vietnamese musician who entered the second round. To relax, I tried not to pay attention to other performances and focus on my pure passion for music.
What I remember most is probably the tight hugs with my sister before I went on stage. At such a big competition, nervousness and fear are unavoidable and hugs help us both by making the experience more personal.
From studying abroad, how do you see the current classical music in comparison with other countries?
After four years studying at Liszt Ferenc Academy of Music in Hungary, I have noticed that in Vietnam more and more people are interested in classical music, especially the younger generation. Classical music is still a new culture for Vietnamese people. This is the difference between Vietnam and western countries: In Europe, people who listen to classical music are usually middle-aged people. With the young audience in Vietnam, we can feel that music is constantly changing, innovating and adapting to audiences. In my opinion, the youthfulness and openness of Vietnam is a good opportunity to spread classical music.
Why are you so passionate about music and what advice would you give to young musicians?
It all happened very naturally. I started learning when I was four and a half years old. My sister and I studied different instruments at the No 10 School of Music in Minsk, Belarus. During that time, I won several prizes in city and national level competitions for young violinists.
After studying at the Vietnam National Academy of Music, I gradually became more serious and fell in love with classical music. At the same time, I gradually realised that my life is meant to be attached to the violin and its subtle, emotional melodies. Studying in Hungary, I realised that even if you have spent your whole life studying, you will always find something new in classical music. I really feel lucky to have fallen in love with a great art.
My only advice is to always love the music you are learning, playing or teaching with all your heart, and keep that love pure and innocent so whenever you play, the audience can feel the music in the most natural way.
What does the future hold for you?
I have received a two-year Masters' degree scholarship at Liszt Ferenc Academy of Music, starting next school year. After that, I will consider a second Masters' somewhere else in Europe to change my perspective and explore a new direction.
After completing my studies, I hope to be able to perform for an orchestra in Europe. However, with classical music in Vietnam moving in a positive direction, I also hope to return to my country to contribute to developing culture and arts education.
VNS