After 18 days of hard work, 40 young people completed a set of murals in Dong Ngac ward, Bac Tu Liem district, Hanoi.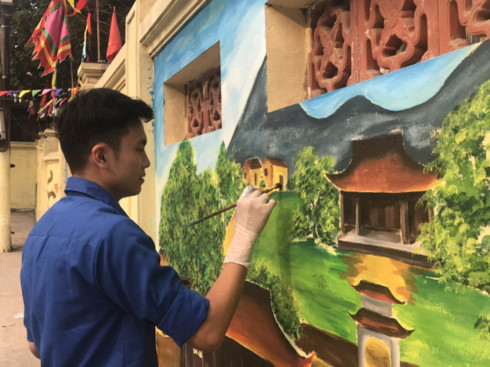 Ngo Trong Nghia is drawing mural a mural on the wall of Dong Ngac's communal house. (Photo: tuoitrethudo.com.vn)
With vivid watercolor paintings depicting characteristic local features, the murals help residents recall the rich past of Dong Ngac.
As a second-year student at Hanoi Architectural University, after his daily studies, Ngo Trong Nghia actively participates in extracurricular activities of Dong Ngac ward's youth union.
As part of the youth movement philosophy to express themselves through a variety of materials and mediums, Nghia took the on role of sketching on mural street in Dong Ngac village.
"My goal is to bring people of all ages together, creating a new space where history and modernity can meet and coexist. I want to expand the scale of this street, so that everyone can contribute their voice to this new environment," Nghia said.
The 17 paintings amazed local residents. They feature Dong Ngac's unique cultural traditions such as Ve communal house and its traditional festivals and folk games. The youth painted a picture of Dong Ngac in the old days with banyan trees, a well, a communal house, and a variety of ancient houses.
Tran Thi Tuyet Lan, a resident of Dong Ngac ward, said, "Passing this mural street, I was pleasantly surprised by the paintings made by the Youth Union of Dong Ngac ward. The murals have made the street bright and more beautiful. These paintings have a high artistic value. They serve to show the humane sentiment of the Youth Union as well as their creativity."
Growing out of the idea of painting murals on two streets, the ward's Youth Union has rid the ward of masses of garbage, beautified the streets in the ward, and built green, clean, pristine streets.
Phung Van Hiep, Secretary of Dong Ngac ward's Youth Union, said, "The mural street not only conveys the traditions of the homeland and ancient villages through painting, but promotes environmental protection and the moral values of Hanoians. The people will be more aware of environmental sanitation in the living space as well as the importance of making the of Dong Ngac ward greener and more beautiful."
In the coming time, they intend to spread mural painting to other streets in the area, thereby conveying the beauty and poetry of life, raising people's awareness, and joining hands to increase the cultural richness of Hanoian life.
Here are some murals on streets in Dong Ngac ward:
VOV/TTTD