Adam Liaw works as a cook, writer and TV presenter in Sydney. He took part in the Taste of Australia 2019 programme in Hanoi on June 1-3, where he gave a cooking demonstration to some restaurants in Hanoi and to KOTO.
KOTO (Know One, Teach One) is a social enterprise which helps young people from disadvantaged backgrounds forge a better future. He spoke with Việt Nam News about his cooking philosophy, Australia's diverse culinary landscape and how to get the best out of Australian produce.
Masterchef Australia 2010 winner set for Vietnam visit
The Vietnamese-Australian pioneer who created KOTO social enterprise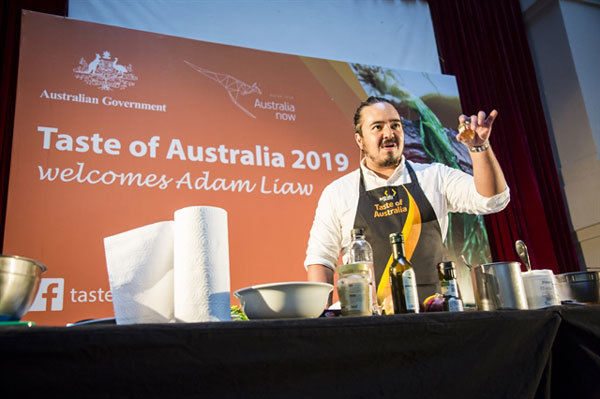 Adam Liaw in a cooking demonstration at the Taste of Australia event early this month.
What's your inspiration to cook?
I think the passion for cooking starts from the passion for eating. You like a dish and inquisitively want to make the food by yourself. You love the food and you love creating, so you nurture the love for cooking.
How has your life changed since you won MasterChef in 2010?
It's changed a lot. It's been nearly 10 years since then. Now I'm married and have children. Before I worked as a lawyer but now I have totally taken on the career of a chef.
In your opinion, what are the elements to make a successful chef?
To be a good cook, I think you have to be confident. If you are confident and you know what you are going to cook, you can make a good dish from simple ingredients. If a chef is not confident, he or she can make a lot of mistakes.
If you had the chance to give advice to young people who want to be chefs, what would you say?
You have to enjoy it. While your friends are having fun outside, you have to work in a kitchen which is hot and has no window. If you don't enjoy cooking, creating and serving, you can't do this.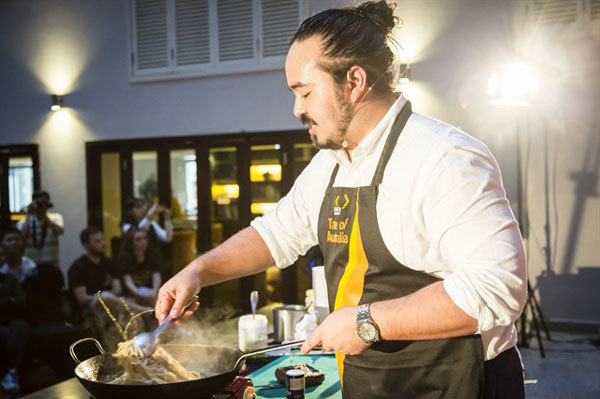 Adam Liaw demonstrates how to make Australian staples in Hanoi. VNS Photos Do Huu

What is your favourite food to cook?
Maybe it's chicken rice in the Hainan style. I know that you have a similar version in Vietnam. My family originated from Hainan, China. I like this dish firstly because my grandmother often cooked it for me when I was young. It's a very simple dish, just chicken breast and rice.
Have you ever created a dish using typical ingredients of Vietnam?
Yes, it's easy to find Vietnamese ingredients in Australia. Fresh herbs, fish sauce and chilli are very popular in Australia. We love Vietnamese food. We can buy all of the ingredients for Vietnamese food at supermarkets across the country. One of the Vietnamese dishes I love to cook is fried chicken. In one of my cookbooks, I mention the recipe of this dish which includes chilli, fish sauce and coriander.
Bún chả (grilled pork served with fresh rice noodles and fish sauce) is another one of my favourites. It's simple. I often cook it at home. The other one is spring rolls. The way to make them is quite similar to techniques I learned from Chinese cuisine.
What's your cooking philosophy?
Simple. Everything should be simple. There is no connection between cooking something good and making it in a different way. So the most important thing is to keep your ingredients simple to make it taste good.
You have conducted cooking shows in various countries. How do you think about Vietnamese cuisine and its differences from others?
Vietnamese cuisine is amazing. It's always in the top five cuisines Australian people love. Every Australian knows phở and know how to pronounce that word. We can easily find good shops for phở in Sydney and Melbourne.
One of the key elements for me is the balance of flavours in Vietnamese cuisine.
We can taste sweet, sour, salty, bitter and umami. The good thing about Vietnamese food is that you understand the balance of these flavours. In Australia, we understand this balance through enjoying Vietnamese food.
What do you think about the significant role of national gastronomy?
Cuisine is the most important thing for a country because it combines everything from the geography, history, culture and people to the economy, how much people can afford for a meal and how much time people spend to cook and eat food. There is no border between cuisines. Language is not a barrier. You don't need to know Vietnamese to enjoy Vietnamese food. You don't need to know English to enjoy Australian food.
Food illustrates lifestyle and culture. Obviously, the food people make has to fit their lifestyle. In a country where people are busy, they don't have time to cook something sophisticated for dinner. In a country where people are not wealthy, you can't find precious ingredients. But the point is how people live their lives. In a rich or poor country, you still find good food. At luxurious restaurants or small shops, you can find the specific dishes of a country.
How can a nation introduce its image to the world through cuisine?
I guess the reason why I am here is to explain Australian cuisine. The best way I can do that is to cook the dishes that people in my country love to eat, not create something fancy that is not suitable for the local people's lifestyle. I choose to cook ordinary dishes for Australian people, not the ones you find at luxurious restaurants. It expresses Australian cuisine through simple dishes that ordinary Australian people cook at home.
What did you know about Vietnamese food before visiting the country?
To be honest, I know a lot, though this is my first time to Vietnam. Australia has a strong connection with Vietnam. As I told you before, Vietnamese cuisine is very popular in Australia. I think Vietnamese food in my country is quite authentic because it's cooked by Vietnamese people.
One of the strengths of Vietnamese cuisine is the way that people adopt different cuisines from China, Japan, France and America. There is a similarity in Australian cuisine. We also have influences from Chinese, Mediterranean and Southeast Asian cuisines.
To promote culture through cuisine, what should Vietnamese people do?
Just focus on what Vietnamese people love to eat. Don't change your cuisine to suit somebody else. I came here to introduce Australian gastronomy through the favourite foods of Australian people, not something foreigners expect to eat when they come to Australia. The best thing you can do is introduce your authentic food.
What is the biggest similarity between Vietnamese and Australian cuisines?
We have diversified culture and fusion gastronomy. Both of the cuisines adopted foreign factors. Vietnamese people have incorporated foreign elements into their age-old cuisine and made them their own. For example, when people eat bánh mì (Vietnamese baguette), they know it's an authentic food of Vietnam, not something from France.
Have you ever tried to mix and match Vietnamese and Australian cuisines?
Yes, of course. But fusion should be done in a natural way. When I hosted a cooking show in Hà Nội and instructed people to cook salmon and macadamia tartar sauce, I added a little fish sauce to the dish. This Mediterranean originated dish is very popular in Australia. Vietnamese fish sauce improved the taste of the dish a lot.
I often create 600-700 recipes a year, so I always look for new things. But I never mix and match two different things without care.
VNS