In the context of globalisation and increasing economic development, Vietnam is looking to develop its cultural industries as a strategic asset for diplomatic and international cooperation, which help showcase the country's identity.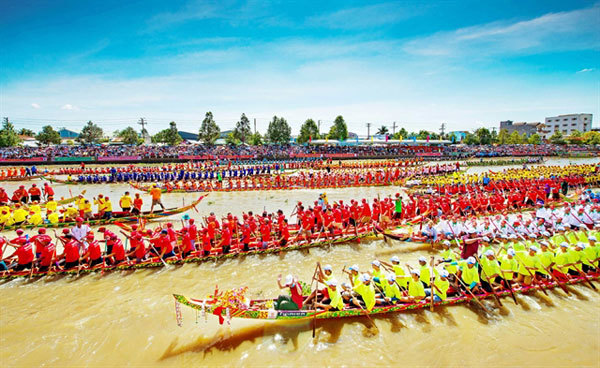 Long-Boat Race, a traditional festival of the ethnic Khmer people held biennially in the southern province of Soc Trang in the Mekong River Delta. — Photo: phuhunglife.com
The 'cultural industry' is an umbrella term for the combination of those involved in the creation, production, distribution, and consumption of cultural or creative products and the protection of intellectual property.
Professor Bui Hoai Son, director of Vietnam National Institute of Culture and Arts Studies, said with solid cultural and spiritual resources in entrepreneurship, cultural industries were effective in aiding economic growth and innovation.
In a recent article on the Ministry of Culture, Sports and Tourism's online newspaper, toquoc.vn, Son, also a permanent member of the National Assembly's Culture and Education Committee, highlighted that the cultural industries were an important factor in trade and international competition and would help the country build a strong creative economy, particularly in sectors of high economic value.
Cultural industries aid social cohesion through the participation of different communities, social groups and individuals, enhancing the quality and professional operation of facilities as well as organisations in the field of culture, Son said. They provide opportunities to develop talent and create stable jobs, contribute to national GDP, change a locality's image, and build creative spaces in the cities and countryside.
"Strong and dynamic cultural industries will enhance the quality and image of cultural tourism. A developed design industry will promote competitiveness and improve brand names for service and manufacturing sectors. Digital growth will open up new international markets for other sectors such as cinema, and promote cultural tourism," Son said.
"One of the reasons for developing cultural industries is that there are too many talents who have not yet shown their full capabilities, partly because our education system has not equipped people with enough creative skills and knowledge to help them succeed in these industries."​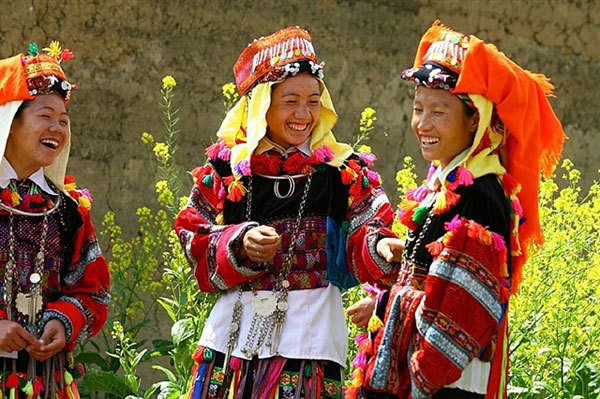 The cultural diversity of 54 ethnic groups is an excellent resource for the industry. — Photo congthuong.vn
Son identified a number of challenges in developing such industries in Vietnam, including perfecting cultural institutions and shifting from a centralised management culture to a hierarchical model, well-fitted to the socialist market economy. 
He also pointed out challenges in improving the quality and effectiveness of cultural activities, adding that the level of resources and investment in culture had failed to meet demand and be on par with the role and position of the country's development.
"There are challenges in the country's capacity for renovating and renewing the industry of culture and making it more sustainable, some of which exist in the improvement of management and business capacity," he said.
Son highlighted the digital economy, the 4.0 industry and the boom of globalisation as threatening the country's cultural identity, saying the country needed to boost its internal power and uphold its traditional cultural values.
"Globalisation requires Vietnam to regulate the relationship between protecting national cultural values and absorbing the cultural essence of humanity, to strengthen its internal power and stay immunised against 'cultural invasion' from overseas," he said.
Son said much of the workforce did not have access to the relevant skills and expertise to effectively adapt to and operate new business organisations and models in the cultural industries.
At a recent National Assembly meeting, Nguyen Thi Mai Thoa, an NA deputy representing Hai Duong Province's delegation, said that the cultural industry sector produced cultural products and services, and is capable of creating income and jobs.​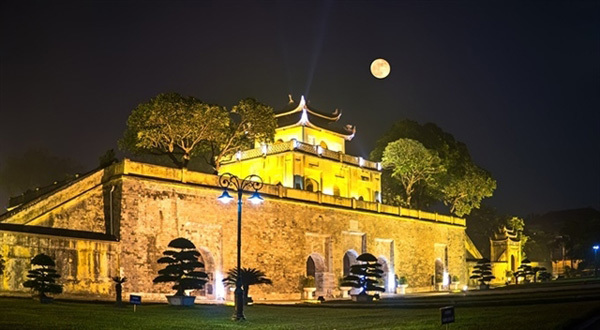 The Thang Long Imperial Citadel in Hanoi at night. The preservation of historic buildings is a key target of national cultural development. — Photo: hoangthanhthanglong.vn 
In 2016, the Prime Minister issued a strategy for the development of Vietnam's cultural industries to 2020, which stated that cultural industries were an important component of the national economy.
Thoa said that in the past five years of implementing the strategy, cultural industries such as tourism, performing arts, cinema, and advertising had made remarkable contributions to economic growth while preserving and promoting national cultural values while meeting the demand for cultural entertainment.
However, she proposed the Government pay more attention to boosting research while supplementing and solidifying the development of cultural industries.
Meanwhile, painter and sculptor Dinh Gia Thang told the Nhân Dân (The People) newspaper that building on such a long history and unique cultural identity and developing fine arts would require many breakthroughs, especially in equipping students with knowledge of aesthetics from primary school level.
"It is necessary to develop a comprehensive architectural infrastructure coupled with the promotion of tourism and culture to attract international visitors," he said.
"It is also necessary to promote the creative values of art and architecture through the creation of magnificent outdoor sculptures and unique architectural works to create cultural highlights in big cities, and permanently display high-value artworks at the Vietnam Fine Arts Museum to attract domestic and international visitors."
In addition, the artist said it was necessary to promote creativity in the field of industrial arts for the creation of consumer products, both traditional and modern, to bring high economic value.
An online seminar recently held by the Copyright Office of Vietnam in collaboration with the British Embassy and Rouse Law Co Ltd discussed a "Strategy for the Development of Cultural Industries in Vietnam".
Experts shared their advice and experience to help Vietnam better develop and protect its culture.
At the seminar, they spoke about the development of cultural industries in the UK, the experiences of other countries, and lessons learned on state management for the development of cultural tourism, film, fine arts, photography and exhibitions, performing arts and advertising.
 "The cultural industries are a new field in Vietnam. Therefore, we have been facing a number of difficulties and challenges. Sharing with UK experts will be a premise for the Ministry of Culture, Sports and Tourism to accumulate experience and promote the development of cultural industries," said Trinh Tuan Thanh, deputy director of the Copyright Office of Vietnam.​​
Cultural industries in Vietnam
Cultural industry is a new term in Vietnam, only coming into use over the last three to five years. Since 2016, the term gained greater recognition when the Prime Minister approved a decision on a strategy of developing cultural industries until 2020, with a vision to 2030.
The industries are those that produce tangible and intangible products of art and creativity that can promote wealth through using cultural values and producing knowledge-based products and services.
The development of such industries plays an important role in economic growth, promoting national identity, creativity, and innovation while empowering the nation in the age of globalisation, digitisation and increased competition, as well as taking advantage of cultural resources in growing the economy and building international prestige for the country.
Over the years, Vietnam, particularly in the management of culture and art, has not seen the importance of the industry to the economy in marketability, international integration or the development of art and culture. Often, the cultural industry goes hand in hand with the commercialisation of art and culture. 
Cultural tourism as a spearhead
Vietnam has a rich cultural tradition, home to many UNESCO World Heritage sites and cultural legacies. At present, the country has recorded more than 40,000 examples of cultural heritage, with about 10,000 ethnic cultural festivals per year, as well as the customs and cultural cuisines of different regions, all of which provide valuable cultural treasures for tourism.
Such heritage offers many advantages and potential and is a great resource in developing rich cultural industries. It is the inspiration for the creation of cultural products.
There is also a mutual benefit insofar as cultural products promote heritage values, linking them with common cultural values of the community, region, nation and world. As a result, cultural tourism can be a spearhead of cultural industries going forward.
In 2016, the Prime Minister's strategy set out goals in 12 specific areas: advertising, architecture, software and entertainment, crafts, design, cinema, publishing, fashion, performing arts, fine arts, photography and exhibitions, television and radio, and cultural tourism. Five of these areas are directly managed by the Ministry of Culture, Sports and Tourism.​
​Some sectors have generated significant revenue, such as fashion, cinema, cultural tourism, performing arts. The film industry's revenue in 2019 alone was more than VND4 trillion (US$176 million).
If the country continues to put the right focus on culture, it will be a boon for the nation's economy, building an even deeper, richer heritage.
Source: Vietnam News

The "National Strategy for Cultural Development to 2030" provides the detailed steps towards improving Vietnamese people's spiritual life.

Developing Vietnamese culture and building a standard value system of Vietnamese people are identified as important and regular tasks of the entire political system.