The Friends of Vietnam Heritage on Sunday will hold a talk about nghê – a sacred animal that guards temples, communal houses in Vietnam. The talk is to honour the Vietnam's Cultural Heritage Day on November 23.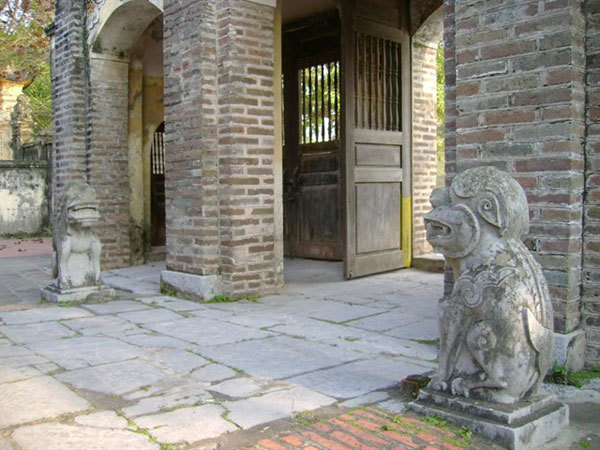 Nghê stone statues seen at the entrance of the Giong Temple in Hanoi's Gia Lam suburban district. Photo vtv.vn
The talk will be conducted by art researcher Tran Hau Yen The, who is also author of the recently published book Nghê Việt Tinh Tuyển (Selected Vietnamese Nghê).
The nghê is a sacred guardian animal with a rather complicated origin. According to some historical records, the nghê is a mythical creature, originating from Buddhism.
The nghê was brought to Vietnam possibly in the 1st century AD by businessmen and Buddhist monks from India and central Asia. The nghê was popular during the Ly reign (1009-1225). Over time, the nghê has been carved in diverse forms and materials, displaying various facial expressions and characteristics. It has appeared in various positions at the spiritual sites of the Vietnamese people.
During the talk, researcher The will explain all about the nghê such as what are the origins of the sacred animal, how did it find its way to into Vietnamese culture, what is different between Chinese lion and the nghê, what does it symbolise, the difference of the nghê in different regions of Vietnam and its role in Vietnamese culture.
The talk, taking place from 2pm until 5.30pm at the Vietnam Fine Arts Museum, 66 Nguyen Thai Hoc Street, will also include a tour of the exhibition of the Nghê curated by The, an ao dai fashion show depicting the sacred animal, a nghê dance performance.
The talk will be translated into English.
Fee: VND200,000/person, excluding museum ticket of VND40,000. Please RSVP to Stella at stella@fvheritage.org. VNS 

Preserving heritage is now the top priority of UNESCO and countries having globally-recognised heritage, including Vietnam.
November 23 is Vietnam's Cultural Heritage Day which aims to promote and honour the values of unique cultural heritage elements of Vietnam.