An exhibition entitled 'Tale of Kieu through paintings' opened at the Vietnam National Fine Arts Museum on November 18 to celebrate the 200th death anniversary of great poet Nguyen Du.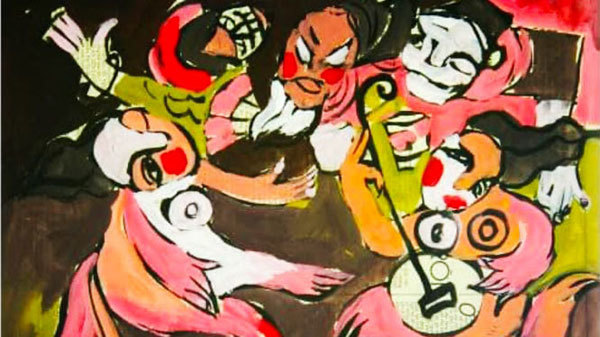 A painting on display at the exhibition.
The exhibition displays 96 paintings created by painter Nguyen Tuan Son during his 20-year research on the characters featured in the masterpiece.
The paintings are not only illustrations of the epic poem's content but also a reflection of his thoughts and meditations about the work.
While blending Western and traditional painting styles, Son uses bold strokes and strong colours in his paintings, thus providing viewers with a fresh approach on fate in the feudal society of the olden days.
Born in 1978 in Thai Binh Province, Nguyen Tuan Son is a graduate of the Vietnam University of Fine Arts. Beginning by drawing illustrations inspired from 'Tale of Kieu' in 1999, Son got the nickname 'Son Kieu' by his colleagues for his long-time passion for the masterpiece.
According to him, doing the illustrations on 'Tale of Kieu' was a way for him to follow his passion for his work and encouraging creativity in fine arts while helping educate the young on the treasured value of the poem.
To date, he has drawn nearly 5,000 illustrations of the "Tale of Kieu'. He has also collected ancient copies of the 'Tale of Kieu' as well as research on the life and career of Nguyen Du.
The exhibition will run until November 23 at the Vietnam National Fine Arts Museum, 66 Nguyen Thai Hoc Street, Ba Dinh District. NDO

An exhibition is taking place at the Women Museum in Hanoi to mark the 200th death anniversary of Nguyen Du, one of the greatest Vietnamese poets best known for his verse novel "Tale of Kieu".

It's customary for Vietnamese people to commemorate the ancestors, related or not, on the anniversary of their death. Not to mourn their passing, but to celebrate their life.