For the first time, coach Park Hang-seo has called up five goalkeepers to the Vietnamese squad ahead of the AFF Suzuki Cup 2020.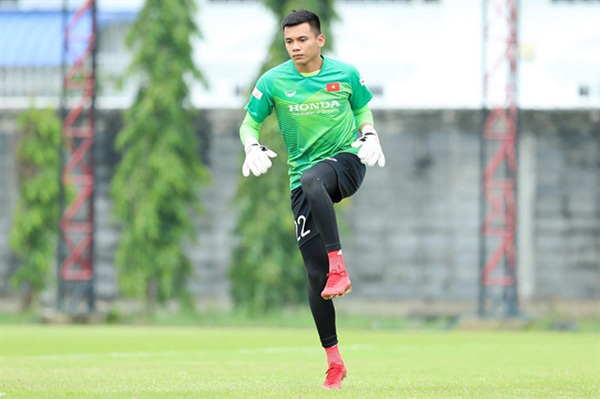 Pham Van Cuong has just been called up for the national squad ahead of the AFF Cup 2020. — Photo nhandan.vn
They are Bui Tan Truong of Hanoi FC, Nguyen Van Hoang of Song Lam Nghe An, Tran Nguyen Manh of Viettel, Quan Van Chuan of Phu Tho, and Pham Van Cuong of HCM City.
Such a decision to draft in many options between the posts, is a clear sign the South Korean coach is unsure about the number one position.
In the previous six World Cup qualifying matches, Park used three keepers, Nguyen Van Lam, Bui Tan Truong and Nguyen Van Toan.
All leaked goals in the key games. 
In the match against Australia in which Vietnam lost to Australia 0-1, goalie Lam was scored 6.30 points by the statistics website sofascore.com.
Given the opportunity to play in the 1-3 loss to Oman, young goalkeeper Toan was awarded 6.00 points by Sofascore. While Truong played four matches and even though he conceded eight goals, he still received a high average score (6.85) compared to his two teammates.
Truong is still considered Park's first choice for the AFF Cup 2020.
Among the rest of the AFF Cup team's goalkeepers, despite having a lot of experience, Manh is considered by some to be too short (1.78m), Hoang has little experience in the big games and, young goalkeeper Chuan is thought to be just a back-up.
Truong has also been accused of spending too much time updating his social media pages instead of focussing on preparing for the upcoming tournament. 
New hope
Coach Park called Cuong to the Vietnamese team for the first time in the match against Afghanistan in the third qualifying round of the Asian Cup 2019. He was then included in the Vietnamese team to prepare for the second qualifying round of the 2022 World Cup. At that time, Cuong was the No 3 goalkeeper behind Lam and Tuan Manh. 
Some fear Cuong may not be the solution, and might not be able to perform at the level expected by Park. 
Since joining HCM City in the 2020 football season, Cuong hasn't been able to hold down a regular first team place. He played just twice this year, once against Nam Dinh which they lost at home by three goals to two.
So Park has many decisions to make ahead of the AFF Suzuki Cup, but one things for sure, it will be the goalkeeping position that's keeping him awake at night. Plenty to ponder for the South Korean. 
Source: Vietnam News

The Vietnamese national football team are gearing up for the AFF Suzuki Cup 2020.