Anh Le, a native of HCM City, has been named as one of the winners of the 'Illustrators of the Future' contest in science fiction and fantasy art in the US.
Anh is the first Vietnamese winner of the annual 'Illustrators of the Future' contest.
The HCM City born illustrator won the grand prize, The Golden Brush Award, and a cash prize of US$5,000. His winning art is published in the bestselling anthology L. Ron Hubbard Presents Writers of the Future Volume 36.
Sharing his joy of winning the award, he said: "This is an incredible experience I will never forget. I was shocked to hear that I had won. I am so grateful, my parents are proud of me and I have made them happy. In winning this award, I am so honoured to represent my culture. If you have passion and drive, you can definitely succeed".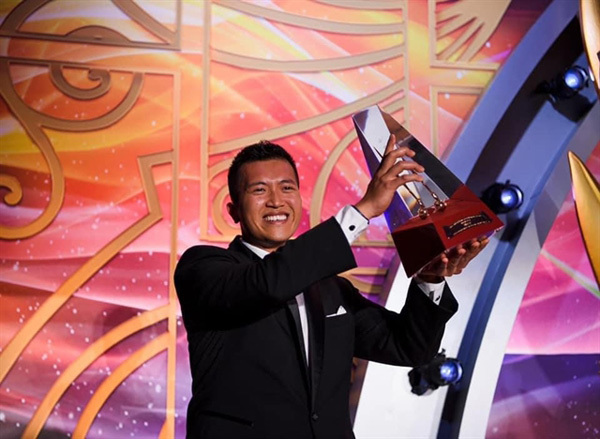 Award-winning illustrator Anh Le. — Photo courtesy of Anh Le
Anh Le, 23, graduated with a bachelor degree in Fine Art, majoring in Illustration, from the Kansas City Art Institute. His works are designed to immerse the viewer in a breathtaking, colourful world.
He was born in Ho Chi Minh City and in 2007 immigrated with his family to the US.
In 2016, the year he graduated from high school at Maryville Highschool in Missouri, Anh won an award in a creative logo design contest for Google, Doodle 4 Google.
The artwork 'Stolen Sky' by Anh Le. — Photo courtesy of Anh Le
According to the organisers of the contest, due to delays and postponements over the last year and a half as a result of the worldwide health pandemic, the awards show for 2020 and the awards show for 2021 were combined into one evening celebrating winners from both years.
Four Grand Prize Winners were announced at the Awards Gala including; C. Winspear, a writer from Blacktown, NSW, Australia; Anh Le, an illustrator originally from Vietnam; Barbara Lund, a writer from Draper, UT and Dan Watson, an illustrator from Earley, Reading, Berkshire, UK.
The Illustrators of the Future contest was created by American science fiction and fantasy author L. Ron Hubbard in 1983 as a means of discovering and nurturing new talent in science fiction art.
There have been 358 winners who have produced over 6,000 illustrations, 360 comic books, graced 624 books and albums with their art and visually contributed to 68 television shows and 40 major movies.
Source: Vietnam News 

Sethe Nguyen, a native of HCM City, has been named as one of the winners of the Illustrators of the Future contest for science fiction art in the US.