Pop star Ho Ngoc Ha features the theme of Spring, love and women in her latest music video (MV) that was released this week to welcome Tet (Lunar New Year), which begins January 25.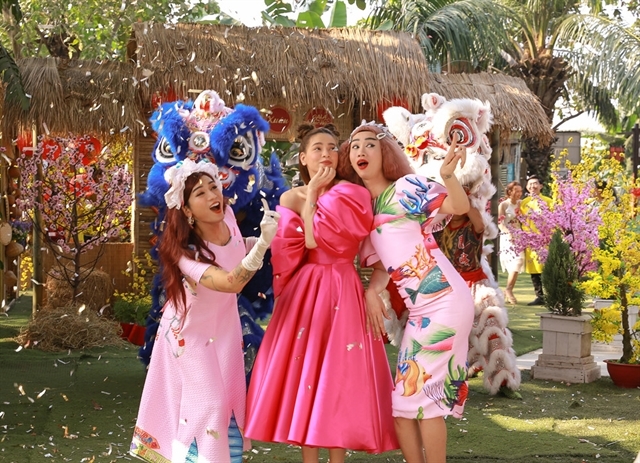 Pop star Hồ Ngọc Hà (middle) and famous comic artists Huỳnh Lập and BB Trần in HCM City are featured on the MV Điều Ước Mùa Xuân (Wishes for Spring), released on Tuesday to celebrate Tết (Lunar New Year).  Photos courtesy of the producer
The singer worked with her producer Nguyễn Minh Cường and famous comedians to produce the MV. 
Her music combines contemporary folk, pop and dance.
In the MV, Điều Ước Của Mùa Xuân (Wishes for Spring), Hà and dancers in áo dài (Vietnamese traditional long dress) perform Vietnamese songs and dances. The artists did not record in a studio as they usually do. 
Since its release on Tuesday, the MV has been one of the top hits for Tết, with visuals leaving the strongest impression on fans.
Love and family are the hottest themes for new music videos (MV)  to welcome Tết (Lunar New Year).
Another popular album is Thấy Tết Lớn, Mừng Tết Lớn (Enjoy a Great Tết), a production by talented singer and song writer Trúc Nhân.  
In the MV, Nhân performs with theatre artists and dancers to highlight Vietnamese culture and lifestyle during Tết.
The work attracted 10 million views within one week after its release on YouTube two weeks ago. Since then, It has attracted more than 24 million viewers. 
Vietnamese-American comedian Chí Tài and young singer Ánh Linh sing folk songs on three MVs, called Ra Giêng Anh Cưới Em (I Will Marry You after Tết).
The artists also perform theatrical performances in praise of country, love and Spring. Folk songs, such as Lý Cây Đa (Song of Banian) and Chồng Sớm (Young Husband), are featured.
On the MV, Tài and Linh perform one and two act comedies highlighting traditional family values. 
"Singers and artists worked hard to make their new MVs with the theme of Tết to be of high quality in both music and images. Their albums are best wishes to Vietnamese at home and abroad during Tết," said Trần Thanh Tùng, a resident of Long An Province. — VNS