Vietnam athletes are determined to keep their top place at the coming Southeast Asian (SEA) Games which will be held in November right here on home turf.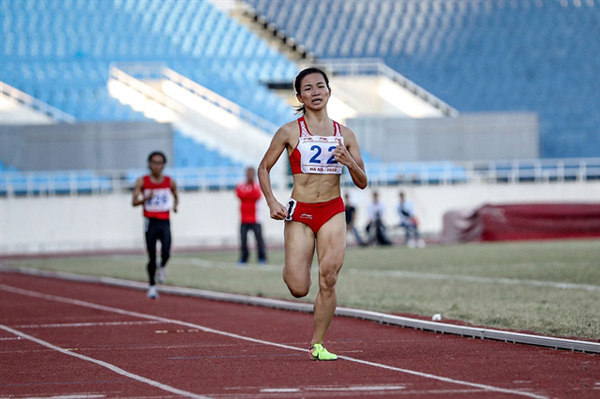 Runner Nguyen Thi Oanh competes at the 1500m event during the National Athletics Championships last December. Oanh is one of key Vietnamese athletes at the 31st SEA Games to be held in November. Photo vnnhanh.vn
At the 29th Games in the Malaysia, Vietnam shocked regional countries with an impressive medal haul picking up 17 golds. They knocked Thailand off top spot -- a position they had held for the past 17 years. 
Two years later in the Phillippines it was more gold glory for Vietnam, this time collecting 16.
This year when the biennial Games are organised at home, the hosts have set a target of 19 gold medals.
According to Duong Duc Thuy, head of the Athletics Department of the Vietnam Sports Administration, all coaches and athletes are ready and confident to complete the goal.
"The COVID-19 pandemic creates many difficulties for every field including sports and Vietnam are not out of this situation," said Thuy.
"Many main events have been delayed and cancelled. Athletes could not practice as scheduled. However, we are training hard for the SEA Games.
"We were on top of the rankings in the last two Games and become the strongest country in the region. Meanwhile arch-rival Thailand really wants to take their place back. Then, our top duty is to defend our crown and grab the highest number of gold medals."
Thuy said the task is hard but athletes will be given the best conditions for training while the administration will mobilise more financial resources to send athletes abroad for intensive training when possible.
There are also attractive financial bonuses available.
The 2020 National Athletics Championships in December was the only main tournament that athletes had a chance to test their skills.
However, there were positive signals that make officials believe their plan possible.
The leading athletes taking part such as Nguyen Thi Oanh (women's 1,500m, 5,000m and 3,000m steeplechase); Le Tu Chinh (women's 100m) and Tran Nhat Hoang (men's 400m) and Asian winner Quach Thi Lan (women's 400m and 400m hurdle) are still at their peak and promised a good performance.
There are also some rising stars who are expected to shine in Hanoi later this year.
They are Ngan Ngoc Nghia who broke the national record in the men's 100m, Tran Van Dang who overthrew SEA Games champion Duong Van Thai in the men's 800m and 1,500m and youngsters Vu Thi Ngoc Ha (women's triple jumps), Lo Thi Hoang and Nguyen Hoai Van (women's and men's javelin), and the return of Asian Games and former SEA Games champion Bui Thi Thu Thao after her maternity leave that forced her to rest at last SEA Games.
"Key athletes are maintaining their performance while we also see great progress from young ones. It would be good news for us and we can believe in our plan," Thuy added.
Coach Nguyen Chi Dong agreed and said the coming months would be really important for athletes. If they could train hard and compete in more tournaments they would ensure a successful SEA Games.
In 2021, there are several tournaments including the World Indoor Athletics Championships in China in March, Asian Relay Championship in Thailand and the Asian Athletics Championship in China in May but all of them have been postponed because of the COVID-19.
Runner Oanh, who won three golds in 2019, said: "I know that SEA Games is really competitive. But my teammates and I work hard everyday to pass our personal best first and then set highest result at the Games. I believe we will do well."
At this year Games, there are 47 track-and-field events which will be held in Hanoi. VNS 

Unlike football players who get year-round bonuses and high monthly salaries, professional athletes in other sports only have bonuses and rewards if they win medals at international tournaments.
Vietnamese athletes are training hard to do their best at the 31st Southeast Asia Games (SEA Games 31), to be held from November 21 to December 2 in Hanoi and ten nearby localities.