Miss Vietnam 2020 runner-up Nguyen Le Ngoc Thao has finished in the top 20 of Miss Grand International 2020 during the gala night in Bangkok, Thailand, on March 27.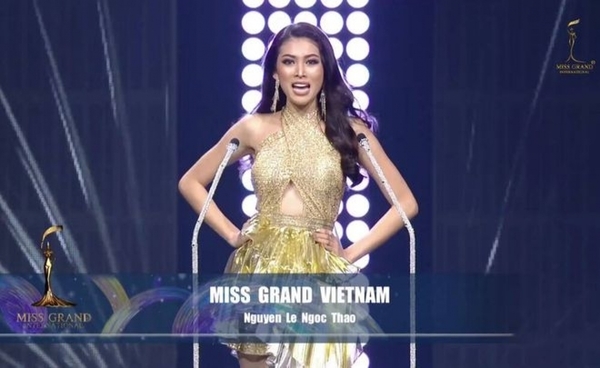 The Vietnamese girl was named together with 19 other contestants from Cambodia, Guatemala, Mexico, Thailand, Peru, Japan, El Salvador, Panama, South Africa, the Dominican Republic, the Czech Republic, the Philippines, Puerto Rico, Indonesia, Myanmar, Argentina, Brazil, the UK, and Kenya, in a bikini performance following their self-introduction.
Despite her self-confident showing on the stage, Ngoc Thao scored 8.75 points, failing to qualify for the top 10.
Prior to the finale, Ngoc Thao was one of the 5 contestants with the highest number of votes for the Miss Popular Vote award. However, the Malaysian contestant won the only ticket to enter the Top 10.
Miss USA Abena Akuaba Appiah was crowned Miss Grand International 2020. The first and second runners-up went to Miss Philippine Samantha Bernardo and Miss Guatemala Ivana Batchelor.
VOV

In the semi-final night on March 25, the second runner-up of Miss Vietnam 2020 Ngoc Thao performed very well in both swimsuits and nightgown categories.