Vietnamese representative Do Thi Ha has left the country for Puerto Rico to attend Miss World 2021.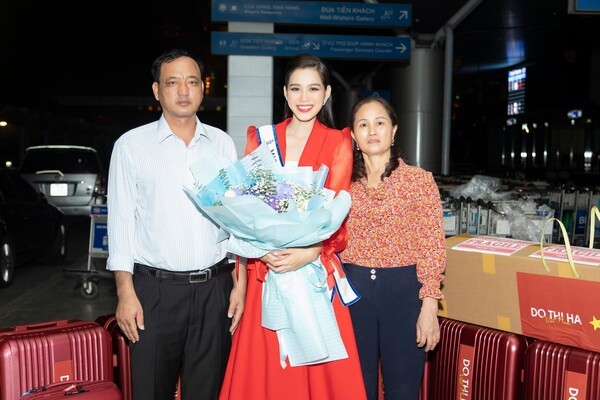 Ha and her parents at the airport
She brought the T'rung, a traditional bamboo xylophone, to show at the pageant's talent sub-contest.
Ha said that she will transit in Japan and the US before landing in Puerto Rico. The trip would last about 30 hours.
She has prepared a project with the theme of Peaceful Houses in order to assist flood victims as she competes in the global beauty pageant.
The project focuses on Tra Don Commune of Nam Tra My District in the central province of Quang Nam, an area heavily impacted by flooding back in 2020.
Ha, 20 years old, will have to compete with around 120 contestants from across the world in various sub-contests at Miss World 2021, including sports, talent, and fashion.
Luong Thuy Linh previously represented Vietnam at Miss World 2019, claiming a Top 12 finish, the highest-place recorded by a Vietnamese entrant in the beauty pageant.
Source: dtinews

The two outfits Thuy Tien will wear have been produced by designer Tin Thai, with the first piece being a bodysuit which features both an impressive and modern style.