Do Duc Hai, 29, manipulates the cubes to create famous faces and even landscapes as works of art. One picture alone contains more than 500 Rubik's cubes. 
Back in the early 1980s, Rubik's cubes were all the rage, and the colour-coded puzzles had the whole world baffled. Invented by Hungarian sculptor and professor of architecture Erno Rubik more than 50 years ago, an estimated 450 million of the cubes have been sold.
In Việt Nam, one man is turning the cubes into works of art. The face of the puzzle forms his canvas. 
Đỗ Đức Hải, 29, manipulates the cubes to create famous faces and even landscapes as works of art. One picture alone contains more than 500 Rubik's cubes. 
Do Duc Hai uses more than 500 Rubik's cubes and stacks them for a single artwork. 
 "In 2018, I got the chance to deliver toys for children, and I delivered many Rubik's cubes. At that time, I happened to read about foreign painters making paintings using them," he said.
"I started to learn about it from then. And deep inside, I love artistry, so I really want to bring the beauty of this to people."
Hải has made portraits of the incumbent Prime Minister Phạm Minh Chính, the late President Hồ Chí Minh, and national football team manager Park Hang-seo.
"Three years ago, when I started, there was no one in Việt Nam to guide me or any channel that I could learn from. I learned all by myself, just from using Rubik's cubes, from developing ideas to filming and editing video," Hải said.
At the beginning, he practised with small pictures of flags or images of hearts. As he became more accustomed with the shapes, his artwork improved. 
"I started with 50 cubes then increased to 500," Hải said. "Initially, people said that I was unrealistic, and no one supported me because they hadn't seen the results."
"When I was very stressed and tired after a working day, I went to sleep but would wake up at night to use Rubik's cubes to make portraits. It then became a habit. Recently, I started to make videos and upload them to social media platforms such as Tiktok or Facebook."
Hải has made many portraits out of Rubik's cubes, but the work of the late President Hồ Chí Minh is the one he likes most.
 He used an old black and white photograph of President Hồ when he was young, turning the image into an amazing artwork.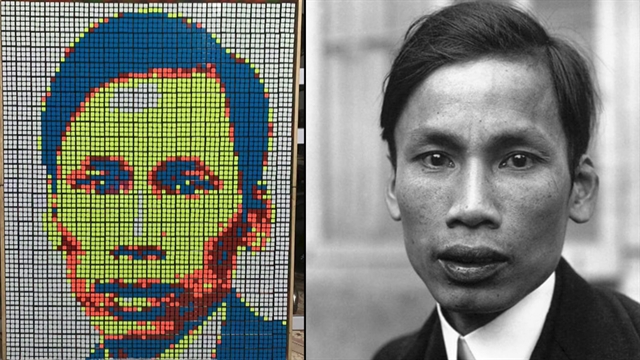 The portrait of President Ho Chi Minh is the one the artist likes best. 
 "It took me a week to finish the picture of President Hồ. The original picture was taken when he was very young, so it is in black and white," Hải said. "I put in colour to make it more lively."
Many portraits of Vietnamese politicians or celebrities have come alive through his art. The most difficult part is getting the eyes and mouth correct, because, he says, they are the "soul of the face".
"Eyes are the first thing we look at when seeing a person's face. My task is to make it lively," he said. "Even though I am used to making portraits, I have to spend hours doing this part. Like in the painting of Prime Minister Phạm Minh Chính, it took me three to four hours to finish the eyes."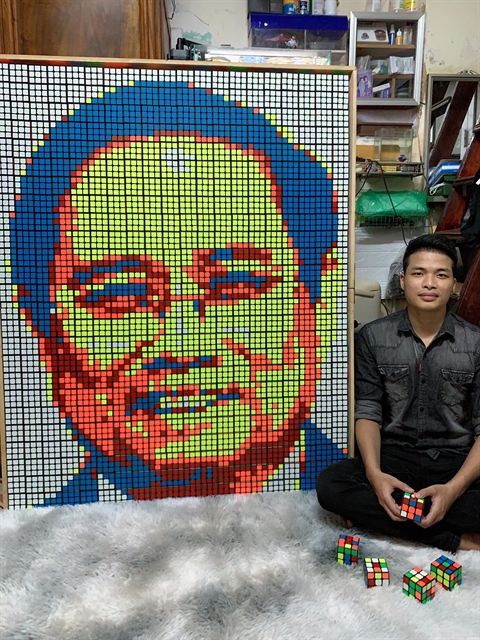 Hai spends hoursmakingthe eyes and mouthmore lifelike. 
After posting several videos on social media, Hải felt urged to continue his work after receiving great responses from his followers.
 "For the first videos that I shared on social media, I got very positive response from my audience. They all said it was a new thing, and it is that which has kept me going," he said.
"In the near future, if the conditions permit I hope I can find a like-minded person to share this passion with me, and I will develop it. It could be paintings using 1,000 or 2,000 cubes depicting landscapes, not just the portraits that I have been focusing on." — VNS
Rubik's facts
It was initially called the Magic Cube.
A Robot named Sub1 has solved a Rubik's Cube in 0.887 seconds.
The largest Rubik's Cube in the world is 2.022m x 2.022m x 2.022m.
There are 43 quintillion possible combinations.
In 1995 a fully-functional Rubik's Cube was made out of 185 carats of diamonds, worth 1 million dollars.
The youngest person to ever solve a Rubik's Cube in a competition was Ruxin Liu from China, at just 3 years and 118 days old.
When Erno Rubik invented the cube in 1974, he didn't actually know how to solve it.
Source: VNS