Vietnam National Television (VTV) has won the 2021 Award for Coverage of the Year at the Asiavision Annual Awards.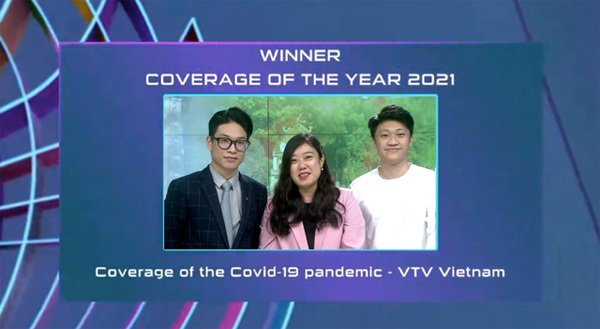 The winning production team speak at the second online Asianvision Annual Awards ceremony. Photo vtv.vn
With around 17,000 news stories eligible for the 2020-21 season, prizes were presented in seven categories, along with the Award for Coverage of the Year.
The 2021 Award for Coverage of the Year honoured VTV for their excellent coverage of the COVID-19 Pandemic.
This included pandemic prevention and daily updates as well as a vast array of economic, social, technological, and human-interest stories that showed a comprehensive picture of how individuals, businesses, small communities and the country as a whole were battling the pandemic.
The annual awards ceremony was held on Friday by Asian-Pacific Broadcasting Union's News Department.
This year, a category for Outstanding International Coverage was introduced to recognise the many stories of global importance that members increasingly contribute through their correspondents based outside their home countries.
"We are pleased, honoured and humbled to accept the award. A very special thanks to Asian vision for selecting VTV among this year's nominees who also contributed greatly to the network despite the difficulties in the news productions brought by the Covid-19," said a representative of the production team from VTV's headquarters in Hanoi.
"The pandemic had created severe chances for us as well but this award is a tremendous encouragement for us to proudly continue our hard work as an active Asianvision (AVN)'s member."
VTV's Coverage of landslides at the Rao Trang Hydropower Company was another nominee at Outstanding Coverage of Breaking News category. The award went to NHK.
Among the winners CNA Singapore – Outstanding Reporting on Climate Change and Adaptation; EMTV Papua New Guinea – Outstanding Reporting from the Pacific; IRIB Iran – Outstanding International Coverage; TVB Hong Kong – Outstanding Reporting of a News Story; and CCTV China – Outstanding Coverage of a News Event.
Last year, VTV was among the top six winners at the awards and won Outstanding Reporting of a News Story and Outstanding Reporting on Climate Change and Adaption for productions entitled Hà Nội's Hero of the Night and Shopping Bags from Waste.
In 2019, VTV won for its prompt and extensive up-to-date coverage of the historic meeting between the Leader of Democratic People's Republic of Korea Kim Jong Un and US President Donald Trump that took place in Hanoi, in February.
VTV provided the news to over 270 television channels in 76 countries in the world thanks to AVN's News Exchange.
Source: Vietnam News

The TV series "For a Peaceful Tomorrow" shows how Vietnamese families deal with the pandemic in daily lives.

In the context of complicated Covid-19 epidemic development, many television programs and films that are being recorded have to be suspended,