European Heritage Days offer free visits to rarely opened sites

Every year, during European Heritage Days, millions of people have been given the chance to access thousands of rarely-opened sites and unique events.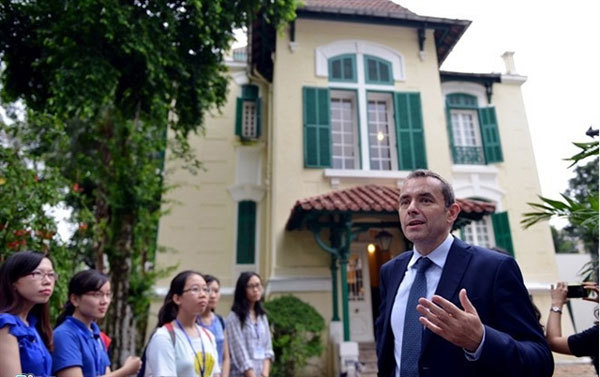 Then French Ambassador Jean-Noel Poirier acts as a tour guide, talking to visitors to the French Embassy during the European Heritage Days held on September 14, 2015.
During this day, doors are opened to thousands of monuments and sites (some of them normally closed to the public), allowing people to enjoy free visits and learn about cultural heritage, thus become actively involved in the safeguarding of Europe's heritage for present and future generations.
In Hanoi, the European Heritage Days, which will take place on September 14, will offer the public the opportunity to visit the French Embassy, the French School of the Far East (École française d'Extrême-Orient or EFEO) and the National Archives Centre No. 1. An exhibition by the EFEO at the L'espace will also welcome visitors during this event.
At the French Embassy, the short guided tour will take place from 9.30am to 12.20pm. Visitors can join the tour by registration with their ID card at door.
The EFEO at 5A Ha Hoi Alley will open its library to the public from 9.30am to 2pm to present a collection of specific documents on studies of Vietnamese society. An exhibition entitled A Throwback will showcase old photos archived by the EFEO.
Also from 9.30am to 2pm, at the National Archives Centre at 5 Vu Pham Ham Street, visitors will have the chance to learn about several archives on the French colonial period.
At L'espace, 24 Trang Tien Street, an installation exhibition entitled Street Vendors and Street Cries of Old Ha Noi will open to the public from 6pm, September 13. The installation has been created using photo collections archived at the EFEO.
VNS