Despite being very tired, Huan never dared to sleep all night. He woke up at midnight and 4am to measure the oxygen saturation levels (SpO2) of his family members.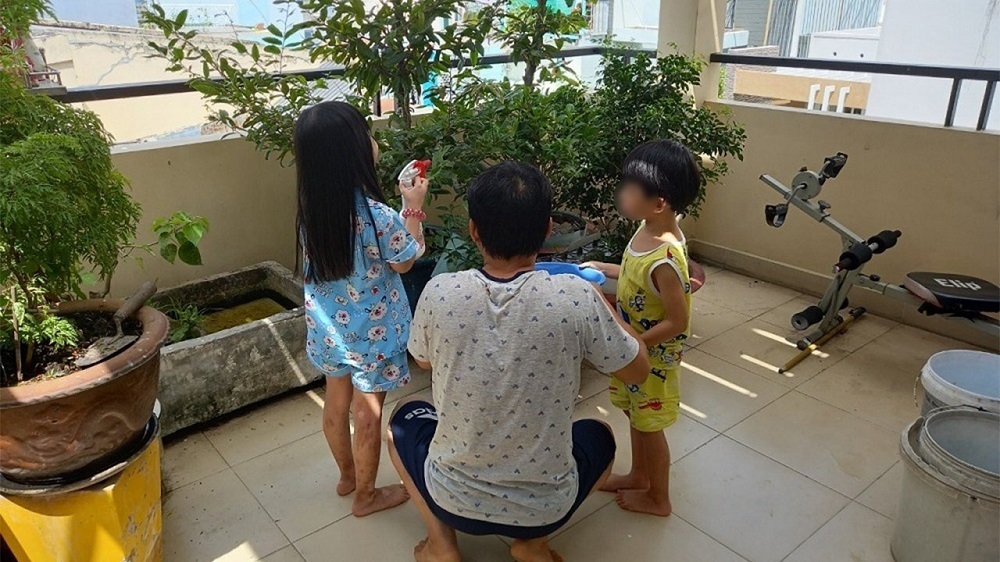 "If you are unluckily infected, the first thing you need to do is stay optimistic," Huan said
Huan's wife, who works for a general hospital in HCM City, had to have Covid-19 test once every three days. On August 13, she tested positive for coronavirus. Her husband, Huan, and the two kids were also positive.
Knowing that hospitals were overloaded and his wife is a physician, Huan decided that his family members would treat themselves at home, which has the proper required conditions for home quarantine.
Huan received support from local authorities, which gave drugs, food and information.
In addition to antipyretics, Huan also bought oxygen tanks, SpO2 oxygen meters and anticoagulants.
Difficult days
Huan kept a close watch over the developments of the disease. On the first days, Huan and his wife did not feel tired, and did not have the symptoms of cough, fever or sore throat, possibly because his wife had already had two shots of Covid-19 vaccination and Huan had one shot.
The kids had a high temperature. For three days, they closely monitored the symptoms and gave the children medicine to reduce the fever.
On the fifth day, Huan felt tired in the the morning but better in the afternoon. He lost his sense of smell and had a sore throat.
Huan knew it was important to have nutritious meals, and drink orange juice to improve resistance, and take vitamins. He also inhaled steam from ginger and lemongrass mixture every day.
Three days later, he felt better and his sense of smell came back. When he later tested negative, his sense of smell had completely returned.
Huan and his wife read many documents about coronavirus which said it can attack patients' lungs, causing respiratory failure, which leads to lack of oxygen or blood clotting, or death, if intervention is late. In many cases, patients feel well during the day, but lack oxygen at night.
During the days of self-treatment, Huan had to get up at night to measure SpO2 of all family members. They were always higher than 95 and they did not have to use medical oxygen or anticoagulant.
In order to ensure nutritious meals for the family, Huan ordered food online. Only when the shippers left did he open the doors and get the food. It was his wife who prepared meals and left food in the kitchen. Family members went to the kitchen to get food and brought it to their rooms.
Huan said though all family members were infected, they tried to restrict contact and communication with each other. Their kids, 7 and 6 years old, took care of themselves.
"The kids had heard about coronavirus before, and they knew that this was a serious disease. We tried to calm them down, saying that they needed to eat well to be able to defeat the virus," Huan said.
After 10 days, Huan sighed with relief when they tested negative from rapid tests.
"If you are unluckily infected, the first thing you need to do is stay optimistic. When the symptoms are clearer, patients will lose appetite but they must not skip meals. They need to eat nutritious foods and fruits, drink orange juice daily, and take vitamin supplements," Huan said.
In addition, patients should do light physical exercise, take care of indoor plants, listen to relaxing music, and think about fun things to improve their spirit, he said. 
Hong Anh

HCM City detected 54,498 Covid-19 cases in the community through rapid tests on August 23-27.

Nanogen Biopharmaceuticals and the research team behind Việt Nam's home-grown COVID-19 vaccine Nano Covax, have been asked to provide more data before an emergency use licence can be granted.