African swine fever remains at large in Vietnam, restricting pork supply and pushing up the price of live pigs, with livestock groups facing serious damage, and even the largest ones forced to close facilities.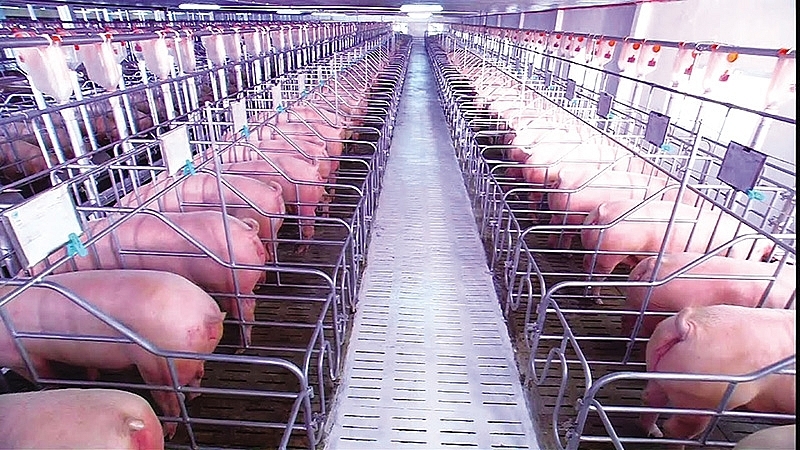 The nationwide epidemic has thrown the pig industry into imbalance, with prices and supply falling out of sync
Over recent days, consumers have been clamouring over news that African swine fever (ASF) has been found in some pig farms of leading farming business Mavin Group JSC, an Australian-invested enterprise operating in Vietnam since 2004. Despite the company's strict disease control protocols, the virus still found its way to its farms.
At a meeting with the Ministry of Agriculture and Rural Development (MARD) last week, Dao Manh Luong, CEO of Mavin Group, did not deny the rumours and said the company was still carrying out inspections to discover how the issue occurred. "We will cull all infected pigs," said Luong.
Previously, local media reported that farrmer Ha Quang Dao from the northern province of Phu Tho said that of the 400 baby pigs that he had bought from Mavin for more than VND1.6 million ($70) each on November 6, almost all have died since from ASF.
Business backed into corner
In addition to Mavin, numerous businesses have been suffering from ASF. Nguyen Nhu So, chairman of Dabaco Group, confirmed at the meeting that the group has culled 20,000 pigs from its herds because of the virus.
Elsewhere, according to a VIR source, domestic giant Masan Group has put its entire farm and feed chains on sale, retaining only the Meat Deli factory. Masan owns a farm that can house 5,000 sows in the central province of Nghe An, but is currently almost empty because of ASF. This forces Masan to buy pigs from other companies like Japfa Comfeed Vietnam Ltd., and C.P. Vietnam. The company temporarily closed a production factory for several months to decontaminate it.
Masan's feed production arm, Agriculture Nutrition Corporation (Anco) made a loss of VND139 billion ($6 million) in the first half of the year. Masan Meatlife currently holds 100 per cent of Anco.
In July, the United States-based animal feed production Cargill closed its animal-feed mills in China partly because of the devastation wrought by ASF that has reduced demand. "This is not a six-month trend for China," Chuck Warta, president of Cargill's Animal Nutrition and Pre-mix Business, said. "This is a 24-month, 36-month kind of resetting of the world's population of animals."
Cargill closed three feed and animal-nutrition plants in the second half of the fiscal year that ended on May 31, which is a reduction of approximately 150,000 metric tonnes in capacity. In Vietnam, Cargill is rumoured to be closing a feed factory in the northern province of Ha Nam while De Heus is also rolling down the curtains on its facility in the same province.
Adjusting supply
Since being first detected in Vietnam in February, ASF has been found in 8,296 wards in 660 districts of all 63 cities and provinces across the country, and about 5.7 million pigs, or 327,000 tonnes, have been culled.
The market has been struggling with ASF, causing fluctuations in the price of live pigs and pork. Two weeks ago, the price of live pigs from household farms in the north reached a record of VND80,000 ($3.45) per kilogramme, by an almost 170 per cent increase from that in May.
As of November 20, prices were stable in the northern and central regions, with the maximum price of VND78,000 ($3.40) per kilogramme. However, the lack of supply to re-populate farms still threatens price stability.
Meanwhile, prices in the south still increased by an ­average of VND3,000-5,000 per kilogramme, with the peak remaining below that of the northern and central regions. The prices of live pigs from farms working as outsourcing facilities for large groups remained below VND70,000 ($3) per kilogramme.
The price of pigs is expected to increase even further as the supply from industrial farms is falling while small-scale farmers are running out of stock, without moves being made to rebuild their herds.
Nguyen Xuan Duong, acting director of the MARD's Livestock Production Department, explained that it is not because of the current shortage of live pigs and pork that prices hit a record. "The majority of market information are only figures from individual provinces and do not provide a full overview of the entire market. Besides that, large-scale traders and small-scale livestock households hoard pigs and wait for prices to go higher when the market is cornered."
Soaring live pig prices have also escalated the price of pork, which now hovers between VND110,000 ($4.80) and VND130,000 ($5.65) per kilogramme at markets in Hanoi, by almost 30 per cent increase, depending on the cut. Baby back ribs have shot up to VND150,000-160,000 ($6.50-$7) per kilogramme.
Vu Anh Tuan, deputy general director of C.P. Vietnam, said that the company itself does not want the price of live pigs and pork to spiral out of control, as it would destabilise the market and lead to unsustainable development. Rising prices would encourage farmers and producers to grow pigs in increasing numbers, even while ASF is raging across the country, prolonging or causing another outbreak of the virus. "In order to address the domestic shortage, local authorities should crack down harder on illegal pig exports to China, which will immediately reduce domestic prices," he said.
In addition, the high price of domestic pigs is also opening the doors for imported meat, greatly affecting the structure of domestic animal husbandry, and increasing the risk of bringing in other viruses.
Tuan warned that China is gathering all kinds of breeding pigs from regional markets. "Thus, if we do not control exports, this could be a source of instability and exacerbate the shortage of pork in the future," he said.
Repopulating herds
Besides this, the representatives of other livestock groups shared that it is necessary to encourage households to re-populate their herds to offset the impacts of ASF. In the long-term, groups will have to build closed manufacturing chains from farm to table in order to decrease the number of intermediaries involved – which would reduce risk factors and prices at the same time.
Do Hoang Long, development and sales manager of Japfa Comfeed said, "The company is increasing the development of poultry farms in the areas where ASF is rampant, including Chuong My district in Hanoi, in order to limit the risk of re-populating herds in the infected area." VIR
Kim Huong

Increasing meat imports are adding to the pressure on the country's livestock industry brought by free trade agreements and the African swine flu epidemic, experts said.  

The Ministry of Industry and Trade (MoIT) and the Ministry of Agriculture and Rural Development (MARD) have proposed the Government import pork based on the directions of Deputy Prime Minister Vuong Dinh Hue.