Despite numerous risks, Vietnam's agro-forestry-fishery sector is expected to reap bigger fruits in 2019 with more investments implemented, making it one of the key drivers of economic growth. Thanh Dat reports.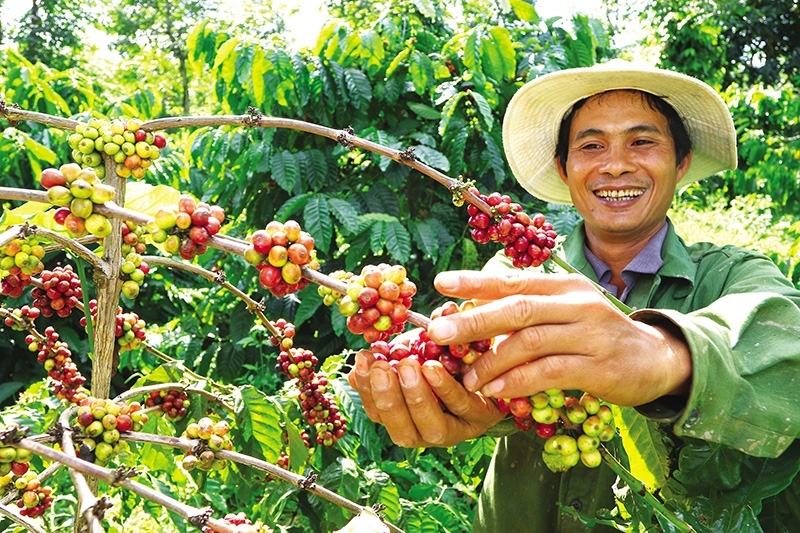 The agro-forestry-aquatic sector boasts great potential to attract more investment, while also contributing to the country's export turnover
Investment on the rise
Over the past few months, TH Group has spent millions of US dollars on beefing up production of fresh milk products. Not only being locally consumed, these products are also exported to China, where TH has become the first Vietnamese enterprise to be allowed by China's authorised agencies to export fresh milk products into this gigantic market with a population of 1.4 billion people.
According to the MARD, TH Group, which has been implementing a $1.7 billion dairy processing project in the central province of Nghe An since 2009, is among thousands of enterprises in Vietnam that have been expanding agricultural investments and exports to foreign nations, thereby contributing to the imposing achievements of the agro-forestry-fishery sector this year.
Recently, MARD Minister Nguyen Xuan Cuong met with Huang Jun, general director of a farm produce distribution and consumption group in China's Liaoning province. Jun told the minister that his group wants to build a ¥150 million ($21.8 million) plant to produce 120 tonnes of high-quality mushrooms a day in Vietnam.
In this group's business strategy, Vietnam will be a key market which will help it both produce and export agricultural products to not only China but also Europe and Africa. It is expected that this project, which has received approval from Vietnam, will be implemented in 2020.
According to the Ministry of Planning and Investment's Department of Agricultural Economy, many foreign firms expected to increase investment in agro-forestry-fisheries as the country continues cutting import tariffs under its commitments from free trade agreements and is offering new incentives to lure funding.
The department has worked with many foreign enterprises wishing to cultivate their projects in Vietnam, with products to be both locally consumed and exported.
As of November 20, Vietnam had 495 foreign-invested agro-forestry-fishery projects registered at $3.5 billion. In the first 11 months of 2019, Vietnam attracted 11 projects of the type with total registered capital of $63.62 million. Over the past few years, many major groups have invested heavily in the sector, especially domestic ones such as TH Group (over $2 billion), Binh Ha ($434.8 million), Dabaco ($173.9 million), and Thai Duong ($21.7 million).
Contribution to exports
MARD statistics show that Vietnam's total agro-forestry-fishery export turnover is expected to hit a new record of about $41.3 billion this year, up from $40.3 billion last year, with a total trade surplus of $9.5-10 billion, far higher than the whole economy's expected trade surplus of $8.1-$8.6 billion in 2019.
In the first 11 months of this year, the sector's total export-import turnover is estimated to be a record $65.7 billion, with export turnover estimated to reach $37.3 billion, up 3.6 per cent on-year, and accounting for 15.5 per cent of the entire economy's total export turnover.
Also, the sector enjoyed an $8.8 billion trade surplus, far higher than the $1.5 billion trade surplus in the same period last year.
In a specific case, To Ngoc Ngoi, general director of woodwork exporter VinaFor Saigon, told VIR that his company reaped export turnover of $5 million in the first 10 months of 2019, and the figure is expected to be $6 million for the whole year.
"Not only my company, all woodwork exporters here will benefit greatly from exports this year," Ngoi said.
A few weeks ago, VinaFor Saigon and New Zealand's Sequal Holdings Limited inked a distribution agreement, through which Sequal will provide custom cut radiata pine wood to VinaFor's manufacturers.
"We import the wood and resell it to other processors, who will use the material to manufacture products which will then be exported to Europe and the US," Ngoi said. "Despite global uncertainties, the demand for wood products keeps going up."
According to the MARD, in the first 10 months of 2019, total wood export turnover touched $8.52 billion, up 17.8 per cent on-year, and strongly rose in many markets, such as Saudi Arabia (47.6 per cent), the US (33.6 per cent), Taiwan (26.1 per cent), Laos (23.1 per cent), and Japan (17.5 per cent).
"All wood firms have been performing very well and have secured export orders until the second quarter of next year," Nguyen Ton Quyen, vice chairman of the Timber and Forest Product Association of Vietnam, told VIR. "While enterprises' production is improving, the global demand for Vietnam's wooden products are strongly rising, focusing on key markets including the US, China, Japan, and South Korea."
In another case, Pham Minh Thong, chairman and general director of Phuc Sinh Corporation, told VIR that over the past months, his company, specialised in processing and exporting agricultural products, has "greatly benefited" from exports, especially in new markets.
"For example, we are boosting pepper exports to Mexico, and the country's import tariff for this item has been slashed from the initial 30 per cent to zero," Thong said.
Phuc Sinh's total export turnover in the first half of the year from the world's markets hit $130 million, up 35 per cent on-year. The figure is expected to reach about $250 million this year.
"The Comprehensive and Progressive Agreement for Trans-Pacific Partnership (CPTPP) has brought vast export opportunities to Vietnamese goods. Many of our partners have also been boosting exports to the CPTPP member states, with slashed tariffs," Thong said.
Under the CPTPP, upon the deal's entry into force, almost all nations must reduce tariffs for Vietnamese goods, such as Canada (94 per cent), Chile (95 per cent), Japan (86 per cent), and Mexico (77 per cent). However, the rate for Vietnam is only 66 per cent, which will be raised to 86 per cent until late 2022.
Other MARD stats illustrate that other items have also benefited from exports. For example, Vietnam's vegetable export turnover from many markets also witnessed a strong on-year rise in the first 10 months, such as Laos (414 per cent), Hong Kong (315 per cent), Taiwan (56.8 per cent), the Netherlands (41.6 per cent), and Japan (24.3 per cent).
Also, in this period, Vietnam's rubber export turnover was $1.75 billion, up 5.6 per cent on-year. The same rosy picture was also seen in tea exports, with total turnover of $187 million, up 14.3 per cent on-year.
However, aquatic exports hit only $7.1 billion, down 2.4 per cent on-year. Minh Phu Corporation, which is Vietnam's largest shrimp exporter, suffered from a reduction in export turnover in the first 10 months of 2019, at over $550 million, down 10.25 per cent from nearly $613 million in the same period last year.
The total value of the corporation's signed contracts also dipped from $738.2 million in the first 10 months of 2018 to $609.9 million in the same period this year.
"Minh Phu is facing difficulties in sourcing sufficient materials to fulfil signed contracts," stated the corporation's latest bulletin.
The MARD also reported that in the first 11 months of this year, in general, the largest import markets of Vietnam's agro-forestry-fishery products include China (accounting for 26.9 per cent of Vietnam's total export turnover), follow by the US (21.9 per cent), the EU (11.7 per cent), Southeast Asia (10.1 per cent), Japan (8.8 per cent), and South Korea (5.8 per cent). VIR
Thanh Dat

Digital technology is indeed being used in agriculture but is insufficiently widespread.

Nguyen Ngoc Huong of HCM City's Cu Chi District and her collaborators have jointly set up a start-up to produce freeze-dried powders from vegetables and leaves.