The new economic models of transportation, lodging services, fintech, energy, and digital entertainment are expected to drive the sharing economy in Vietnam if regulatory sandboxes become more readily available.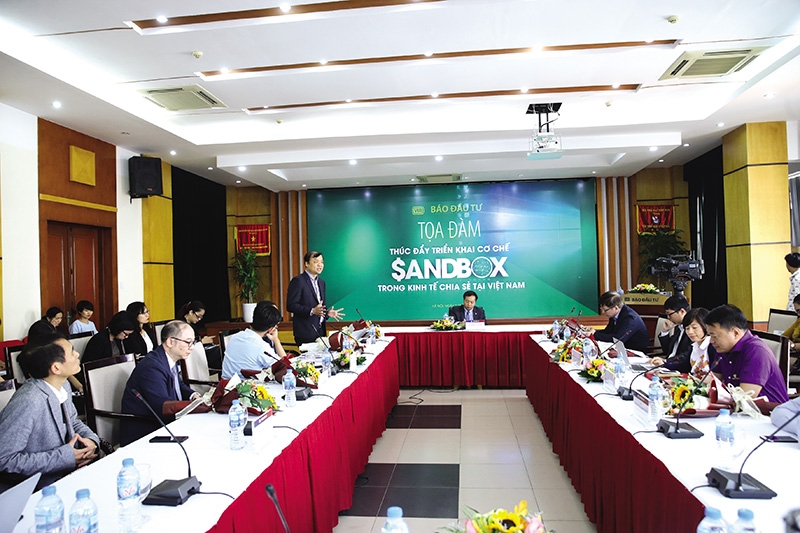 VIR's roundtable on deploying sandboxes in Vietnam's sharing economy was joined by experts and businesses
Fintech, considered a fairly new economic model, is facilitating the sharing economy which has been developing in Singapore and other regional countries in recent time. In Vietnam, fintech is beginning to take root, but without a lack of regulatory sandboxes for fintech advancement in the country.
Validus Capital, a Singapore-based peer-to-peer (P2P) lending ­platform for small- and medium-sized enterprises (SMEs) and accredited investors, last week launched financial support services for SMEs in Vietnam, marking its official expansion to the country. However, Validus may suffer from challenges in related policies, though its plan is significant for local SMEs.
At VIR's roundtable on deploying sandboxes to strengthen the foundations of the sharing economy last week, fintech was once again highlighted, with difficulties of fintech firms like Validus delved into.
VIR editor-in-chief Le Trong Minh stated, "Industry 4.0 brings about opportunities and challenges to countries, businesses, organisations, and individuals. It has been making increasingly great impacts on all socio-economic fields. To create a feasible regulatory sandbox, the recommendations of policymakers, experts, and businesses are useful."
A sandbox, commonly described as a software testing environment, enables the isolated execution of software or programmes for independent evaluation, monitoring, or testing.
According to Ngo Van Duc, deputy head of Payment Systems Oversight Division at the State Bank of Vietnam (SBV), fintech has so far developed to help provide locals with increased access to banking and financial services such as payments, crowdfunding, personal finance, P2P lending, blockchain, data management, and point-of-sale management.
Despite this, there are legal barriers hindering fintech. Duc explained, "Except for intermediate payment services, other fintech activities are not regulated in prevailing legal documents. In fact, current laws related to specific businesses of credit institutions do not allow the application of advanced technology solutions, especially in payments."
"Developing a regulatory sandbox for fintech is urgent amid the influence of Industry 4.0, especially in the short term when the country is not able to build a general legal framework to meet market demands, and to prevent possible risks, tax losses, and illegal activities," Duc added.
Tran Thi Quang Hong from the Ministry of Justice's Legal Science Institute said that all economic sectors and social fields are being widely impacted by Industry 4.0. However, progress in this department remains slow.
"Although regulatory sandboxes have been a major topic of conversation at recent policy forums on technology development in Vietnam, they are not yet widely available for testing new technologies, new economic models, and services," said Hong.
International interest
However, thus far, the shortfall has not prevented domestic and foreign-invested enterprises from working on specific services and products to serve market needs, with fintech, transportation, and lodging services the most developed sectors.
Famous brands such as Grab, Airbnb, Agoda, and Traveloka are now active in Vietnam, and many domestic businesses also exist, although the Ministry of Transport and the Ministry of Culture, Sports, and Tourism have not yet finished adjusting the existing rules to create an official legal framework for them.
According to Nguyen Quang Dong, head of the Institute for Policy Studies and Media Development, fintech, transportation, and lodging services will continue to boom in the local market for the foreseeable future, and energy and digital entertainment will be the next potential areas of growth. Therefore, Vietnam should give priority to developing regulatory sandboxes for them.
However, in any market, a lack of a legal framework results in risks for these ventures. Ride-hailing firms Uber and Grab are perfect examples of this. Uber withdrew from Vietnam after four years, while Grab is facing legal challenges from Decree No.86/2014/ND-CP issued in 2014 on business conditions for transportation businesses. Still, the decree is now being amended.
"An unclear legal environment and inconsistent legal performance can result in risks and long-term disadvantages for businesses, as well as the whole economy," Dong told VIR.
As a result, some Vietnamese businesses have established entities abroad, including in Singapore, Estonia, and elsewhere, to present the possible legal risks of running a business in Vietnam.
Dao Dinh Kha, general director of the Ministry of Information and Communications' IT Department, said that sandboxes are vital to the country's digital transformation.
"We must solve the legal issues which have emerged to assess their possible impacts on all involved and society itself. With this in mind, creating sandboxes is the best possible approach," Kha noted.
In Southeast Asia, Singapore, Thailand, Indonesia, and Malaysia have all already introduced regulatory sandboxes. This may make Vietnam's ambition of becoming a leading digital economy in the region and the destination of new models and technologies a distant prospect.
More actions sought
This year the country has been showing its strong determination to realise this via a number of hallmark documents. For example, the Party Central Committee in June issued Resolution No.52-NQ/TW on Vietnam joining Industry 4.0. The resolution in particular mentions regulatory sandboxes, and requires the early issuance of such sandboxes for new Industry 4.0 technologies, products, services, and business models.
So far, a number of ministries and institutions have made moves. For example, the SBV has completed its master plan on regulatory sandboxes and submitted it to the government, and is waiting for permission to take the next steps to promote new technology services.
The Ministry of Planning and Investment has also been working on a draft decree on highly special incentives for the National Innovation Centre. Some groups of incentive policies will be piloted, including tax ­policies, technology transfer, and the policies for attracting international technology giants, ­including those from the United States and Japan. Industry insiders claimed that the state's resolutions and decisions are merely guidelines, and regulatory sandboxes will remain theoretical if there is no specific legal framework governing them.
Hong from the Legal Science Institute suggested that the legal framework for sandboxes should follow certain rules. These include a unified concept of targets, and visions; empowering ministries and agencies to create regulatory sandboxes; establishing general principles for development, and forming a framework for testing.
Recent global surveys forecast that the sharing economy will become an important part of the world economy in the near future. Based on the growth models of Uber and Airbnb, the US-based Brookings Institute projects that the sharing economy will expand from $14 billion in 2014 to $335 billion in 2025 in the US.
Vietnam is expected to follow this trend if action is taken soon. This will assist existing players, as well as newcomers such as Validus, thus enabling the country to realise its digital ambitions.
Nguyen Hoa Binh - Chairman, NextTech Group
A lack of regulatory sandbox models may bring negative consequences. First of all, innovation would be hindered when traditional regulatory frameworks are applied to new business models. Second, it causes unnecessary social inefficiencies in the absence of specific mechanisms that help activities to be carried out quickly and conveniently through electronic models.
There will also be social instability. If there is no mechanism encouraging genuine businesses to develop, they will have to struggle in an unequal battlefield. For example, without a pilot mechanism to create favourable conditions for Vietnamese businesses to innovate, they will look to other channels such as underground contraband or illegal payments.
Finally, investment activities will face enormous obstacles. One matter that both domestic and international investors pay attention to is legal risk. Not creating a pilot mechanism directly obstructs the flow of capital, pulling the cash flow to other countries where there is a clear regulatory system.
By thinking outside the box, it is impossible using traditional legal frameworks to manage new creative business models.
Nguyen Hoa Cuong - Deputy director-general Enterprise Development Agency
Industry 4.0 brings fundamental technical changes to people's lives and enterprise performance. Thus, it is essential for Vietnam to catch up with the revolution by establishing programmes and projects which can apply disruptive technologies. The National Innovation Centre (NIC) is one example.
The NIC will connect and co-operate with other centres from different countries in a bid to create an integrated universal system. Specifically, enterprises and startups operating in the NIC would enjoy the most preferential policies.
Furthermore, it will provide a regulatory sandbox model with the best incentives which are expected to transform Vietnam into a regional attractive destination.
Many people ask whether new technology would eliminate traditional businesses. However, everything at this digital age is about speed and convenience. Customers would not be patient to deal with lengthy and phased out business practices.
So, a ­traditional business model cannot avoid the shift to digital integration in a bid to avoid missing out on business opportunities.
Ngo Van Duc - Deputy head, Payment Systems Oversight Division State Bank of Vietnam
While new technologies are rarely fully-formed when first introduced to a marketplace, it can be an exceptional time for new entrants to the industry to secure approval from relevant regulators. This issue occurs not only in Vietnam.
The challenge for fintech firms is that, given the innovative technologies being employed in a sector that has been built on a stagnant, aged infrastructure, financial service regulators can be unfamiliar with many of the new underlying technologies that are being introduced.
Within a maximum three-year period, businesses operating in the NIC could gain benefits from exemption of import tax for input goods and services used for their research and development activities.
At first, only Vietnamese businesses can participate in the early stages to test out business hypotheses in a safe ­environment and in a ­controlled manner.
This will help clarify questions and hopefully allay startups' concerns. It is also a great opportunity for businesses to get inputs on their products thanks to insightful ­suggestions.
Bui Viet Dung - CEO, Financial Deep Mind
The pilot sandbox model allows enterprises with new technologies and new business models, who have yet to find a proper management system, to test their model in a limited space and time under the supervision of managers while having appropriate risk prevention planned out.
As a fintech company which has worked with dynamic leading financial institutions, we have always wished to enter such a sandbox. We believe that the fintech community in Vietnam also shares the same desire. In more than 30 countries and territories, regulatory sandboxes and innovation offices are being implemented at an unprecedented pace. Of course, we are fully aware that it is not a piece of cake for a nation to set up regulatory sandboxes right away.
Especially as the main task of ministries and agencies is to control social stability, being entrusted to participate in operating sandboxes may sound conflicting to them. Hopefully, the government will take more concrete steps for Vietnam to appear on the innovation map, so that our passion and innovative thinking can be unleashed.
Nguyen Xuan Viet Binh - Moca representative
E-payments play an important role in developing a shared economy. The recent strategic co-operation between Grab and Moca is a typical example, in which efficiency is increasingly rising.
Specifically, the number of Moca users has already increased six-fold on-year, with the number of banks directly linking to Moca being doubled this year. In the first half of 2019 only, transactions within Grab via the Moca e-wallet rose by 150 per cent, and as of September, non-cash transactions via Moca made up 42 per cent of all transactions on Grab.
For fintech, the sandbox model is expected to strengthen innovation of businesses and boost the approach to banking and financial services.
To build mechanisms for the sandbox model, we propose to clarify new methods and concepts which will focus on efficiency and reliability. The trial period could be short, and these new methods could be applied right then.
For completely new concepts like peer-to-peer lending, the trial period should be longer, and more regulations should be promulgated to ensure both state management and economic efficiency for the long term.
Mai Duy Quang - Vice chairman Vietnam Software and IT Services Association
In a sharing economy, no matter where in the world you are, all the available resources will be utilised across relevant sectors. In addition, business profits will be shared across most of the parties, services providers, users, consumers, and platform providers.
The sharing economy has been gathering speed over recent years and is developing significantly, based on the application of advanced technology.
This enables countries just like Vietnam to catch up with the Fourth Industrial Revolution. Thereby, the sharing economy will be developed in every sector, including in sectors such as logistics, retail, and banking and finance, among others.
It is necessary for the country to formulate a sandbox mechanism which will allow businesses all shapes and sizes to test, to fail, and to fix, without penalties or under-the-table costs or fees. However, we should make sure that the regulatory sandbox model will not be open to abuse from any business, institution, or individual. VIR
Bich Thuy

Regulators are working to finalise the sandbox for healthy market development, accelerating economic growth that will help Vietnamese fintech companies bloom.

Opportunities will slip through Vietnamese firms' hands if a sandbox is not developed soon, NextTech chairman Nguyen Hoa Binh said at a conference on November 7.