Some reports show that Shopee has left its rivals far behind, and that Tiki is competing equally with Lazada, while Sendo is in the fourth position.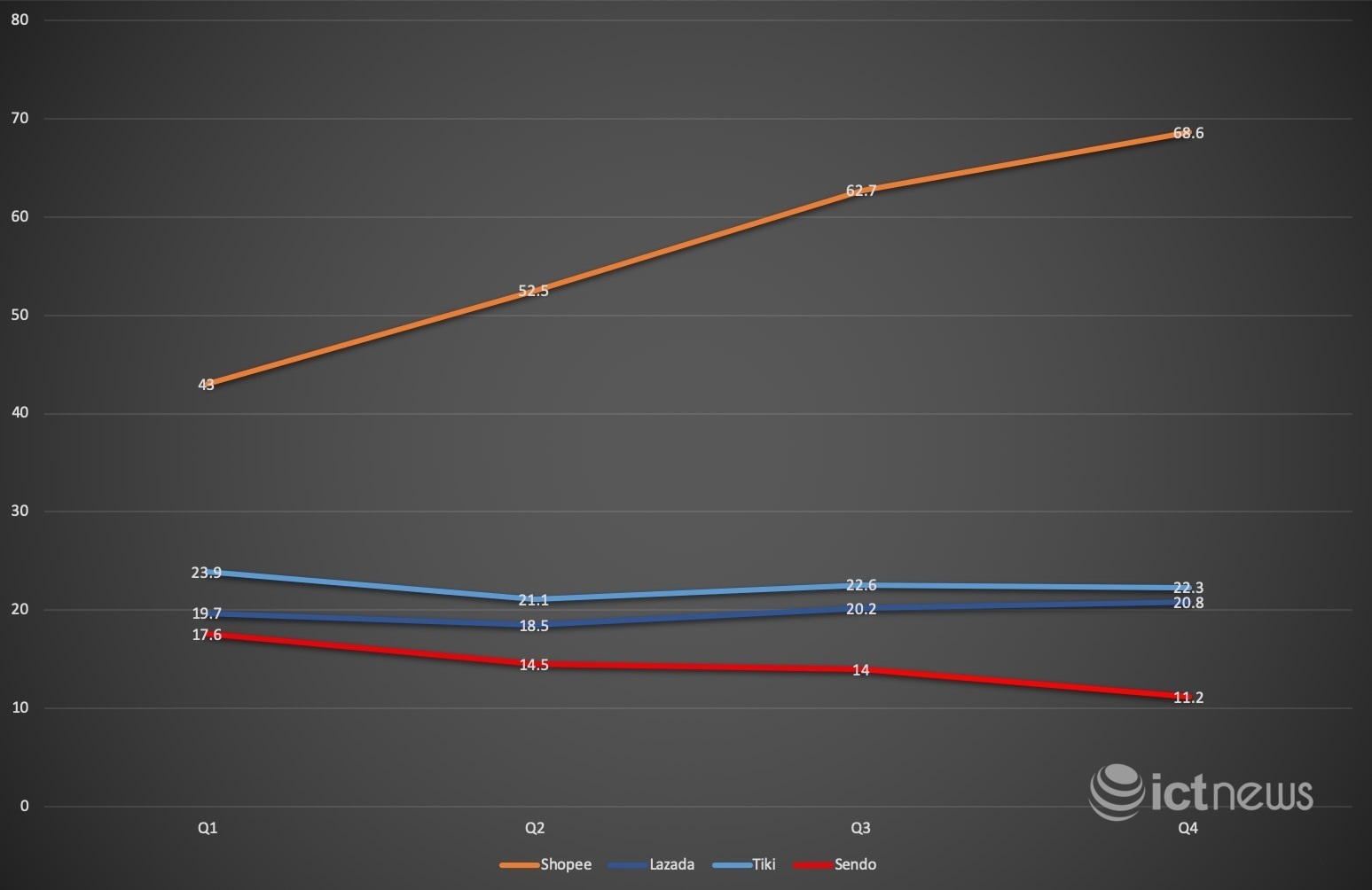 The numbers of visits to wesbites from Q1 to Q4 2020
In 2020, when the rumor about the merger of Vietnamese sites Tiki and Sendo spread, many experts predicted that the combined efforts of the two e-commerce platforms would help increase the competitiveness of Vietnam's e-commerce in the region.
However, as the merger plan failed, the competitiveness of Vietnamese players in comparison with foreign ones remains a question.
Shopee, Lazada have diverse goods, Tiki good at delivery
A recent report from Reputa, a social listening platform, showed that Shopee is mentioned more on the internet more than other e-commerce platforms. Meanwhile, Tiki has gained fame for its the delivery speed.
In 2020, nearly 70 percent of discussions on social networks were about Shopee. Lazada ranked second with 11.4 percent, followed by Tiki and Sendo with 9.07 percent and 8.78 percent, respectively.
On Google Trends, Shopee has also left other rivals far behind. The next positions belong to Lazada, Tiki and Sendo.
Shopee leads e-commerce platforms in its ability to approach young clients, aged 18-35, mostly female clients from Hanoi and HCM City.
Young people and women are also the majority of clients interested in other platforms, but they account for a smaller proportion than Shopee.
According to Reputa, goods are the most influential factor on the four e-commerce sites. The factors include the cost, quality, variety of goods and reliability of stores on the platforms.
Lazada (53.55 percent) and Shopee (52.9 percent) are the two sites where the goods factor is highest, followed by Sendo (37.35 percpent) and Tiki (33.65 percent).
The second most important factor to attract customers is marketing and media campaigns. In this term, Tiki is leading (38.65 percent), followed by Sendo (30.45 percent), Shopee (30.3 percent) and Lazada (24.05 percent).
The third most important factor is the delivery service (delivery speed and shippers' behaviors), and customer care. Tiki is the e-commerce site which pays the highest attention to that factor (20 percent). It can deliver goods within two hours, and customers can check goods before receiving.
Meanwhile, the shops that deceive clients, deliver wrong goods and provide low-quality and counterfeit goods are the biggest problems (46 percent) that cause dissatisfaction when shopping on the four platforms.
After analyzing clients' assessments, Reputa concluded that Tiki is good at delivery speed, while Shopee's advantage lies in its goods diversification and costs.
Shopee excels in number of views
According to iPrice, Shopee led in both the number of visits to the website and the ranking of apps on Android and iOS in the entire year 2020. Tiki and Lazada are on the same par, while Sendo has been left behind.

Some reports show that Shopee has left its rivals far behind, and that Tiki is competing equally with Lazada, while Sendo is in the fourth position.
In terms of visitors, Shopee had 43 million visits to its website a month in Q1 2020, double the figure of Tiki, which was in the second position. In Q4 2020, the number of visits to Shopee surged to 68.6 million a month, triple Tiki's. The app of the platform also ranked No 1 in 2020.
As for Lazada and Tiki, the number of visits to the latter was usually a little higher than Lazada. On average, Tiki had 22.5 million visits a month in 2020, higher than the 19.8 million of Lazada.
Meanwhile, Sendo was in the fourth position with the number of visits decreasing from 17.6 million a month in Q1 to 11.2 million in Q4 2020.
In Q1 2020, Tiki's app ranked second for iOS operating system. But since the Q2, it has fallen into the third position. Meanwhile, the two foreign platforms, Shopee and Lazada, have been in the two leading positions, pushing the two Vietnamese platforms to the bottom of top 4.
As such, the foreign Shopee and Lazada are ahead of Vietnamese rivals. Tiki number of visits is a little higher than Lazada, but the figure is still far lower than Shopee. Meanwhile, Sendo is at the bottom in top 4 in both web and app users.
Founded by Vietnamese, both Tiki and Sendo have investment capital from both Vietnamese and foreign funds.
To compare the four e-commerce platforms, it is necessary to compare their turnover and profits, but all of them have not made public these figures.
CafeF estimates that Lazada's accumulative loss by 2018 had reached VND7.111 trillion, Shopee VND2.708 trillion, Tiki VND1.395 trillion and Sendo VND1.253 trillion.
The figures about losses show the high investment levels. The two foreign rivals take full advantage of their capital to compete with Vietnamese platforms which have less money.
According to Ministry of Industry and Trade, Vietnam's e-commerce grew by 18 percent in 2020, the highest growth rate in the region. It is the only country in Southeast Asia which had a two-digit growth rate. The market had value of $11.8 billion, accounting for 5.5 percent of total turnover from goods and service retail. 
Hai Dang

Innovation in Vietnam's e-commerce industry this year will focus primarily on payments, logistics, and digital technology.

The Vietnamese e-commerce market is forecast to continue to boom in 2021, with revenue surpassing last year's figure.