The textile and garment industry may fail to take tariff advantage from the CPTPP and the Vietnam-EU Free Trade Agreement (EVFTA) as it cannot tackle the issue of local materials.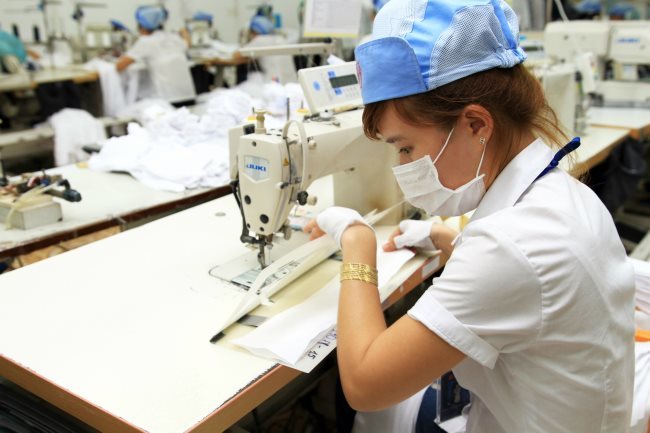 With the advantages in the textile and garment industry and the opportunities from new-generation free trade agreements, Vietnam is an attractive destination for many foreign textile, garment and material production enterprises
Meanwhile, the Government and local authorities are still undecided over the planning for the industry. 
The textile and garment industry achieved impressive growth in 2018, with exports rising over 16% against the previous year to US$36 billion, turning Vietnam into the world's third largest textile and garment exporter after China and India.
This is a very high growth rate, given the global textile and garment demand grew only 3% and the growth of the world's top 10 textile and garment exporters was less than 5%.
The industry also scored high export growth in the first quarter, with a year-on-year increase of 11.9% to over US$8.6 billion.
These impressive figures have prompted the Vietnam Textile and Apparel Association (VITAS) to be optimistic that the industry could achieve the export target of US$40 billion this year.
Le Tien Truong, general director of the Vietnam Textile and Garment Group (Vinatex), said orders for textiles and garments are rising steadily from 8%-10% over the same period last year. Many enterprises have enough orders for the second and third quarters.
A report by the Ministry of Industry and Trade also shows that as early as late last year and early this year, many enterprises already received enough orders for the first half of this year and even the entire year.
According to garment enterprises, the garment industry has quite good orders because textiles and garments are not in the list of the U.S. tariffs for Chinese goods, so customers have continued to place orders as usual with both Vietnam and China.
However, part of the orders in China may shift to Vietnam if Chinese textiles and garments are subject to U.S. tariffs. Meanwhile, garment exports to markets outside the Sino-U.S. trade war are little affected.
Truong Van Cam, vice chairman and general secretary of VITAS, said the EVFTA, expected to be signed this year, will usher in the potential for garment exports worth over US$100 billion per year.
The current tariff for garment exports to the EU averages 9.6%, but the rate will be reduced to zero over seven years after the agreement takes effect.
Meanwhile, the CPTPP, which has been effective for Vietnam since January 2019, eliminates, immediately or under roadmaps, tariffs for textile and garment exports from Vietnam to partner countries.
The agreement is seen as an opportunity to open new, large markets for Vietnam, such as Canada, Australia, New Zealand, Peru and Chile. Previously, Vietnam's exports to these countries must go through third parties.
However, alongside opportunities, the EVFTA and the CPTPP also pose big challenges. Unlike other free trade agreements (FTAs), the CPTPP has a separate, independent chapter for textiles and garments. Other FTAs where Vietnam is a member only apply the principle of one or two phases.
However, the CPTPP regulates the three-phase principle, including yarning and spinning, weaving and fabric finishing, and tailoring. All the three phases must be done in member countries.
The fabric-forward rule hits the weakness of Vietnam's textile and garment industry, which has to import up to 80% of fabrics for making export garments. Nearly 50% of the fabric imports is from China, 18% from South Korea and 15% from Taiwan.
Meanwhile, China does not participate in big FTAs, especially the CPTPP, so Vietnam cannot take full advantage of the tariff preferences from the agreement. 
"Allergic" to textiles
With the advantages in the textile and garment industry and the opportunities from the EVFTA and CPTPP, Vietnam is seen as an attractive destination for many foreign textile, garment and material production enterprises.
Tinh Loi Garment, a member company of Crystal Hong Kong Corporation, has recently been approved for an investment of US$39 million in a garment factory in Hai Duong Province, its third in the northern province.
The company has an advantage in making export knitwear and woolwear under different brands like JC Penney, Ann Taylor, Mango and Uniqlo.
Recently, a Taiwanese enterprise has inked an agreement to develop the Minh Hung-Sikico, an industrial park for textile and dying covering an area of five hectares in the southern province of Binh Phuoc, with an investment of US$30 million.
South Korea's Kyungbang, which specializes in thread, yarn and textile accessories, has injected an additional US$84 million into its factory in Bau Bang Industrial Park in Binh Duong Province, raising its total investment to US$179.2 million.
Vietnam has also attracted many foreign enterprises in textile and garment exhibitions. Last month, more than 1,000 suppliers from 24 countries and territories joined the Saigon Tex & Saigon Fabric 2019.
The Taiwan Textile Federation had more than 30 participating members, triple the figure five years ago. Marisa S. Kuo, foreign market development manager of the federation, said Taiwanese enterprises see great potential for development in Vietnam thanks to the low production cost, a large labor force and the export advantages from FTAs.
"About half of the Taiwanese enterprises participating in the exhibition have production facilities in Vietnam, and they have continued to expand production," she said. "Many Taiwanese textile and garment enterprises in China also tend to move to Vietnam."
However, investment in the production of materials under the yarn forward rule is facing many difficulties. Many textile dying projects have been rejected by local authorities over environmental concerns.
Last year, Vinh Phuc Province turned down a multi-million-dollar project by Hong Kong's TAL. Danang also said no to a US$200-million project by a Hong Kong investor over environmental concern.
According to VITAS leaders, if local authorities do not approve textile projects, the textile and garment industry will not have yarns and fabrics for export, and so the industry is still doing sub-contracting work.
Dying projects pose environmental risks, but those projects should get approval if they have good wastewater treatment technology. Local authorities should give priority for textile dying projects with modern wastewater treatment technology.
In the recent Vietnam Private Sector Economic Forum 2019, Vu Duc Giang, VITAS chairman, noted the difficulty for fabric development, as local authorities are "allergic" to textile and garment projects, especially dying projects. Giang said the industry planning is outdated but it gets no attention.
"The CPTPP is the backbone of the textile and garment industry, but it needs a foundation," said Giang.
"The role of the ministries of Industry and Trade, Finance, and Natural Resources and Environment is very important, because the trade agreement will not bring benefits if these ministries do not have consensus. The Government should play a role in the planning. It should not let local authorities to approve investment at their own will." SGT
Quoc Hung