Bach Mai Hospital Director Nguyen Quang Tuan has affirmed that the departure of 28 doctors will not affect the hospital's operations.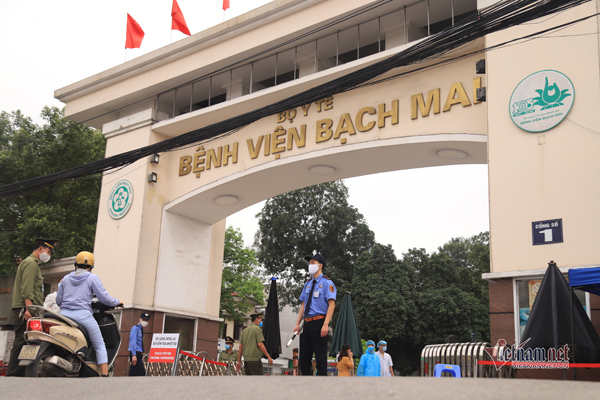 The Ministry of Health (MOH) conducted an inspection campaign to assess the quality of hospitals and a survey to assess patients' satisfaction about service quality.
The survey was conducted online, with anonymity guaranteed.
At Bach Mai Hospital, 74 percent of inpatients said they were satisfied about the hospital's services, while the figure is 82 percent for outpatients.
The satisfaction of medical workers about the hospital was low, just 3.5/5, while it was above 4 in previous years.
As many as 2, 014 out 4,300 people participated in the survey and 15 percent said they were fully satisfied about the hospital, while 51 percent were generally satisfied about the hospital's leaders. Sixty three percent said they wanted to work there for a long time, while 70 percent proposed increasing wages.
More than 100 workers complained that they were overloaded because of the unreasonable working regime with no time off to compensate for days on duty, and that they were subject to high pressure, low income and too many exams for ranking. They also cited many other problems, such as the lack of workers and lack of equipment, including gloves. They want more fair punishment and more compliments, more encouragement, and workers' opinions heard.
"We are facing serious difficulties. We work under pressure, while the income is low. Many good doctors and nurses have left because the pressure has become unbearable. We are very tired, and we stay just because of the word 'Bach Mai'," a worker wrote.
"We have a high number of working hours daily, while the income is too low. Under current laws, every worker has eight working hours a day, but we work at least 10 hours a day," another worker wrote.
Reshuffling
An officer of the administration division of Bach Mai Hospital commented that the fact that 15 percent of workers feeling satisfied working in such an environment with high pressure is a 'fairly high figure'.
"As explained by MOH, 'fully satisfied' means that workers don't complain about anything and all their demands can be met. This is really difficult," he said.
"In the context of revenue decrease of VND2 trillion, high pressure, 50 percent income decrease, hard work and Covid-19, this figure is quite understandable," he said.
The officer went on to say that leaders of the hospital and all department heads fulfilled their tasks last year in very difficult conditions amid the pandemic and the requirements to improve service quality.
The hospital has a comprehensive healthcare regime, under which every patient has one bed and nurses have to wash patients' hairs and clean the potty, works they did not have to do in the past.
Bach Mai became the first public hospital in Vietnam following the autonomy policy in 2020 which means that it can no longer receive funding from the State and has to cover its own expenses.

Bach Mai became the first public hospital in Vietnam following the autonomy policy in 2020 which means that it can no longer receive funding from the State and has to cover its own expenses.
The leaders of the hospital have been making every effort to improve service quality to increase patient satisfaction. It needs to employ more workers, but it cannot because of limited financial capability. As a result, medical workers have had to undertake more work and one nurse has to take care of many patients.
Reshuffling to improve service quality and bring the highest possible satisfaction to patients is what the hospital must do to exist in an autonomy regime. However, reshuffling is never easy and needs serious measures.
Because patients queue up at 3-4 am to register for health examinations, the hospital's leaders asked the workers of some departments to begin their working shift at 5 am.
Heads of departments also have to take higher responsibility. Only when their departments are recognized as excellently fulfilling tasks will they be recognized as excellent workers.
The hospital has also imposed strict punishments on medical workers who have bad attitudes towards patients and their relatives. If patients make complaints, the cases will be considered and judged by a disciplinary committee. The new regulations have put pressure on workers.
"What we need to do now is provide best services and win patients' satisfaction. If so, we will have more patients, and thus higher income. We will continue to ask to remove the bottlenecks in the financial mechanism," he said.
What does the hospital say?
Asked about the mass resignation of 221 workers, including 28 doctors, the Bach Mai Hospital director said it was a normal phenomenon in the labor market. Many private hospitals have been set up and workers now have many choices for jobs.
He affirmed that the hospital has recruited a high number of highly qualified workers, including professors, associate professors, practitioners with doctorates, and residents.
The hospital also signed labor contracts with nurses who experienced refresher training courses in 2019.
"Bach Mai has nearly 1,000 professors, associate professors and practitioners with doctorates, so the departure of 28 practitioners will not affect the operation of the hospital," Tuan said. 
Thuy Hanh

More than 200 workers at Hanoi-based Bach Mai Hospital, the country's leading hospital, have resigned from their posts. Some practitioners said they had left because of unreasonable changes in management.

The coronavirus outbreak at Hanoi-based Bach Mai Hospital was one of the most concerning outbreaks in Vietnam since the pandemic began.