With Vietnam's new foreign direct investment attraction strategy towards 2030 set to be unveiled soon, international investors are making fresh moves to benefit from privileged incentives.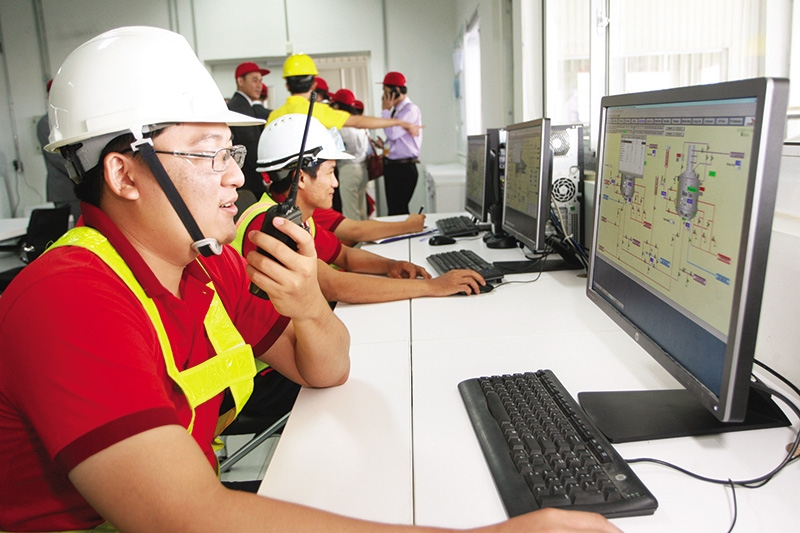 Vietnam will give priority to technology-intensive, higher value-added foreign projects
Working in Vietnam for months, Boikov Ivan, a senior specialist at the Russian Business Mission in Hanoi, is seeking to help Russian firms successfully penetrate the Vietnamese market.
"A group of companies from Russia are interested in investment and business in retail, high-tech transport and healthcare, among others, in Vietnam. They are learning about how they can enter the market," he told VIR.
Russia is currently not one of Vietnam's biggest foreign investors. As shown in statistics from the Ministry of Planning and Investment (MPI), as of June 20, 2019 Vietnam attracted an accumulated $954.4 million in Russian investment, ranking 24th among the 132 countries and territories investing in the nation.
This might change in a few days, however, after Vietnam releases its new foreign direct investment (FDI) attraction strategy, putting focus exactly on the sectors of interest for Russian investors.
Busy trips
Like Russian firms, Swedish firms have also been looking at their options in Vietnam, led by global tech giant Ericsson. The company has increased its hi-tech investment in Vietnam, inspired by the newly-signed free trade agreements with the EU and the country's new FDI strategy.
"Ericsson takes a very positive view of Vietnam's new FDI strategy which focuses on attracting high-tech investments centred around Industry 4.0, Internet of Things (IoT), and smart city initiatives," said Denis Brunetti, president of Ericsson Vietnam and Myanmar.
"The government wisely recognised that to continue enjoying sustained and inclusive GDP growth and avoid the middle income trap, the next wave of socio-economic development and prosperity will need to be driven by FDI centring on science, technology, and innovation. Ericsson supports the government's vision of promoting high-tech FDI to Vietnam, enabled by 5G IoT connectivity across the nation, digitally transforming all industries," he added.
Similarly, a delegation of the biggest Italian internal decor manufacturers will arrive to Vietnam this week to seek business opportunities with local partners, according to the Italian Chamber of Commerce in Vietnam (ICham).
Pham Hoang Hai, executive director of ICham, said, "We will organise the Lifestyle Made in Italy event in Hanoi for the third time for Italian internal decor manufacturers, as well as the most famous importers of internal decor in Asia, who see huge growth potential in Vietnam and the wider region."
"I am also helping other Italian firms to seek investment opportunities in the high-tech and environmentally friendly sectors in line with Vietnam's new strategy," added Hai.
These new developments reflect international investors' readiness to align with Vietnam's future strategies.
Unprecedented incentives
Amid the expectations from overseas investors, the MPI at last week's press briefing announced that the latest version of the new FDI attraction strategy will be soon approved by the Politburo, and released in the upcoming days.
As expected, the draft version has many important changes aligning with Vietnam's new socio-economic development plan, at a time when unfavourable global changes and the Fourth Industrial Revolution are influential worldwide.
As shown in the draft, one of the highlights is the change in the country's FDI strategy orientation and investment incentives towards focusing on output quality and contributions to the domestic sectors. These include the value chain, added value, application and transfer of high-technology, research and development, and innovation, rather than the previous focus on location, sectors, and investment scale.
In highly-developed localities with high economic growth such as Hanoi, Ho Chi Minh City, Haiphong, and Danang, which are aiming to become smart cities, incentives will be given to hi-tech industries such as IoT, artificial intelligence and Big Data.
Meanwhile, cities and provinces which have difficult and extremely difficult socio-economic conditions will be oriented to attract FDI in labour-intensive sectors and outsourcing and assembling at higher levels.
In addition, Vietnam will also concentrate more on financial supporting policies, for example the incentive policies on lending interest rate and trading rights, instead of focusing on the incentives on tax and land as it does currently.
Industry insiders said that when the new strategy is in play, Vietnam is possibly set to see an increase in FDI inflows from big players including Japan, South Korea, Singapore, the EU, and the United States.
According to statistics from the MPI, Vietnam attracted $18.47 billion worth of newly-registered, added FDI and stake acquisitions in the first half of 2019.
Processing and manufacturing retains the most attention among foreign investors in Vietnam at $13.15 billion, accounting for 71.2 per cent of the country's total FDI, followed by real estate and retail.
Furthermore, investment in hi-tech has increased in line with the trend of heading towards Industry 4.0 tech in alignment with the country's new priorities.
Hong Sun - Vice chairman Korea Chamber of Business in Vietnam
Vietnam is an attractive investment destination to foreign investors, including those from South Korea thanks to its stable politics, improvements in the business climate, growing trade with other countries and favourable geographical location.
What is more, the Vietnamese government's concrete actions to boost the administrative reform to improve the business climate have been highlighted among foreign business communities.
Vietnam is replying much on terminable tax incentive policies to attract foreign investors. In the new FDI attraction strategy, Vietnam gives priorities to high-tech agriculture, tourism, sci-tech, transport, communications, financial and environment services, education and healthcare which are among the targeted sectors among South Korean firms. Big projects coming from Samsung, LG, Posco, Doosan, Lotte, LG Chemical and ALUKO Group are the outstanding examples for the trend.
Over the past years, South Korea was always among Vietnam's biggest investors.
Looking towards, fresh investments in the supporting industry, agro processing and fisheries will help them benefit from local advantages, while increasing their efficiency and added value in the Vietnamese market.
Marko Walde - Chief representative German Industry and Commerce Vietnam
FDI has been playing a huge role in Vietnam's rapid development. First of all, in the past, Vietnamese companies – although hardworking and creative – did not have sufficient capacity and experience to start modern projects on their own. FDI help a lot to modernise the country. Second, FDI also brought know-how, technologies, and qualified workers to Vietnam. That is why Vietnamese companies were not just able to improve product and service quality but also production process and management methods.
So FDI is partially responsible for Vietnam's growth and for bringing capital stock and knowledge so that Vietnamese companies could eventually start their own projects.
I can say that German investors are always interested in co-operating with Vietnamese companies in the same region, for example as potential suppliers or as a service providers. Thus, Vietnamese companies could also benefit from a foreign investor in the region.
Germany is a very export-oriented economy, engaged in a lot of international business. German companies have to be present on the most promising markets, one of which is Vietnam. It has a fast-growing middle class, desiring to catch up on consumption and an industry requesting products and technology of high quality.
Also, the EU-Vietnam FTA is making trade between the regions easier as well as lowering the barriers to enter the Vietnamese market compared to regional markets. The Vietnamese market offers many potentials for German companies in almost all sectors, especially in machinery, environmental technology and food processing. VIR
Bich Thuy