Starting with just a female buffalo, a man in the Mekong Delta has built a fortune with hundreds of buffalos, earning VND1 billion a year.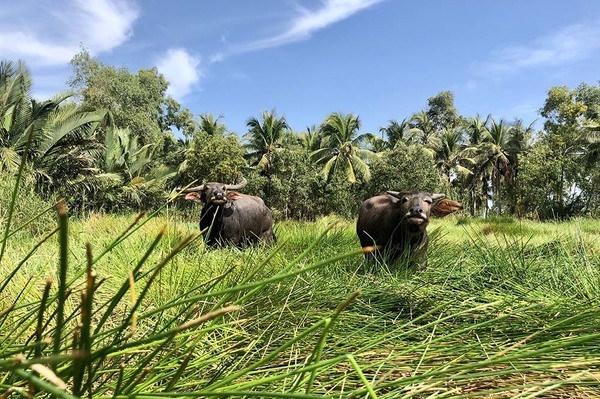 Ngu's buffaloes
Nguyen Hong Ngu, 47, in Luong Nghia commune in Long My district in the southern province of Hau Giang, was very busy ahead of the Year of Buffalo, but he was willing to spend time to talk about how he became a billionaire who owns hundreds of buffalos.
The short man with tawny complexion said his childhood was attached to buffalo and when he grew up, he chose to start a business with a buffalo.
"Twenty seven years ago, Luong Nghia was an alum infected land, on which farmers could cultivate only one rice crop a year, and harvest 20 bushels for each cong (1 cong is equal to 1/10 hectare)," Ngu recalled.
The biggest problem was that he did not have a buffalo. Ngu, who had just married, decided to use the money and gold he received at the wedding to buy one buffalo, at VND5 million.
"Actually, I just thought I needed a buffalo which helped me on the rice field, while I did not have any idea of raising buffalo to get rich," he said.
Not only using the buffalo to draw ploughs, Ngu also worked for neighbors. When the crop finished, he got money big enough to buy one tael of gold. Some months later, the female buffalo got pregnant and Ngu began breeding a buffalo.
"After several years, the mother buffalo gave birth to buffalo calves, and the buffalo calves also had their own baby buffalos when they grew up," he said. "The mother buffalo died 17 years later, after she gave birth to 16 buffalo calves."

Starting with just a female buffalo, a man in the Mekong Delta has built a fortune with hundreds of buffalos, earning VND1 billion a year.
Ngu's buffalos are never tended in the same place, but in many areas in Hau Giang, An Giang and Dong Thap, which makes it more comfortable for exchange and trade.
According to Ngu, buffalos like to stay in the fields and soak themselves in water. Therefore, it is necessary to let them out for bathing and drinking water one hour a day. After that, they are led to the barns and fed with grass.
"Cutting grass for buffalos is the hardest work in raising buffalos. But instead, you won't have to spend money to buy feed like you raise pigs and fowls," he said.
In order to have grass to feed buffalos, Ngu reserves 20 cong for growing grass. When the grass in his fields runs out, his buffalos will go to other fields where farmers have just harvested rice.
Selling buffalos to build house worth VND3 billion
The special thing in Ngu's career is that he buys gaunt buffalos to fatten them for sale. Every year, Ngu provides nearly 500 buffalos for meat, making a profit of VND500 million.
With 40 female buffalos which produce tens of buffalos calves a year, he can earn VND600 million more. He leases strong buffalos to farmers at VND6 million a year.
"People hire male buffalos to pull rice and straw. I don't have to spend money and time to take care of the buffaloes, while I can get money from leasing them," he explained, adding that he earns more than VND1 billion a year.
Ngu, who began raising buffalos in his childhood, understands what buffalos want to eat in each season and knows how to take care of them so that they can grow rapidly.
His buffalos can be sold for VND3-5 million more than the buffalos raised by other farmers.
"A good, healthy buffalo has small hips but big buttocks. Gentle buffaloes are friendly when they meet people. On the contrary, aggressive buffalos will have fiery eyes, with ears pricked up," he said.
Ngu has so many buffalos that people wonder if they see a large group of buffalos in Mekong Delta, they could be Ngu's. He sends buffalos to many places, wherever there are good grass fields.
Ngu has a big fortune. Thanks to buffalos, he now has more than 200 cong of land.
"I have just sold buffalos to get VND3 billion to build a house. I have had a better life since the day I began breeding buffalos," he said.
The price of one adult female buffalo is VND50 million. 
Chi Thien

A calligraphy festival is underway at Vietnam Quoc Tu (Vietnam National Pagoda) in District 10, Ho Chi Minh City to welcome the Year of the Buffalo in the lunar calendar and preserve the country's traditional culture.

A collection of ceramic sculptures, "Buffalo garden," by artisan Tran Nam Tuoc features the traditional culture and also reminds a familiar image of the animal in Buddhist meditation.