What are some of the most popular investment channels in Vietnam? Real estate, securities, cryptocurrency and ... mutant orchids.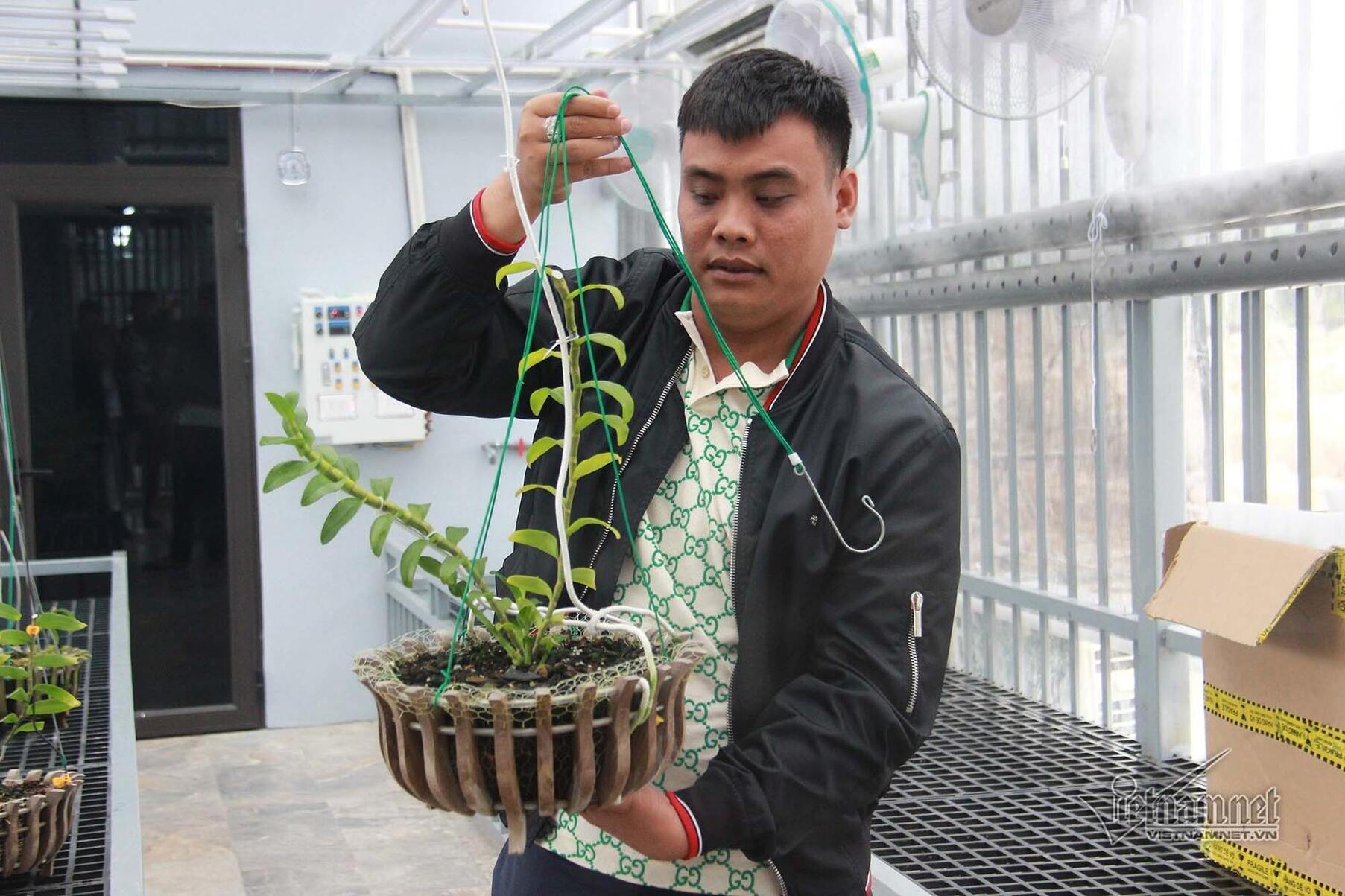 Bui Huu Thanh in Quang Ninh has one hectare of orchid sapling cultivation area
Lan dot bien, or mutant orchid, has become a hot keyword on online forums as people believe the flowers can help them make a fortune.
In March, two mutant orchid transactions occurred in Hung Yen province, with the value of tens of billion of dong.
In Thuan Hung commune in Khoai Chau district, six Ngoc Son Cuoc mutant orchids were sold for VND34 billion. Meanwhile, Hoi Hoa Lan Pho Hien (Pho Hien Orchid Association) in Hung Yen City reported a record deal where one orchid sold for VND40 billion.
Also in March, B.H.T, the owner of an orchid garden in Hai Phong City, said he sold 5,000 Ngoc Son Cuoc mutant orchid seedlings for VND250 billion.
T said in his 12 hectare orchid garden, there are Ngoc Son Cuoc mutant orchid species valued at VND30 billion per plant.
Prior to that, on July 2, 2020, orchid collectors were talking privately that there was an orchid called 'Huyen thoai buom dai ngan' (Legend of a jungle butterfly). The owner of the orchid affirmed that it did not resemble any other orchid flower.
After that, they heard that one kie (the bud arising from a tree knot) from this orchid sold for VND15 billion.
Buying frenzy

The Vietnam Seed Association affirmed that mutant orchids have not been recognized by the Ministry of Agriculture and Rural Development as an orchid species for official circulation in the market.
Prosperous businesspeople have been willing to spend hundreds of billion of dong to buy mutant orchids, and many households have mortgaged their land, houses and assets to borrow money from banks to trade mutant orchids.
However, they have tasted bitterness because of their dream of getting rich from the charming flowers.
"I was tricked. I spent VND10 billion to buy mutant orchids. But the flowers are violet. Real mutant orchids must have a white jade color," Nguyen Van Su from Vinh Phuc told Lao Dong newspaper.
The money Su used to buy the orchids came from loans from banks and relatives.
Su tried and failed to contact the gardeners he bought orchids from, including B.N in Chuong My, H.C in Hoai Duc, L.B.D in Dong Nai province, T.V.T and T.V.D in Hoa Binh.
The dozens of orchid plants Su bought were priced between VND70 million and VND1 billion.
On April 12, the community of orchid collectors was stirred up by the news that the owner of a mutant orchid garden in Ung Hoa district in Hanoi had fled with VND200 billion.
T is one of the victims of the gardener. N.H.P, 30, the younger brother of T, told reporters that T had a good business which brought VND3-5 billion a year. However, he later decided to "play big" by cooperating with C, the gardener.
Under the agreement between them, C provided mutant orchids to T for sale. However, T found that the orchids were not mutant. He then had to sell his car and land to pay his debts.
How did this begin?
In September 2020, the Di Linh district Police arrested Bui Van Sy, born in 1986 in Hoa Binh province. He was detained for four months in an investigation over the fraudulent act of selling mutant orchids, appropriating about VND2 billion.
In December 2020, the Tan Son district Police prosecuted and detained Bui Van Diep, 24, Dinh Van Do, 21, and Dinh Van Su, 31, from Hoa BInh province for swindling and appropriating citizens' assets.
The three men had separated real mutant orchid flowers and attached them to normal orchid plants with glue and sold them as mutant orchids. They had appropriated VND1 billion by the time they were discovered.
More recently, on January 14, the Yen Thuy district Police detained Ta Thi Suoi Van, 29, and prosecuted her for selling counterfeit mutant orchids via social networks.
Van admitted that she had sold orchids that were not really 'mutant'. Within one month, Van had earned VND4.6 billion from selling counterfeit orchids.
Lt. Gen. Nguyen Hai Trung, Director of Hanoi Police, on April 13 confirmed that the city's agencies had received many complaints related to the trading of counterfeit mutant orchids.
Meanwhile, State Bank of Vietnam's Hoa Binh Branch told commercial banks to tighten control over loans related to mutant orchids.
What do scientists say?
The Vietnam Seed Association affirmed that mutant orchids have not been recognized by the Ministry of Agriculture and Rural Development as an orchid species for official circulation in the market.
Tran Duy Quy, former director of the Institute of Agricultural Genetics, said there are about 35,000 orchid species in the world, including over 1,000 in Vietnam. Mutant orchids are very rare.
He said that the transactions of orchids valued at tens of billion of dong are "abnormal". He said that people who have deep knowledge about orchids and planting techniques are aware of the difficulties in mutant orchid care and multiplication.
Regarding the value of mutant orchids, Dang Van Dong, deputy director of the Fruit and Vegetable Research Institute, said there has been no scientific research affirming the medicinal effects or other uses of the plant.
In other words, the inflated prices of mutant orchids is just based on growers' personal sense of beauty and rarity.
In many cases, the mutant orchids that people see in reality or in images are not genetic variations, but are just genetic recombinations. 
La Thanh

"Unusual fever" for mutant orchids has spread from the northern provinces of Quang Ninh, Son La, Hoa Binh to the Central Highlands. 

Bui Huu Thanh, the owner of the mutant orchid garden, said that he has actually sold a Ngoc Son Cuoc mutant orchid for VND250 billion following reports that the transaction was fake.