Musician Bryan Charles Wilson started his career as a cellist, but a trip to Vietnam opened up a world of musical possibilities for the American.
Israeli musicians inspired by traditional Vietnamese music
Dan bau instrument: Vietnamese national treasure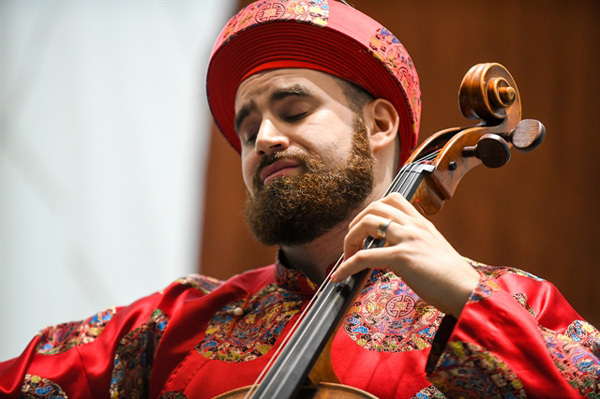 American musician Bryan Charles Wilson performs the cello while wearing traditional Vietnamese dress. — Photo courtesy of the artist
The professional cellist has learned some of the country's traditional music, all the while falling in love with Vietnam.
Wilson worked as a professional cellist, composer, educator and author of Cello Chords. He has composed and produced albums including Oso Perezoso, Inner Peace and Kaia, an album he wrote for the birth of his first daughter, all featuring the cello.
Music helps
At the age of nine, Wilson had a lot of problems with anxiety, low self-esteem and even obsessive-compulsive disorder, but worst of all, he struggled to express himself in words.
He found an escape in music. When he started learning cello, he realised he could finally express feelings without talking.
"Music helps give me a voice without having to talk, it's a miracle," said Wilson.
Twenty years on, now he is a cello teacher and teaches students worldwide via Skype.
"Anyone who is interested in exploring cello lessons for themselves or for their child, I say go for it. Learning cello is by no means easy, but it is so unbelievably rewarding. You can finally speak from the inside, speak without talking."
Music also helped bring Wilson to Vietnam.
The first time he came in 2016 to see his girlfriend, who becomes his wife later, he saw a traditional water puppet show in Hanoi and fell in love with the dan bau (monochord).
"The dan bau has such an amazing character to it. The sound is bendy and wobbly, but extremely soulful and deep. You can really sing on the instrument."
Wilson had a precious chance to meet master of dan tranh (16-string zither) and instrument maker Duyet Thi Trang, who made him a monochord.
He began a love affair with Vietnamese traditional music from then and started writing cello and dan bau duets to challenge his writing and performing skills.
"Master Trang and I clicked immediately and we just started improvising together like we'd be doing it our entire lives," said Wilson.
Trang became a huge influence on Wilson and though he didn't speak much Vietnamese at the time, they could communicate through music.
His love for Vietnamese music was cemented at a residential programme sponsored by the British Council in Vietnam, which allowed him to move to Hoi An Town and meet musicians from across the country.
"Trust me you've never seen an orchestra like this before, bagpipes, t'rưng (Central Highlands xylophone), cellos, gongs, electronics and Cham ethnic group's drums," Wilson recalled.
"It's really cool as we can learn and experiment different cultures."
Music heals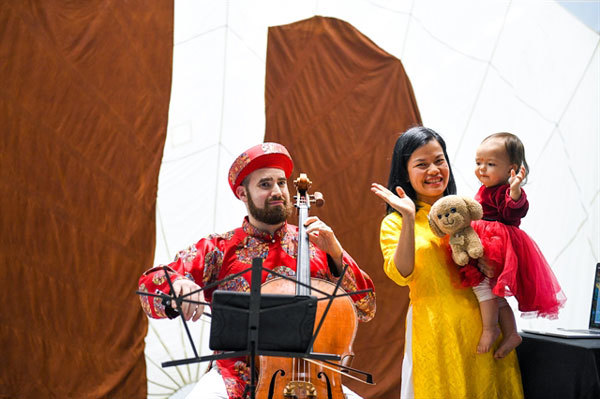 Cellist Wilson, his wife Bui Tuyet Minh, and their daughter.
Wilson is married to a pioneer of dance/movement therapy in Vietnam, and his wedding with Bui Tuyet Minh was memorable for more than one reason.
"After a wedding in the US, we celebrated our ties with her friends and family here. My parents also came.
"All of this happened on the night that the Vietnam football team won the AFF Cup, which made it extra crazy!"
Wilson appreciates the warmness, generosity and sense of humour of the Vietnamese people.
"I am a father of a 15-month-old girl and the absolute elation I see in people's faces when I walk by them with the baby is so wonderful," said Wilson.
"People have a genuine love for children here and have an incredibly strong sense of family."
Here he feels close with Vietnamese people who appreciate his efforts to speak their language.
"I often screw it up, so they laugh, but not in a mean-spirited way. We're all laughing together. They know the language is hard."
Now his connection to Vietnam is strong, having lived in Hanoi for a year and learned much about its rich cultural heritage.
He joins Minh's projects, for example a workshop at the American Centre in Hanoi for Vietnamese veterans suffering from cancer.
"I have collaborated so many times with my wife in tonnes of workshops, but this one in particular stood out to me. It seemed heavy and dark, but very important."
He played Tình Cha (Fatherhood) and Minh ran the workshop.
"What I was trying to convey was a sense of healing, empathy, and compassion through my playing."
At the end of the session, the participants were thankful for the workshop, while Wilson appreciated them sharing their deeply personal stories with him.
"In an endlessly complicated and often scary world, never underestimate the healing power of music, dance and the human connection. These are some of the few things that really matter in this world," he said.
Now his love for Vietnamese music is not focused solely on the monochord. He has also learned to sing cai luong (reformed theatre) and popular songs by composers Trinh Cong Son and Pham Tuyen.
Wilson plays them on his reliable cello, and hopes to eventually release an album of cello mixed with traditional Vietnamese instruments. VNS
Minh Thu