Nguyen Le Hien was shocked to learn her well-behaved 13-year-old daughter had asked her friends to beat up a classmate to address a personal conflict that began on a social network.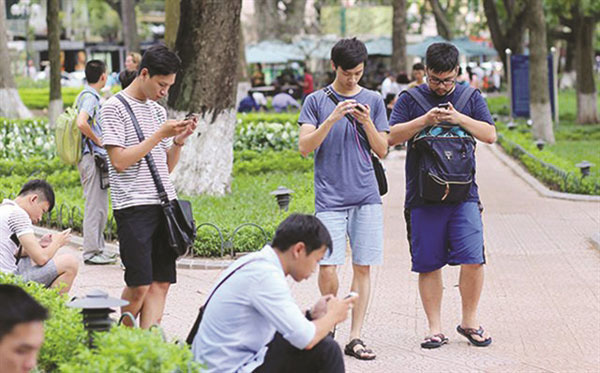 Parents are worried that children and adolescents are affected by negative impacts of social network if they are not equipped with necessary skills and knowledge. — Photo dantri.com.vn
The students discussed their plan online and thought they could solve the conflict by themselves using violence and without telling adults.
After accidentally discovering her daughter's plan, Hien, of Hai Ba Trung District, Hanoi, spent a lot of time analysing her behaviour and explained its consequences to her child and friends. She is worried about the harm social networks can cause for the young generation.
It is common for the young generation to share a lot of their lives on Facebook and other social networking platforms. They even seek solutions to their problems by asking their friends and online groups for advice.
"We usually tell students to share with their parents and teachers when the cases are just simple. When they get more complicated, the consequences will be more serious. In many cases, when we learned the stories, the consequences had gone too far," said principle of Yen Bai A Secondary School in Hanoi's Ba Vi District Chu Dang Thien.
"We feel social networks are like a much closer and more trustworthy friend to students than their parents," he said.
Addicted
Some parents try to prohibit their children from using mobile phones and disable Internet connections at home to "pull" their children back to reality.
Nguyen Nhu Hoa, a parent in Hanoi's Dong Da District, is worried because her child is glued to his smartphone all the time.
"He uses the smartphone right after he wakes up. Coming home after school, the first thing he does is sit in the house and keeps typing and surfing. My son and I are having fewer talks although I have tried to start the conversations first."
According to Viet Nam Youth Academy research, more than 70 per cent children and adolescents who play online games for four to five hours per day on average commit more crimes than less regular users.
"I feel really worried after knowing a 14-year-old Facebook addict in Hanoi who closes the door to isolate himself and stays online 12 to 14 hours a day," said Tran Thi Binh, a parent in Bac Tu Liem District, Hanoi, told Vietnam News Agency.
"We cannot ban children from using Internet but we should instruct them how to use social network in the right way," she said.
Dr Vu Ngoc Phan, lecturer of Phenikaa University in Ha Dong District, Hanoi, said: "If children are limited from accessing social networks, they will be deprived of knowledge. In particular, they will face difficulties while working in a highly-competitive digital life."
"If children are not well-prepared, they will not have chances to grow healthily and will be easily tempted by negative online trends," he said.
"Instead of an Internet ban, we should show children its benefits and how to take advantage of the Internet."
He said parents should behave like a role model and not use social networks for the purposes of attacking or ridiculing others.
"If parents share positive statuses and photos on their personal pages, I believe their children will follow and have positive attitudes," he said. — VNS

Last week, many people, especially parents, were shocked to hear the news that a 13-year-old girl in HCM City had tried to commit suicide by jumping from the 8th floor of an apartment building.

When Pham Thu Huong is busy working or cooking, she often gives her smartphone to her five-year-old son. It keeps him quiet because he can listen to music and look at pictures.