While there are multiple books for children to choose from, only a few of them are written by young, local authors.
Children's books released for summer holiday
Bilingual book of childhood stories launched
fBEST BOOKS: Young readers need books that are relevant to their age group. Photo courtesy of nhandan.com.vn
Vietnam's publishing industry produces nearly 300 million copies every year, of which 76 per cent are textbooks.
Of the remaining 24 per cent, up to 10 per cent are books for teenagers and children, equivalent to 29 million copies.
This shows that demand for children's books is high and that leading publishers with the most revenues are the companies producing children's books.
Experts are concerned that the number of children's books by local writers is very small compared to foreign writers.
Nguyen Nhat Anh is currently considered the most outstanding children's book author.
He is known as a "lonely star" as it's hard to find a person who focuses on only writing children's books.
While the older generation has grown up with Những Ngày Thơ Ấu by Nguyen Hong, Gió Lạnh Đầu Mùa by Thach Lam, Quê Nội by Vo Quang, Đất Rừng Phương Nam by Doan Gioi, Búp Sen Xanh by Sơn Tùng, and Tuổi Thơ Dữ Dội by Phung Quan, among other children's masterpieces in the mid 20th century of, today's younger generation has fewer new options.
Nguyen Ngoc Thuan, who was expected to thrive after his works Vừa Nhắm Mắt Vừa Mở Cửa Sổ and Một Thiên Nằm Mộng, has changed direction and now writes books for older readers.
Similar to Thuan, young talents like Nguyen Ngoc Tu, Do Bich Thuy, Phan Hon Nhien, Vu Thi Thanh Tam and Vu Dinh Giang have written works for children but are no longer pursuing it.
"It seems like they only wanted to experience writing for children," one expert said.
Although children's books tend to occupy a large space at bookstores, they are mostly comics and stories translated from books from Japan, China and South Korea, among other countries.
Of the local children's books, only several are genuinely loved by young readers.
Children these days tend to have a difficult time finding themselves in books written by the older generation of local writers since these stories are no longer relevant.
Since it is challenging to find a young person writing for children, more should be done to expand Vietnam's literary industry, experts have said.
Proper attention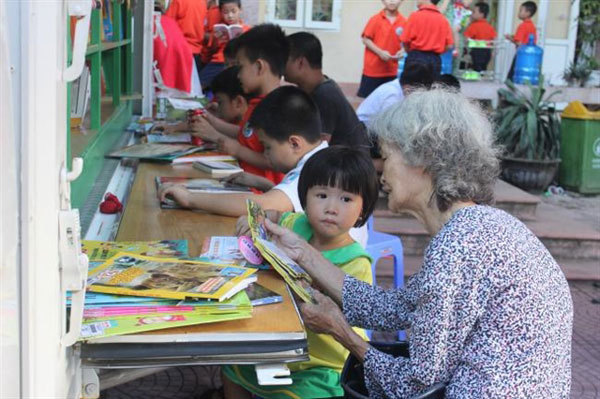 ALL AGES: Children enjoy reading at a public library in Nam Dinh Province. Photo thuviennamdinh.vn
Children's literature needs more attention from cultural authorities, from the local to state level, according to the Nhân Dân (The People) newspaper.
In addition to discovering more writers, proper care from authorities can help nurture students with the ability to write for children during their school years.
Some young and talented authors such as Do Nhat Nam, Dang Chan Nhan and Ngo Gia Thien An should receive better recognition from the Viet Nam Writers Association.
Though there was once an award for outstanding children's literary works within the Writers Association annual awards, it is no longer available.
Meanwhile, newspaper and magazines for the young generations should have more space dedicated to publishing children's literary works and honouring their contributions to the industry.
Journalist Nguyen Nhu Mai from the Hoa Học Trò magazine said that children of any generation love to write poetry and stories.
"Our job is to discover ones with a true literary gift, and encourage them to write and publish their work on media. This helps nurture their passion to write," she said.
"If a young writer deserves great attention, he or she can thrive and become a professional writer in the future," she said.
During the 1980s and 1990s, newspapers and magazines such as Thanh Niên, Tiền Phong, Hoa Học Trò, Thiếu Niên Tiền Phong, Áo Trắng, and Mực Tím made significant contributions to forming a new generation of young writers.
Many writing groups were established, and writing contests were regularly held during this time.
However, with multiple changes in technology within the first two decades of this century, other forms of entertainment besides reading have been introduced and have attracted many people.
Young readers today are different and the industry needs to adapt to these changes, from recognising and taking care of young writers to organising regular training courses, creative camps, and awards to encourage them. VNS
An Phuong