Tran Thi Hong's bio-tech start-up business in the central city of Da Nang can recycle about 100 tonnes of household organic waste into safe dishwashing liquid for sale each day.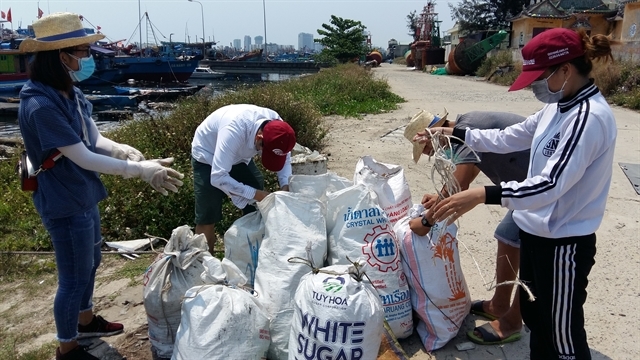 A group of volunteers collect waste at a fishing port in Đà Nẵng city.
Hồng, who has been operating the Minh Hồng joint-stock company since 2015, has helped 132 poor families in Hòa Minh Ward earn higher incomes from collecting and processing organic waste (vegetable roots, stems and leaves) in sustainable production chains.
Each month, the households collect at least 100 tonnes of organic waste that would have previously ended up at the dump. At the Minh Hồng company, fermented organic waste is turned into 2,000 litres of bio-dishwater each day.
"Waste is truly a precious treasure if we can process it into products that can sell," Hồng said. "Vegetable stems and roots are often thrown away and they become smelly and rotten at the dump after several days. This organic waste helps poor families earn incomes five times higher than their normal incomes."
The company, which now has 106 agents and three distribution companies nationwide, has also transferred bio-technology to a community in the northern province of Hưng Yên.
The vegetables and stems are processed to make organic products, including safe, hygienic dishwashing liquid, shampoo, floor cleaning and hand-washing liquid.
The company also encourages local communities to return plastic bottles for recycling. Residents can receive a free bio-tech product in exchange for plastic bottles.
Jan Zellmann of Germany, who is vice director and co-founder of Evergreen Labs in Đà Nẵng, said his company offered a solution to recycle waste at waste disposal depots (DEPO).
Waste pickers often collect valuable waste including cans, plastic bottles, paper and metal for the company, but they reject glass, foam, single-use cups and straws because they are considered to be low-value waste.
However, since a large amount of this low-value waste piles up at dumps, the company offers to buy the low-value waste at the same price as other high-value waste they receive from garbage pickers.
"We use a machine to process waste into recycled material to be used for furniture and tile making. This helps to reduce the amount of garbage sent to the dump," Zellman said.
He said the processed waste could be used to make public or hotel trash bins, planks, gym poles or climbing boards, among other items.
Hải Yến, a representative of Refillable Hội An, has opened the first refillable concept store in Hội An that refills empty plastic bottles of washing liquid with environmentally friendly detergent or washing liquid.
She said local residents can bring their empty detergent bottles to fill them up with new liquid.
More than 1,200 containers have been refilled since 2018, and another 5,000 bottles are expected to be refilled this year before reaching 12,000 in 2020.
Minh Quân, from 7 Bridge artisanal beer producers in Đà Nẵng, said his company earns a percentage of profit made from a beach cleaning-up campaign that takes place each month.
He said the campaign had helped clear rubbish that had been left by locals and visitors at Đá Đen rock, a favourite area on the beach at Sơn Trà.
Waste from beer production is also used to feed livestock at farms, and beer pubs buy safe products from livestock farms.
Zero waste alliance
The Việt Nam Zero Waste Alliance, established in 2017, includes participants from Quảng Ninh, Hải Phòng, Hà Nội, Đà Nẵng, Nam Định, Hà Tĩnh, Thừa Thiên-Huế, Quảng Nam, Quảng Ngãi, Phú Yên, Gia Lai, Kiên Giang and HCM City, as well as national parks, hotels, community and social organisations.
They promote the cleaning up of waste and production of bio-gas-produced dust bins, among other items.
Quách Thị Xuân, from Đà Nẵng-based Institute for Society and Economic Development, said the alliance teaches communities about the need to reduce waste in their living quarters.
The alliance targets zero waste communities by 2030.
Nguyễn Ngọc Lý, director of the Centre for Environment and Community Research (CECR), under the Union of Science and Technology of Việt Nam, said a zero plastic-waste ocean pilot project in Đà Nẵng had helped collect and classify 7.7 tonnes of plastic waste and nearly 200,000 cans and 14 tonnes of paper, as well as four tonnes of other valuable waste, in the two coastal districts of Sơn Trà and Thanh Khê between August last year and March this year.
The sorting of the waste earned revenue of nearly VNĐ100 million (US$4,300).
Nearly 140,000 local residents in two districts in Đà Nẵng taking part in a one-year pilot project have received guidance on waste classification at source, while 22,000 primary and secondary school students have learned about waste sorting and reduction.
More than 700 fishermen, traders and organisations have joined the communications effort on waste reduction, and 77 owners of fishing boats have committed not to dump plastic waste into the sea.
Việt Nam discharges 19,000 tonnes of rubbish, of which 16 per cent is plastic waste, every day, according to Lý.
Hà Nội and HCM City use $53 million from the State budget to cover the cost of waste collection and transportation each year.
Waste classification chains have yet to be built up in Việt Nam, so the 3R (Recycle, Reduce, Re-use) campaign has been unsuccessful in Hà Nội and some urban areas of Việt Nam.
According to CECR, 15 per cent of waste produced in Việt Nam can be collected for re-use and recycling, and 40 per cent can be used for composting, and 20 per cent for livestock food.
However, only five to 10 per cent of waste is being processed before being sent to dumping grounds.
Đà Nẵng is the first urban area in the country to promote "no plastic bottles" at State offices and buildings, while 30 milk-tea shops have committed to use bio-straws and not to use single-use plastic cups.
A "5 R" communication campaign, "Recycle, Reduce, Re-use, Refuse and Repair", is being carried out in the community, schools, residential quarters and offices. VNS

Collective action from the Vietnamese government, the private sector and consumers is essential to combat one of the great environmental challenges facing the world, 

The United Nations Development Programme (UNDP) in coordination with photographer Nguyen Viet Hung, or Lekima Hung, organised a photo exhibition on plastic waste in Hanoi on June 4.  

Scientific research in the environment field, especially micro-plastics research, is still in its infancy.