Mai Anh Duc directed production for sanitizers and disinfecting devices remotely while still being treated for Covid-19, and donated them all to hospitals and quarantine zones across Vietnam.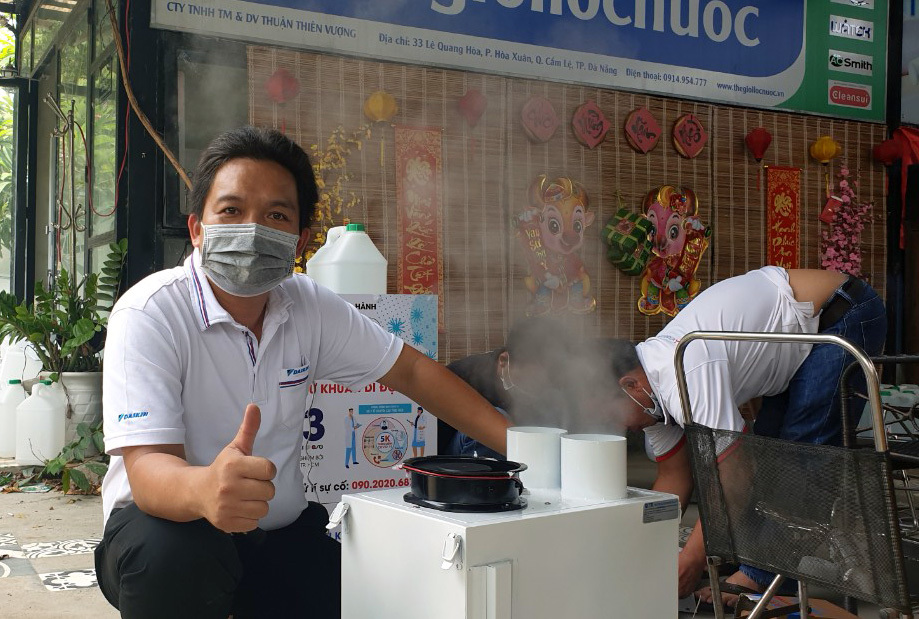 Mr. Mai Anh Duc
In July last year, Mai Anh Duc, 39, from Hai Chau district, Da Nang city, and his 13-year-old son tested positive for COVID-19. A year later, he returned to hospitals and Covid-19 quarantine zones as a donor to give out liquid sanitizer and disinfecting machines. They were part of his project named 687, which was his patient number a year ago.
Duc had been considering making them even before he found out about his infection.
As an electronic engineer who works with water filtering machines and air conditioners, Duc was confident that his skills were adequate for the project. "I knew the formulas for the solution," Duc said.
He started working on the project in the summer last year.
Duc borrowed special equipment from a friend in HCM City to produce sanitizer that is environmentally friendly, not harmful to human health, and 99% effective.
The day the equipment and materials were shipped to Da Nang, however, was also the day Duc received the news that his son had tested positive for COVID-19. His whole family had to be quarantined.
"Everything was in chaos, everyone in my family had to move to the quarantine zone. I had no one to receive the shipment and my mind was in no condition to even think about it," Duc said.
So the equipment and materials had to be shipped back to HCM City. The day after, Duc found out that he had been infected and was transferred to a field hospital in Hoa Vang district for treatment.
During his 10 days in the hospital, he noticed the doctors' conscientiousness and the hardships they had to go through.
"They were with me the whole night I had the fever. It was really moving to see the crew care so much for their patients," Duc said.
Duc remembers that everyone was wearing protective clothes covering their body. He couldn't see anyone's face, but could hear their voices. He knew they weren't just from Da Nang but from other places. They came to provide support Da Nang in tough times.
"While I was in hospital, I sometimes received supplies, like toothpaste or soap. It made me grateful so I knew I had to give something back to the community," Duc said.
After recovering from the initial shock, he immediately called his colleagues from the hospital to begin the production process using the borrowed equipment, which was once again shipped from HCM City to Da Nang.
After being tested negative for the third time, he was transferred back to self-quarantine and finished the first batches of liquid sanitizer. Around 60,000 liters of liquid sanitizer so far have been donated to hospitals in Da Nang, quarantine zones, entry points, schools, the Viet-Laos border areas in the central province of Quang Nam, Hai Duong and Bac Giang provinces.
After liquid sanitizer, Duc started working on full-body disinfecting compartment. With help from his friends and colleagues, five full-body disinfecting compartment were made to donate to Da Nang (four) and Hai Duong province (one).
However, he soon realized that full-body disinfecting compartments were too expensive to make and too clunky to move around. To tackle this, he instead started making more compact disinfecting devices for half the production cost.
With financial support from generous donors, project 687 produced eight mobile disinfection devices to give to Bac Giang province – the country's epidemic hotspot. The team is currently making more disinfection devices to send to Bac Giang and Bac Ninh.
According to Duc, the production cost of a mobile disinfecting device is VND8 million (nearly $400), which is half the cost of a disinfection compartment.
Duc said: "What we are doing now is almost nothing compared to what we received from the community in times of hardship. I hope that with project 687, I can give back as much as I can so that Vietnam can return to its normal state."
"Being a former COVID-19 patient, I wish other patients good luck, and I have faith in our medical teams. And I hope that our doctors and nurses can be strong so that together we can overcome this tough time, he added.
Dang Duong
Professor Nguyen Thien Nhan has written the following article about how to curb the Covid-19 in Vietnam within three months.