Even shop owners, who sell goods to earn their living, have been found cursing at customers when livestreaming.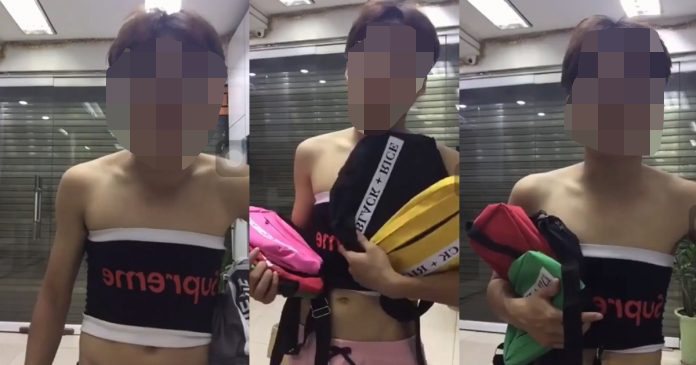 Pham Van T sells goods though livestreaming
Appearing in Vietnam in late 2018, selling goods through live streaming has become popular in Vietnam.
Pham Van T, or Norin Pham, born in 1996 in Quang Ninh province, is a 'famous' student at a university in Hanoi. But he is not 'famous' for his learning achievements, but for curses. T's Norin Pham account now has 22,400 followers and can get thousands of likes and comments.
He is well known to the netizen community for his livestreams with millions of views and curses. His record clip has 1.3 million viewers and the number of viewers watching at one time might reach tens of thousands.
In real time, in families and schools, in society and at work, any curse would face criticism from other people. However, profanity may be encouraged in cyberspace.
If searching on Google with the keyword 'livestream ban hang chui' (livestreaming while cursing), one sees 1.8 million results after 0.41 seconds. Similar, with the keyword 'ban hang online chui khach' (selling goods online cursing at customers), one would get 1.7 million results after 0.44 seconds.
The best known accounts that 'sell goods and curse at customers' include Meo Pho, Trang Khan and Kem Kabi.
Some customers accept those vulgar curses. Particularly, selling while cursing is a brand of these shops and makes them even better known.
On the YouTube channel of Kem Kabi, an online seller, the clips of the shop owner are always full of swearing. She curses at customers every time customers give negative feedback on products. The shop owner even posts specific clips, not to sell goods, but just to curse with customers.
The clips posted on YouTube show that both sides use profanity. Surprisingly, the clips attract high numbers of viewers, up to millions. They watch clips with interest and give 'likes' to unseemly 'verbal battles'.
The customers, who are called 'gods' in real life, turn out to be fiercely cursed at on cyberspace.
Some sociologists say that the movement of livestreaming to sell goods while swearing is like an 'epidemic' spreading rapidly in cyber space.
A lot of shop owners have been following the trend of swearing to lure more viewers and likes. They give sensational titles to their clips, using the words 'hot nhat mang xa hoi' (hottest on social networks), or 'Thanh chui' (Saint of Curses) to lure more viewers.

In Thua Thien-Hue province, livestreaming while cursing at customers is also common. However, some customers don't accept this and have complained to provincial authorities.
Customers also make common cause with the shop owners to curse at other people. They give themselves the right to insult others anywhere.
Punishment
In Thua Thien-Hue province, livestreaming while cursing at customers is also common. However, some customers don't accept this and have complained to provincial authorities.
In one case, provincial agencies received the news that the online sellers of a fashion shop in Hue City had cursed at customers with profanity.
After verifying the content of the video, the Thua Thien – Hue Information and Communications Department found that the complaint was about S.T Fashion Shop at No 154 Dinh Tien Hoang Street in Thuan Loc Ward of Hue City.
The department's inspectors and appropriate agencies asked Cao Phuong T and Phan Thi Dieu T, both born in 1992, to come to the Thuan Loc Ward Police Station.
Cao Phuong T admitted that he is the owner of the fashion shop, while those who cursed at customers in the videos were Phan Thi Dieu T, his wife, and Phan Thi N, his wife's sister.
The policemen found that the owners of the shop not only used profane language when livestreaming to sell goods, but also violated regulations when trading goods listed at an address registered earlier. 
Nhi Tien

Many livestreams, where 'social network gangsters' feel free to curse and insult others, have been organized online, attracting thousands of likes.

Building a child protection network in the cyberspace will connect agencies, organizations and businesses together, forming a harmonious process to prevent, detect, intervene and handle acts of child abuse in the Internet environment.