Digitizing public transport has led to practical benefits for consumers.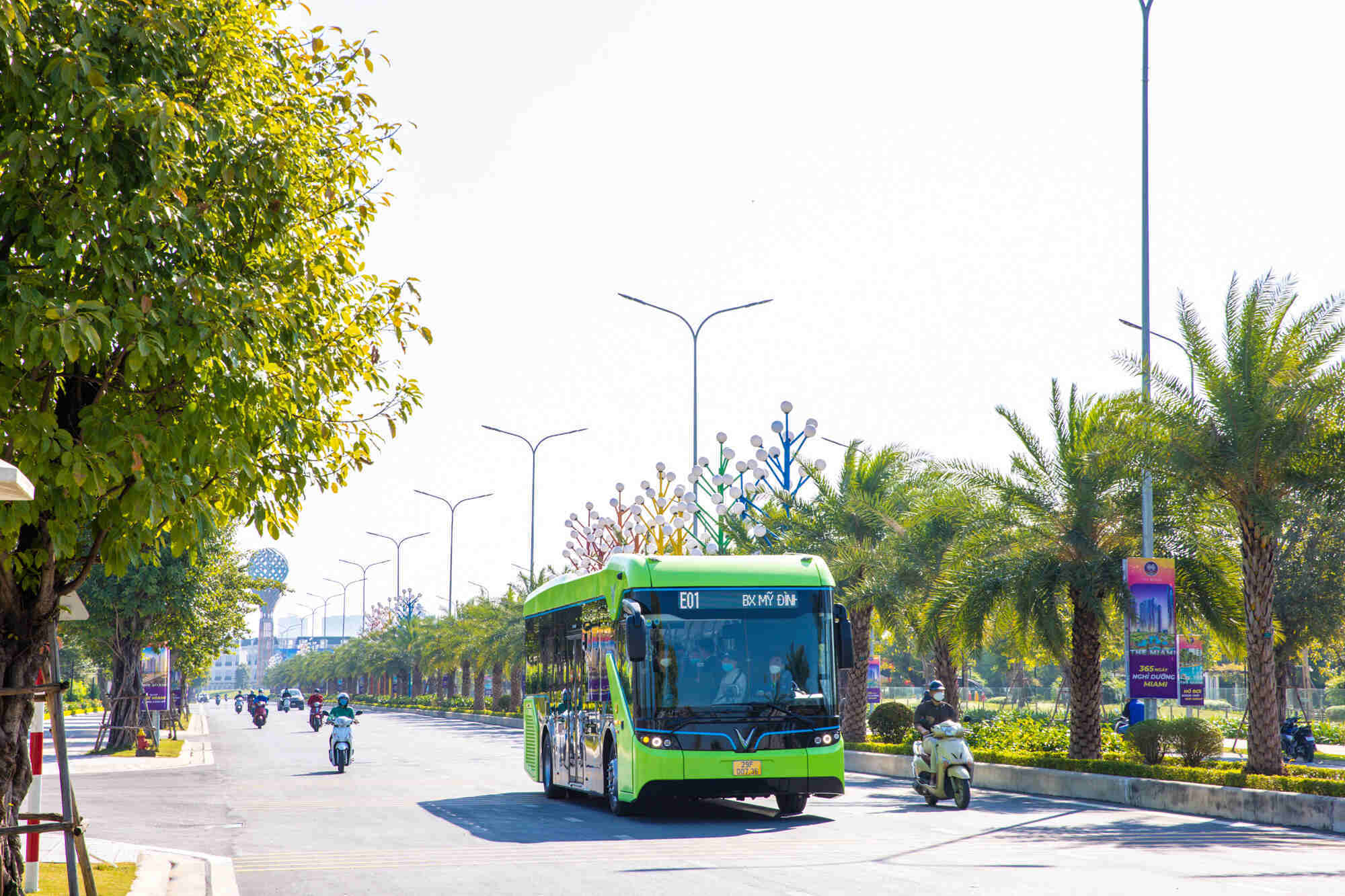 For example, Vietnamese now can use domestic chip cards which allow contactless payment. One just needs to use one point of sale (POS) on buses to buy Vinbus electric bus tickets in Hanoi.
The first electric bus route is the first purely electric means of public transport, integrated with modern technologies. Passengers can use chip cards issued by commercial banks to buy tickets without contact.
Passengers, after getting in the bus, instead of taking out their wallets, hold their cards and touch the POS on the bus to make payment. No need to enter PIN codes and sign for confirmation. The money in their accounts will be deducted and bus tickets will be printed automatically. The process lasts several seconds.
The app for making payments for public transport services with chip cards encourages people to travel more on public means of transport and helps state management agencies keep sources of revenue transparent, and reduces losses. This is a foundation towards the smart city model.
After Hanoi, the service is expected to be provided in other cities, including Da Nang and HCM City, where electric buses will be available.
At present, passengers can use domestic chip cards with contactless payment issued by seven commercial banks, namely TPBank, BIDV, Agribank, SHB, Viet Capital Bank, VietBank and SeABank to buy Vinbus tickets.
Nguyen Dang Hung, Deputy General Director of Napas (National Payment Corporation of Vietnam), which is one of the units implementing the project, said there will be more cards to be issued by other banks. In the future, contactless payment will be applied to all means of transport: traditional bus, railway, elevated railway, to subway and inter-provincial bus, and across the country.
Using chip cards to buy Vinbus ticket without contact in Hanoi is proof of the digital transformation occurring in public transport.
Under a plan drawn by the Government and State Bank of Vietnam (SBV), commercial banks are rushing to replace magnetic cards with chip cards for clients. Domestic chip cards will not only allow withdrawal of money from ATMs and payment at the POS, but can be used for transport, healthcare and education services.
The convenience, speed and safety will contribute to the development of the digital economy.
Vietnam's domestic chip cards officially debuted in May 2019. At first, domestic debit cards were launched, followed by pre-paid domestic cards and domestic credit cards. To date, more than 40 banks have issued domestic chip cards.
There are two kinds of chip cards – contact and contactless ones. With the former, when making payment, customers have to insert cards into POS, enter PIN codes, get bills and sign the bills. With the latter, customers just need to bring the cards near the POS or touch the cards slightly on the POS to complete transactions, with no need to enter PIN codes (for transactions with small values) or sign the bills.
According to Napas, domestic chip cards use modern technology with a microchip attached to one side of the card.
The information about clients is stored permanently on the chip, while the password changes in every transaction, thus helping to prevent fraud. Vietnam's chip cards use modern technologies that are as good as the chips in developed countries such as the UK, Australia, and Singapore.
The outstanding advantage of chip cards is that they not only ensure high safety, but also can be used in many fields, including healthcare, transport, insurance, public services and tax payment.
In September 2020, domestic chip cards began connections with the national public service portal, where customers can make payments for public services such as land tax, traffic violation fines, social insurance extension and premium payments, health insurance, advance for court fees, and administrative procedure fees. 
Tran Thuy

The first smart electric buses in Vietnam that use eco-friendly energy were officially put into operation in Hanoi on Thursday.

Transport experts are still sceptical about how effective a plan to collect toll fees from cars entering Hanoi's downtown areas will be at reducing traffic congestion and pollution in the city.