HCM City is experiencing extremely difficult days as the number of Covid-19 infections continues to remain steady day by day.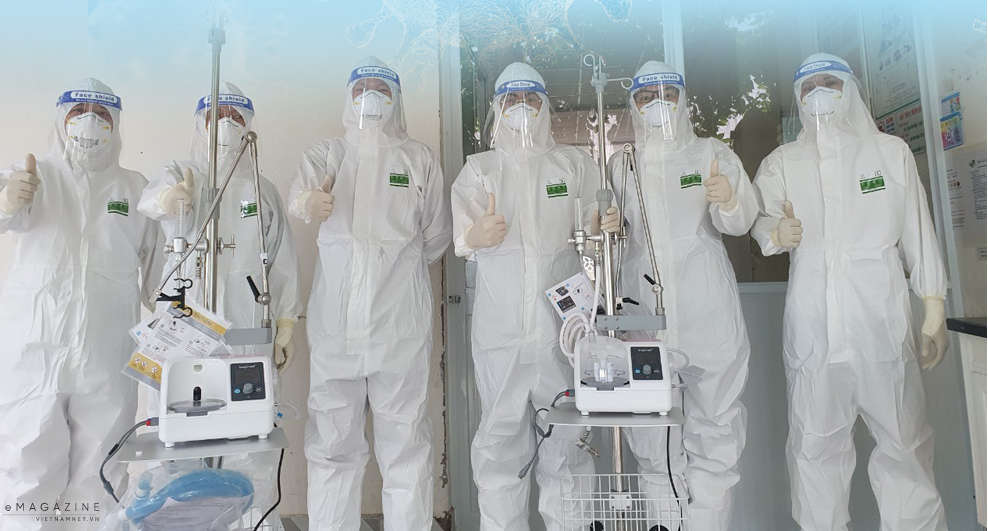 In such a situation, there are doctors who are willing to give a helping hand to anxious patients, and encourage them to overcome challenges.
1.  Nguyen Hai Cong from the Military Hospital 175 registered to join the frontline force to fight Covid-19, where critically ill patients are treated, without discussion with his wife.
His wife just gave birth to a son one week before. As the baby was born prematurely, he was weak and needs more thorough care than other babies.
After sending a message to inform him about his decision and receiving the reply, he felt an ache in his heart, but he remains steadfast with his decision.
"I know that our family has a lot of things to do and we are having big difficulties, However, there are many people who really need my help. Everyone, old or young, is invaluable to their families. I am trained to treat disease and save people. The professional and ethical responsibilities do not allow me to choose peace of mind, and patients put their hopes on medical workers. Sorry for not telling you about my decision. But I believe that you will understand and support my decision. Minh (the son of Cong) will also agree with me," said Cong in a message to his wife.
The Covid-19 Treatment Center of the Military Hospital 175 became officially operational on July 19. Dr Cong is the head of the team specializing in moderate and severe cases. As the number of patients is high, Cong is busy day and night.
HCMC is experiencing social distancing days, and the number of patients increases day by day and people are seeking help everywhere. Cong said with the mission of a doctor, he cannot 'sit still'. He has put public personal information on social networks, with the hope that he can help people who are living in fear of the disease.
He said many people in panic and anxiety have called for help. He understands that advice from a doctor is extremely valuable at this moment, because they not only help avoid damage to health, but also help people calm down.
2. At 2 am on Monday, Dr Le Ly Trong Hung intended to turn off his computer to go to bed after continuously messaging, calling patients, giving advice and examining hundreds of people online. But another message came. A mother from Can Tho asked about the conditions of her child, diagnosed with liver cancer. When answering the phone and hearing the sobbing from the mother, his sleepiness vanished.
"Everyone is afraid of cancer, especially people in provinces. Some people have benign tumors, but they still cannot sleep because of fears. Everyone wants to ask if they should be hospitalized," he said.
However, the case of the child was really serious.
The doctor is currently working at the HCMC Oncology Hospital. He conducted an online medical examination for patients before the outbreak. But at that time, he was very busy and he could only answer the phones from 10 pm to 12 pm. Since the municipal authorities imposed the lockdown, he has had more free time.
He stays up until 2-3 am every day to answer hundreds of messages from people who seek advice, helping put people's mind at ease.
Hung said many patients call him these days, saying they fear they suffer from cancer. But in fact, it is actually just a dermatological problem, which is the expertise of his wife, Dr Huynh Kim Chi.
At first, he only asked for advice from his wife sometimes. But later, realizing that many people in quarantine zones, especially children, need advice, he persuaded his wife to give consultancy together.
"The pandemic hits everyone, including my family. But we are still luckier than many other people and we can enjoy better conditions than the colleagues who are struggling at the hospitals treating Covid-19 patients. Therefore, we are happy to help."
3. When Dr Tran Quoc Phong of Binh Dan Hospital decided to give free online medical examination, he could arrange only one hour for this work every day, from 8pm to 9pm.
The doctor said on the first day, when he received hundreds of messages, he had to take a deep breath before starting the online medical examination. Though he knew that people are currently having a lot of problems and had questions to ask, he was still surprised by the high number of messages.
The patients are of different ages, with symptoms related to urology, his speciality, from mild to critical levels. 
Khanh Hoa

Hundreds of doctors have joined the Facebook group 'Giup nhau mua dich' (helping each other) to assist people during the Covid-19 pandemic.

Just 12 days after testing positive for the coronavirus, Tran Tuan Thanh and Dinh Thi My Thu recovered and were discharged from hospital.