Becoming unemployed and running out of money, bus drivers and bus attendants have had to drink rainwater, and eat and sleep on buses, waiting for the day the bus station resumes operation.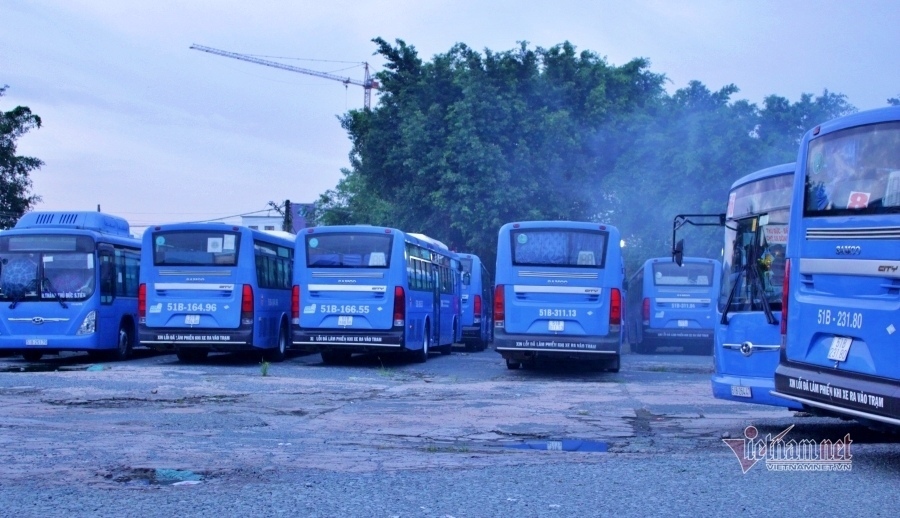 The last resort
It was dusk. Thach Cham Pa, 37, a bus attendant at the HCM City National University Bus Station, went to pick up some citronella to prepare dinner.
He returned from work late that day. In the daytime, he worked as an assistant at a construction work, a new job he just found some days before.
Pa has a congenital heart disease and was advised by doctors not to take heavy work. But he had no other choice. He was running out of money after four months of getting stuck at the bus station.
When the city lightened up, Pa put dishes of food on a makeshift 'table', created by old tires, and then, together with his co-workers – Tran Phu Quy, 41, and his 4-year-old son, and Tran Thanh Phong, 47, a bus driver – had dinner.
Like Pa and other 50 drivers and bus attendants, Quy and Phong got stuck at the bus station for the last four months.
There was only a bowl of braised fish and a dish of pre-cut watermelon for the dinner. But this was a hearty meal for Pa and others.
When the fourth pandemic wave broke out, bus drivers and attendants there all believed that the wave would be controlled soon. So when the cooperative announced the suspension, everyone decided to stay at the station instead of leaving for their hometowns.
"We thought that we would suspend operation for one or two months before returning to work. Some of us slept at guesthouses, others slept on the bus to save money," Phong said.
No one could imagine that the lockdown would last four months. As they ran out of money to pay room rent, they returned to the station and lived on buses. It was very uncomfortable, but they had no other choice.
While Pa got used to sleeping on bus, other drivers could not sleep during the first days. It was stuffy inside the bus at night, and they could not leave the doors and windows open because of mosquitos. It was hot in the daytime and they had to sleep on hammocks hung under tree canopies.
Growing vegetables, eating instant noodles
Quy, Pa and Phong quickly finished the meal. After that, Quy carried his son away to bathe him, while Pa led reporters to the place where he slept.
The bus was turned into a small kitchen. There were bottles of vegetable oil, seasoning powder and a rice bucket.
Between the two rows of seats, Pa put a small gas cooker and a small pot. This place turned into his bed after 8pm.
"I once had an electric fan. As it had to work 24 hours in the last four months, it broke down. Now I have to sleep in a mosquito net, though it is very hot here," he said.
Pa and his co-workers experienced tough days during the lockdown. They could not go out to buy food. Fortunately, the cooperative gave them cash and rice, so they did not worry about hunger. But they could not go shopping, so they always had to eat instant noodles.
Duong Minh Tam, 32, said he now has a horror of instant noodles and plain cooked rice. Meanwhile, Pa grew vegetables at the bus station.
Thanks to the small garden, the people there had vegetables for meals.
Not only lacking meat and fish, they also faced water shortage. They could only use water from the well for bathing and washing clothes. They had to buy water from the houses nearby or catch rainwater.
However, this was not what they were most afraid of. The biggest worry was homesickness.
A driver, who asked to be anonymous, said he would not relate how he has been living over the last months, because he feared his family members would read the information in the newspaper. He did not want his wife to worry about him.
When he felt lonely, he would talk with the drivers in the same situation. They would make tea and gossip to forget about being homesick.
"My only wish is the bus station resumes operation. Tet holiday is near and we are worried that we won't have money to celebrate Tet with family members," he said.
"Staying redundant over the last four months, we have almost nothing left," he said. 
Nguyen Son

The long lockdown in HCM City has caused karaoke parlours to hover between life and death. While struggling to survive, they have thought of a new service – renting karaoke equipment out to clients.

HCM City Department of Transport has announced traffic regulations that specify where vehicles can work following new guidelines under the Government's Resolution No. 128.