With VND10.7 trillion, Nguyen Duc Thuy, known as boss Thuy, will become the 12th richest stock billionaire. Two months ago, his stock assets were worth less than VND1 trillion.
Getting rich quickly
Thaiholdings' shares saw prices soar from VND80,000 per share in mid-November 2020 to VND133,100 per share on December 3, 2020.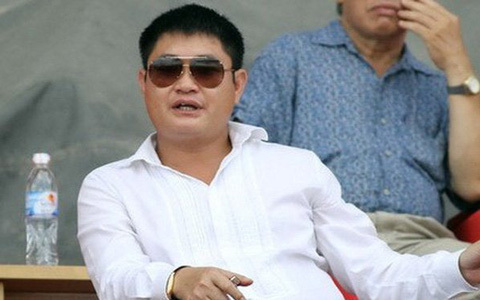 Nguyen Duc Thuy, or boss Thuy
With 10.78 million shares, boss Thuy had 10.78 million stock options. He recently registered to buy 2.896 million options more to raise total stock options to 13.676 million.
The options will allow him to buy 75.13 million Thaiholdings shares, worth VND751 billion.
If transactions succeed, boss Thuy will own 85.91 milion shares. The shares are being traded at VND10,700, which means that Thuy will have stock assets of VND10.7 trillion, making him the 12th richest stock billionaire.
Vietjet CEO to buy more aircraft
While international flights have been suspended since last March, domestic flights have resumed with strict requirements to ensure safety for passengers during the Covid-19 pandemic.
Reuters reported that the low-cost carrier Vietjet is planning to buy more aircraft and upgrade facilities this year after reporting a profit in 2020.
Speaking to Reuters on January 9, CEO Nguyen Thi Phuong Thao said Vietjet is looking forward to receiving more new aircraft models and will continue making investments in facilities for aircraft maintenance as well as training facilities. The investment in 2021 will be higher than 2020.
Vietjet said they had successfully arranged $28 million worth of capital through bond issuance last month and the amount of money would be reserved for development plans in 2021. Vietjet declined to give more details about bond issuance.
Vietjet's cargo transporation in 2020 grew by 75 percent compared with 2019, which was the major growth engine of the company in a tough 2020.
Bamboo Airways to fly to the US
Bamboo Airways President Trinh Van Quyet said the air carrier has officially received a license from the US Department of Transport to carry passengers, cargo and mailers between Vietnam and the US.
Bamboo Airways is considering flights to Los Angeles or San Francisco.
"This is one of the most important conditions for us to plan to provide routine non-stop flights between Vietnam and the US, a market with great potential, with 700,000 passengers a year," he said.
Quyet revealed that Bamboo Airways workforce, facilities and equipment are ready.
The Civil Aviation Authority of Vietnam (CAAV) has reported that Bamboo Airways was the carrier with the highest on-time rate in the aviation industry in Vietnam in 2020, for the second consecutive year.

The cost to lease aircraft, pay workers and develop personnel are lower than before the pandemic. This is a great opportunity for Vietravel to build a carrier the way it wants at the lowest possible cost,"
Nguyen Quoc Ky, president of Vietravel Airlines
Third private airline
Vietravel Airlines officially presented itself before the public on December 26 after it received an AOC (air operator's certificate), the last condition for commercial flight operations.
The airline plans to put tickets for sale from early January 2021 and begin commercial operations from mid-January. The airfare will be between that of Bamboo Airways and Vietjet Air.
As a hybrid airline, Vietravel Airlines will have only one-class tickets with 17 different price levels. Passengers can choose services based on their demand.
At first, Vietravel Airlines will focus on domestic routes, including eight routes connecting Hanoi/HCM City to Hue/Da Nang/Nha Trang/Phu Quoc/Van Don.
When the pandemic ends, it will provide international flights. The first international air route will be to Bangkok. Later, it will fly to Singapore and Northeast Asia.
After 15 years, Nguyen Quoc Ky has succeeded in developing Vietravel into the No 1 travel firm in Vietnam. And now he has a new role – president of Vietravel Airlines.
"The cost to lease aircraft, pay workers and develop personnel are lower than before the pandemic. This is a great opportunity for Vietravel to build a carrier the way it wants at the lowest possible cost," Ky said.
Challenges for new Vietnam Airlines CEO
Le Hong Ha, who has been deputy CEO of Vietnam Airlines since 2012, will take office as the new CEO of the carrier.
Ha will replace Duong Tri Thanh, while Dang Ngoc Hoa will replace Pham Ngoc Minh. All of them are veteran managers who gained great achievements during the development of Vietnam Airlines.
Both the new chair and CEO are facing serious challenges. In 2020, the combined revenue of Vietnam Airlines exceeded the plan, but the loss was estimated at over VND14.4 trillion.
This was a record loss in the history of Vietnam Airlines. The loss is expected to decrease by VND2.8 trillion when the carrier completes the procedures to adjust depreciation, and allocation of expenses on repair and maintenance in accordance with the government's policy to help it overcome current difficulties.
Bui Thanh Nhon finalizes deal
Novaland, a real estate developer, has announced that its president Bui Thanh Nhon has registered to sell 12 million NVL shares out of total 216.8 million (21.99 percent) of shares he is holding.
The transactions are expected to be carried out through order-matching or put-through modes, slated for January 12 and February 10. 
Bao Anh
The ITA shares of the Tan Tao Group unexpectedly witnessed an impressive trading session with a record high trading volume.
A number of businessmen returning from Eastern Europe have been making great marks in the banking sector.