When Luong Hue Trinh started experimenting with electro-acoustic music in her final year at the Vietnam Academy of Music (VNAM), she didn't know much about them, just that she was falling in love with a new way of making music.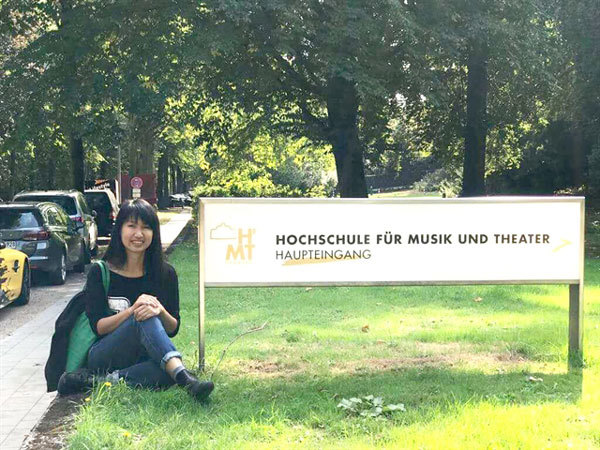 STUDIOUS: Luong Hue Trinh studied an MA in multimedia composition at Hamburg University of Music and Theatre from 2015 to 2018. Photo Nguyen Le Viet Anh

Trinh was the first Vietnamese musician to study multimedia composition at Hamburg University of Music and Theatre from 2015 to 2018.
Her most recent multimedia concert featuring a combination of music and video entitled Lettres De Hanoi (Letters from Hanoi) was performed at the European Music Festival on November 30.
The concert was performed by Vietnamese and French musicians featuring pieces composed by Trinh and Jean-David Caillouet based on a book by author Jean Tardieu.
"The concert was great," said Dang Ba Tai, former head of the art section at the Vietnam Tuong Theatre.
"This is the first time I have watched a multimedia concert. It was very surprising and interesting to see daily utilities such as steel bowls and pebbles making the sound.
"The concert left a wonderful and unforgettable impression with me. Sometimes I was very moved."
Many of those in attendance only had one problem with the concert: it was too short at only one hour.
Not only in Hanoi, the auditorium at the HCM Conservatory of Music was full, a rare phenomenon for a music event here.
"I'm happy with the success of the concerts," Trinh said.
"The concert features Vietnamese and French cultural exchange from the past to the present but also shows the individual characteristics of the two countries."
The idea of the concert was initiated by former director Emmanuel Labrande of the French cultural centre (L'Espace). He discussed with Trinh and Caillouet about composing the pieces for the concert.
The two artists worked to write eight pieces all connected through a thematic thread.
"I think Trinh is an exceptional artist with a very strong vision and clear aesthetic sense," Caillouet said.
"It is rare to meet young artists with such a clear mind and energy. I feel extremely grateful to have been given the chance to collaborate with her.
"I feel our styles are very complementary and look forward to fulfilling the potential of this collaboration as I think we've only scratched the surface so far."
Trinh met and worked with Caillouet first time in August 2018 in Bangkok. The event was held for young artists from Southeast Asia.
They found common ground in music and looked for opportunities to work together.
Trinh invited him to come to Vietnam to join a project funded by L'Espace in July 2019.
The multimedia concert is one of several projects which Trinh has worked on since she came back from Germany last year with her MA degree.
Trinh doesn't look much like an artist. She is simple, modest and prefers to observe. She pours her energy into her inner world where she creates her own and mysterious music space.
MAESTRO: Luong Hue Trinh (second right) at multimedia concert Lettres De Hanoi (Letters from Hanoi) at Vietnam Youth Theatre. Photo Tran Thi Hong Nhung

Trinh was born in 1985 to a family where every member could play an instrument like the guitar, drum and the keyboard.
She went to VNAM at the age of 13 studied and graduated from the Jazz Keyboard Department.
During 12 years studying she did not know how music was developing outside the academy.
Although she created her own compositions, she still found her music couldn't express all her emotions.
"The melody, rhythm and harmony did not help me express my inner feelings and thoughts," she said.
A meeting with Vietnamese percussionist Nguyen Xuan Son in her final year was a turning point for Trinh.
She recalled that she was impressed when Son gave her some of his compositions to listen to.
She stayed up all night listening and chatting with the musician. Listening to his music gave her new and very special emotions.
It took a year for Trinh to convince Son to teach her electronic music composition.
His demanding nature helped Trinh to pursue this music genre. He teaches not only electronic music but musical aesthetics and contemporary dance.
Son eventually challenged her and asked if she had enough passion to pursue electronic music.
Trinh continued to compose pieces and was invited to perform in Europe and Asia.
When she learned she had won a scholarship to study in Germany, Son was the first person she told. He encouraged her to take advantage of the opportunity, but she was hesitant.
"One of the reasons was that I was immature at the time," Trinh said. "Many people told me that if I wanted to develop my music career I had to study abroad. I didn't agree.
"I want to try betting on myself if I don't go to study abroad how will my career develop."
She also feared she would lose her identity and become westernised if she studied abroad.
She hesitated and only replied to the school's offer two months after deadline and was fortunate to still be accepted.
Under the scholarship, Trinh was meant to study a one-year post-graduate course but after a short time about five months, she decided to apply for a master's scholarship.
"The curriculum is very good," she said.
"Multimedia composition music is closely related to technology, science, and mathematics. I had to learn a lot about the frequency, the sound, the structure of the ear, the brain, how sound enters the ear and how the brain handles it.
"In recent years, Germany has researched using brainwave analysis technology to make music. It is amazing. At the beginning I was shocked."
The biggest challenge during her master's was having to study in German, a language she had little command of.
Two of her professors, professor and school president Elmar Lampson and Professor and Dr Georg Hajdu, saw her potential and successfully petitioned the school to allow international MA students to study in English.
"Once she started working with me, she immediately struck me as an exceptional person, both as musician and human being," Hajdu said.
"Her sensitivity for purely musical questions as well as for issues relating to the function of contemporary music and art in Vietnamese society demonstrated deep insights and empathy for the human condition.
"Her works — often elegiac in nature — are characterised by thoughtfulness and deep personal emotions. In our lessons, we talked about the virtue of reduction for the sake of expression. She always trusted my judgement and resonated with what I had to say about her works."
With great effort Trinh graduated with distintion for her musical piece and thesis.
She decided to return to work in the Vietnamese music industry as she felt there was a lack of artists like her.
She told Việt Nam News that she would spend all this month resting after the European Music Festival, but flew to France for her new project The Crossing of Disaster.
Brazilian pianist Luiz Gustavo and French visual artist Francois Andes invited Trinh to join the project which will be exhibited at the Labanque Centre for Production and Dissemination in Visual Arts, Bethune in France.
Another multimedia project with German ensemble Hand Werk will take her to perform in Cologne, Essen and Munster next autumn and in Vietnam in 2021.
She will be also a resident artist at Cite International Des Art for three months in 2020.
People often think electronic music is always upbeat and only for large venues, but Trinh's music is for listening only, not dancing. — VNS
Nguyen Binh
An experimental music concert featuring Vietnamese musician Luong Hue Trinh and others will take place at L'Espace on July 6 at 8pm.

An electronic music concert performed by a symphony orchestra promises to wow audiences in Hoi An in the central province of Quang Nam on December 14.