There's nothing quite like a day out to watch live football. 
If I still lived at home in Northern Ireland, I can tell you where I would be just about every Saturday at 3pm from August until May: on the Irish League terraces following Crusaders FC.
Football fans flood the streets to celebrate Vietnam U23s victory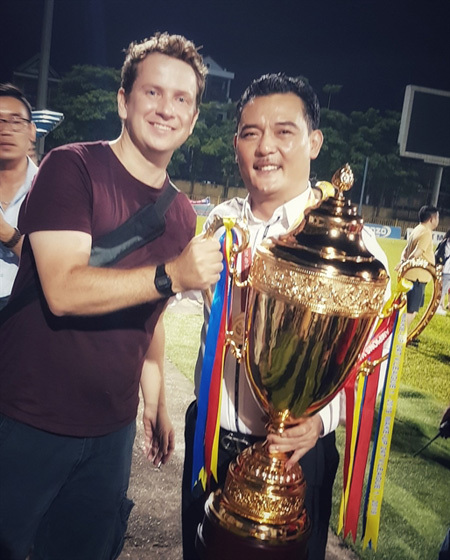 CONNECTED: Bill George with the V.League 1 trophy after Hanoi FC claimed it last year.
From listening to radio previews on the way up to the ground in the car to some pre-match fish and chips and then the agony, ecstasy and everything in between of watching the action unfold over 90 minutes, every part of the day, every little ritual, is something special.
Unfortunately, living a few thousand miles away in Hanoi makes following the Crues a little bit tricky. Sure there are highlights, online match reports and the occasional game broadcast by the BBC, but nothing can replace the experience of actually being at a match.
A lot of football-loving expats feel the same, even if they support Premier League giants whose every match they can catch live on TV, that experience of cheering for the team you love is missing.
There is a way to satiate that need right here in Việt Nam though, and some expats have found second loves in the form of V.League teams.
Fanatic
Fan is short for fanatic, and it's fair to call Bill George a V.League and Hanoi FC fanatic.
The Englishman has lived and worked in Hanoi for the last nine years, and since 2013 he reckons he's been to between 200 and 250 V.League matches.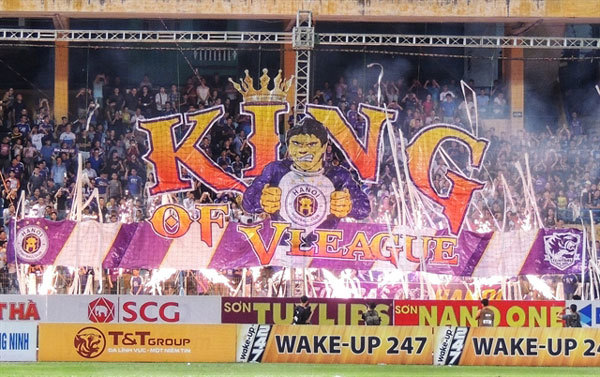 ROWDY: An impressive display from Hanoi FC fans at a home match last season.
 
George supports the English Premier League's Arsenal FC, and he dearly missed following the Gunners up and down the country after moving to Vietnam.
"I missed going to live matches as I used to do it a lot back in England and travel around watching Arsenal.
"I used to work right close to Hang Day Stadium and I could always hear the match days, the drums and things, and when I changed jobs I was able to not work on match days so I could start going to the games," he tells Việt Nam News.
George hasn't looked back since and started a Twitter account and a blog to provide foreigners much-needed information about Vietnamese football in English, something which he found hard to come by when he started following the V.League.
While he admits the local league is lacking in the professionalism around match day that fans in Europe are used to, he says the atmosphere at V.League grounds can be every bit as intense as in the UK.
"Back home it's all about merchandise and getting you to part with your money for food and drinks.
"Here, none of that really exists too much. However, inside the stadium on big days the atmosphere is pretty good, especially when Hanoi are playing Hai Phong, or Thanh Hoa or Nam Dinh with quite big rivalries and big crowds.
"The atmosphere can be pretty intense at times and some of the big away teams bring a lot of fans."
George knows the local league is far from perfect and points to the scheduling of matches at unsociable hours as a big problem, but he says it offers something top-level football around most of the world no longer does.
"I think there's a lot of connection between fans and players that isn't possible back home; it's a big professional league back home.
"As a fan you're very far away from the club really and you can't connect, whereas here the clubs make an effort to connect with the fans quite well. I certainly like that aspect of it.
"I probably prefer going to games here."
Football first
Scott Sommerville is another long-time Vietnam resident who has made the V.League a huge part of his life.
After moving to HCM City 14 years ago, Sommerville immediately started following the domestic league and has been watching HCM City FC week in week out for seven years, and even attended their 3-2 away win against Hougang United FC of Singapore last week.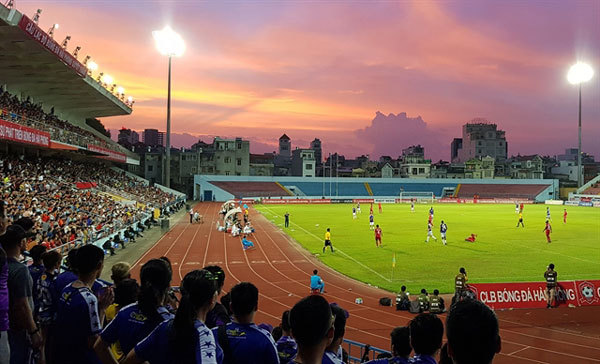 AWAY DAY: Hai Phong's Lach Tray Stadium as the sun goes down, seen from the away end. Photos courtesy of Bill George

Sommerville says he loves the back to basics feel of the V.League 1, far from the prawn sandwiches of the English Premier League.
"I don't go there to be entertained; I go there to watch football."
He recently attended City's away AFC Champions League playoff defeat to Buriram United FC of Thailand and says the experience felt like a match day back home, but watching the V.League feels like a return to the basics of the beautiful game.
"Coming back to Vietnam and going to the games feels like going to watch a non-league game with your mates."
Forget the glitz
Sommerville perhaps best summed up what there is to love about the V.League, where despite the rundown stadiums, lack of marketing around the game and at times haphazard organisation, the key ingredient is still there: the beautiful game.
"I'm a football fan, I'm not there for the glitz and glamour." VNS
Peter Cowan

Hanoi FC lifted their third National Super Cup after coming from behind to beat HCM City 2-1 on Sunday at Thong Nhat Stadium.