Traditional costumes made with sophisticated sewing, embroidering and decorating techniques are more in the public eye than ever as they are featured in more films and television shows.
Ancient costumes of Vietnam
Beauty of traditional dress returns to daily life
Traditional ao dai remains a timeless trend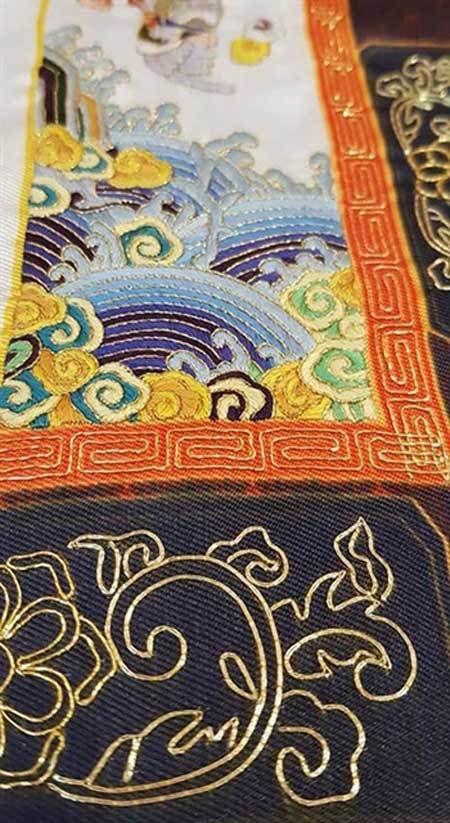 A wave pattern hand-embroidered on a royal costume in colourful blue and gold threads. Photo courtesy of Y Van Hien
A TV series directed by Huynh Tuan Anh recently made a stir as the most expensive and impressive project focusing on Vietnamese feudalism and royal families.

Though the 18-episode series Phượng Khấu (The Queen's Robe Button Engraved with an Image of a Phoenix) will not premiere until next year, it has already attracted attention from the public and experts because it reveals untold stories from the royal family of the Nguyen Dynasty (1802-1945). It is inspired by history but contains many imaginative and fictional details.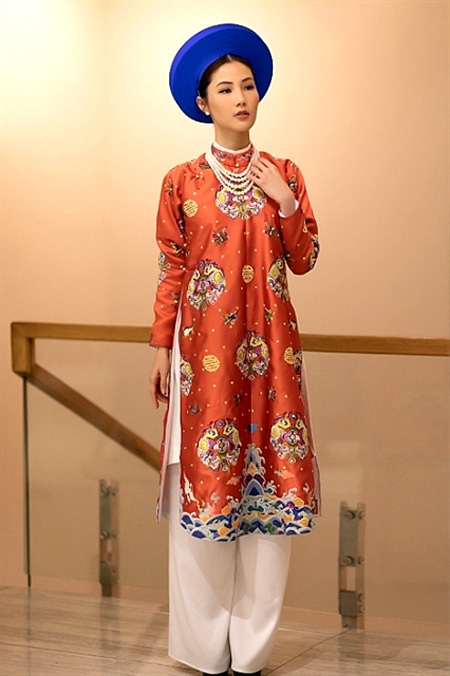 Actress Diem My shows off one of the costumes worn by her character, Queen Le Thien Anh, in Phuong Khau. Photo courtesy of Y Van Hien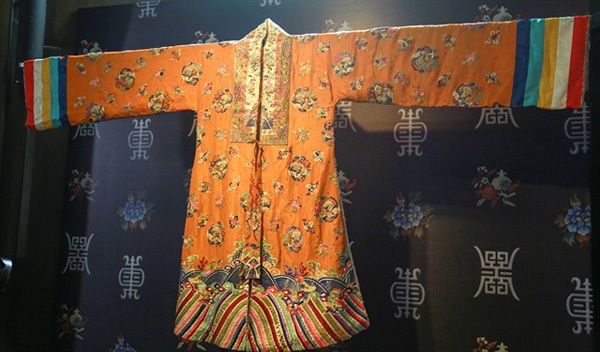 One of the highlights of the exhibition was the nhat binh dress of Princess My Luong, sister of King Thanh Thai (1879-1954). Photo vov.vn
The project features Queen Tu Du, whose real name was Pham Thi Hang. She helped her son become King Tu Duc (1829-1883) before he enjoyed the longest reign of any monarch of the Nguyen Dynasty, from 1848 to 1883.
The series focuses on the life of Tu Du between 1840 and 1847 when she was a concubine of King Thieu Tri (1807-1847), the third emperor of the Nguyen Dynasty.
Much of the series is being shot at various places in the former capital city of Hue. Other indoor scenes are being produced at a studio in HCM City with furniture and architecture designed in an authentic royal style.
Dozens of historians and cultural researchers, including costume researcher Vu Kim Loc, historians Nguyen Khac Thuan and Le Van Lan, were brought in to supervise the project.
As many as 300 costumes were handmade and embroidered to create a truthful aesthetic effect for the series.
Much of the expense invested in the project went to the costumes, according to director Anh.
He has been clear that he hopes the series will make waves in the local film industry.
"Though films about history are considered boring and people think they will not attract audiences, Phượng Khấu will be different because of its good script and big investment in context and costumes," Anh said.
"We expect that this project will inspire other filmmakers to revive history and bring a deeper knowledge about history to the audience."
Sophisticated outfits
Meritorious Artist Thanh Loc portrays King Thieu Tri in Phuong Khau. Traditionally, yellow was worn by the King and Queen Mother only. Photo courtesy of Huynh Tuan Anh

Costume designer Nguyen Duc Loc and his fellow workers at Y Van Hien Company took responsibility for all the costumes in the series. Consulting with researchers, they designed the costumes to be as historically accurate as possible.
At the time, royal costumes were much more complicated than the áo dài (traditional long robe) worn today. Members of the royal family wore different styles and colours of outfits depending on their levels. For example, the yellow dress was reserved for the King and Queen Mother only. The Queen (the King's crowned wife) wore red and red-orange dresses. Other concubines dressed in purple, blue and green.
Popular dresses included áo nhật bình, a casual item for female members of the royal family. "Nhật" means rectangle, referring to the shape the garment makes around the neck area where the robe is buttoned. Five bands of colours at the hem of the sleeves represented the five elements in traditional Vietnamese culture – metal, wood, water, fire and earth.
The designers also created sophisticated accessories such as necklaces, mấn (headdresses) and badges made of bronze and trimmed with gold and silver.
"Royal costumes gather the best of the artistic sense, skilful handicraft and intellectual talent of the artisans; they represent the quintessence of art and culture of that era," said Duc Loc.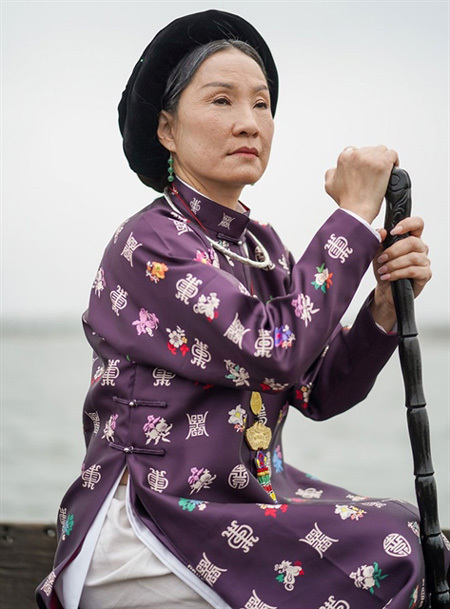 Meritorious Artist Hong Dao from a scene in Phuong Khau. The series features various types of royal costumes including casual wear like this outfit. Photo courtesy of Huynh Tuan Anh
Director Huynh Tuan Anh (left) and actress Diem My speak at the seminar on Vietnamese traditional costumes. VNS Photo Ha Phuong
"That's why the process of designing and making them required so much time, effort and money."
"We used various types of fabric to make the costumes for the series since the characters have different classes," Duc Loc said. "Some kinds were imported from Thailand, China and South Korea. Some were made in craft villages in the country where people have preserved the traditional trade of weaving silk such as Van Phuc, La Khe, Nha Xa, Ma Chau, Bao Loc and My A."
Many people have argued that authentic Vietnamese clothes should be made from Vietnamese materials. But in reality, people have long imported fabric from foreign countries. This is not unique to Vietnam; even Japanese people bought Vietnamese silk to make kimonos.
"No matter what kind of fabric is used, authentic Vietnamese outfits should be made by Vietnamese artisans with traditional techniques," Duc Loc said.
The designers experimented with many different styles and fabrics before settling on the final costumes for Phượng Khấu.
"We didn't perfectly reproduce the traditional royal costumes, because that would require too much time and effort as well as the involvement of historians and experts," Duc Loc said.
"We just tried to make the costumes as similar to the ones in history as possible.
"Costumes for a film should match the context, sequences and characters," Loc".
Director Anh agreed, saying that the film crew was taking their work seriously.
"It may cause arguments around the film's content and costumes, but we tried our best and we are willing to hear any idea or comment from audiences and researchers," he said.
Each 60-minute episode of Phượng Khấu cost VND2 billion (US$85,400), with half of the budget going towards costumes.
"People asked me why I invested much in costumes," Anh said. "Firstly, Phượng Khấu is not only an entertainment product, it has a mission to preserve and promote Vietnamese traditional culture and history through the language of cinematography. We should show respect and seriousness when we talk about history.
"Secondly, I believe costumes express the quintessence and uniqueness of the culture and art of the Nguyen Dynasty.
"Finally, I focused on creating costumes because the audiences love to see how beautiful and radiant the dresses are, unlike the ones they see in old monochrome photos. They are curious about how queens dressed in the past."
Historian Le Van Lan praised the initiative and effort of the film crew. He recognised that Phượng Khấu is the first film to depict traditional royal costumes in a truthful and lively manner.
"The filmmakers were intelligent in selecting the context and time for the film because documents about royal costumes under the Nguyen Dynasty are easier to find than for many dynasties in history," Lan said.
"It's not easy to reproduce old clothes in this setting because they must be truthful to history but still meet the aesthetic demands of the film."
Dress it up
In recent years, Y Van Hien Company has forged a reputation for reproducing traditional costumes and accessories.
Costume designer Duc Loc's ambitious vision is to make the clothes common for daily activities beyond just festivals and fashion shows.
"I'm so happy that more and more people including men are electing to wear traditional long robes for special events," he said. "The clothes we made have their new lives, not only for the performances."
Early this month, a seminar in Hanoi discussed the preservation and restoration of royal costumes. The costumes used in Phượng Khấu were displayed to the public. People were impressed by the intricate, sophisticated hand-embroidered patterns of phoenixes, dragons, flowers, waves and clouds.
Y Van Hien's products, as well as costumes and accessories dating back to the Nguyen Dynasty, were also on display. The highlight of the exhibition was the nhật bình dress of Princess My Luong, sister of King Thanh Thai (1879-1954). It became a part of Y Van Hien's collection after an auction in the US.
At the event, 29-year-old actress Diem My presented an outfit worn by Queen Le Thien Anh (who she portrays) in the series. She received compliments from experts, especially Lady Công Tôn Nữ Trí Huệ, a descendant of King Minh Mang (1791-1841).
"You are graceful in this beautiful dress. I see the manner and elegance of a noble woman in you," she told My.
"The costume is beautiful, too," she said. "I realise that it's like the original ones in form, colour, decorations and materials."
Lady Hue is one of the last master artisans of making royal costumes. She still consults with Duc Loc about how to reproduce dresses and accessories.
"I'm quite young in comparison with the cast of Phượng Khấu," My said. "It's my good fortune to have a chance to star in this important film project."
"Taking part in a historical film brings both pressure and joy," she said. "In the dress of Queen Le Thien Anh, I have to practise the behaviour, gestures and language of a noblewoman.
"Now I am more willing to wear traditional dress for special events; they are beautiful and sophisticated. I feel proud to wear them.
"Instead of Western-style suits, I also see many men wearing traditional long robes nowadays. They are not only part of the past. They are becoming part of the present." VNS
Minh Thu