More and more young people are suffering from the effects of burnout, an expert has warned.
Rise in reported anxiety levels among young people: Vietnamese Health Ministry's statistics
Three million Vietnamese youths suffer from mental health problems
Alarm rung over percentage of students suffering from depression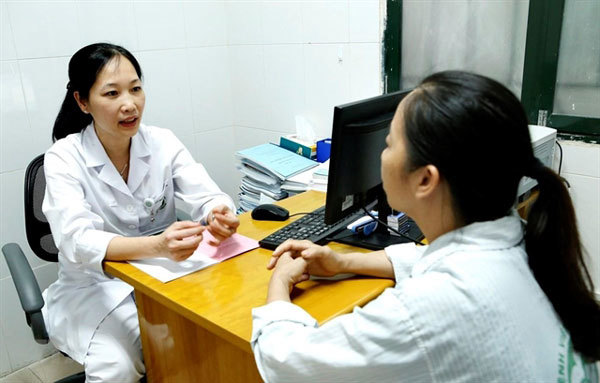 A doctor gives a therapy for a patient who suffering from mental disorder at Ha Noi-based Bach Mai Hospital. VNA/VNS Photo Duong Ngoc
As many as 10 patients have visited Hanoi's Bach Mai Hospital's National Institute of Mental Health in the past few days complaining of excessive and prolonged stress in the workplace.
One doctor said emotional, physical, and mental exhaustion caused by prolonged workplace stress has become commonplace in developed countries.
And she added the problem is more prominent in Vietnam's big cities with many young people getting as little as four hours sleep each night, spending the rest of their time at work with just a few days off.
Psychologist Nguyen Mai Hoa also warned burnout issues could lead to depression and even suicidal tendencies.
No medical cure
Hoa told Tiền Phong (Vanguard) newspaper that burnout syndrome had not been classified as a medical condition, so there was no treatment plan in place.
Psychologists and psychiatrists only helped patients find ways to relieve pressure and avoid prolonged or more severe illness, she said.
N.H.T.T, a patient of Hoa said she worked non-stop for 12 hours per day, but failed to meet the requirements of the new boss.
She was so stressed she had trouble sleeping, was exhausted and did not want to go to work.
T.T.H, another patient of Hoa, said she worked for a well-known corporation. The job was so stressful that three of her colleagues switched to another job and she needed therapy.
She said she took the therapist's advice to quit and felt better despite earning a fraction of her previous salary.
One mother of a 24-year-old patient in Hanoi said her daughter suffered from sleeplessness, anxiety, loss of appetite, persistent headaches, and loss of confidence.
After graduating from the Netherlands she returned to Vietnam and found a high paid job with a foreign-invested company.
But one day, she told her mother she had had enough.
The doctor suggested she quit and travel and according to her mother, this has improved her state of mind.
Hoa said those who suffered from burnout syndrome mostly had well-paid, multi-cultural and ideal jobs. Many could regain balance in life after quitting or switching jobs.
Suggestions for burnout recovery
Hoa said the best methods to prevent or get away from burnout were to reorganise and rebalance between personal life and work.
She said quitting, switching jobs or simply reducing the workload would solve the problem. Other activities such as travelling, gardening, reading, watching movies or sports could also help reducing burnout.
In May, the World Health Organisation (WHO) has for the first time recognised burnout a legitimate medical diagnosis.
In its International Classification of Diseases (ICD) – the handbook that guides medical providers in diagnosing diseases - WHO defines burnout as a syndrome conceptualised resulting from chronic workplace stress that has not been successfully managed."
The organisation later clarified that burnout remained an "occupational phenomenon". It is not considered a medical condition.
A study of Bach Mai Hospital's National Institute of Mental Health showed that nearly 30 per cent of the Vietnamese population suffered from mental disorder. Of that, 25 per cent suffered from depression.
VNS