With his passion for preserving a traditional occupation and deft approach to doing business, farmer Le Van Quyet from HCM City's Cu Chi District has turned simple local materials – rattan and bamboo – into unique and beautiful products for export.
Natural products increasingly popular in HCM City
Bringing new vitality for bamboo products
Luu Thuong grass weaving village
Phu Vinh Bamboo and Rattan Village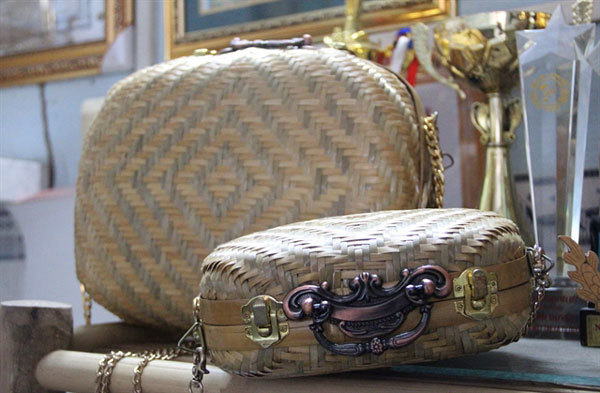 A handbag and suitcase made of rattan and bamboo by workers at Le Van Quyet's enterprise, which have found success in export markets. VNA/VNS Photo Xuan Du-H.Chung
Most of the products are environmentally friendly, made with materials purchased from markets in the provinces of Tay Ninh, Binh Duong, and Long An, and the Tay Nguyen (Central Highlands) region.
As a member of the local youth union in Tan Lap Ha Commune, Quyet stepped into the handicraft occupation of rattan and bamboo knitting in the 2000s when he was in his 40s when one of his friends, also a member of the union, challenged him to weave three tiny bamboo baskets.
Quyet had always considered weaving a simple and easy job, so he confidently accepted the challenge.
But it was not as easy as he expected. Quyet spent three days trying to weave the baskets before eventually giving up.
Disappointed in himself and feeling embarrassed in front of his friend, Quyet was determined to learn how to weave baskets.
Every day, he rode a bicycle to nearby Thai My Commune, which had for many years been home to the traditional craft of bamboo and rattan weaving. He spent hours learning the occupation. Every morning, he watched his uncle in the village at work.
Quyet had to learn how to chop the rattan and bamboo, treat and stretch the plants and finally shape them into baskets.
His first hand-made products all sold quickly at the local markets.
He soon signed his first large contract to produce 100 rattan baskets for a friend, but half of them were returned because of defects.
Quyet had to pay back his friend and he lost most of the nearly VND4 million (US$180) he had been paid.
Despite his failure, he continued to study and work on making quality, creative designs. He decided to accept small contracts with tiny profits of VND10,000-VND20,000 for each product.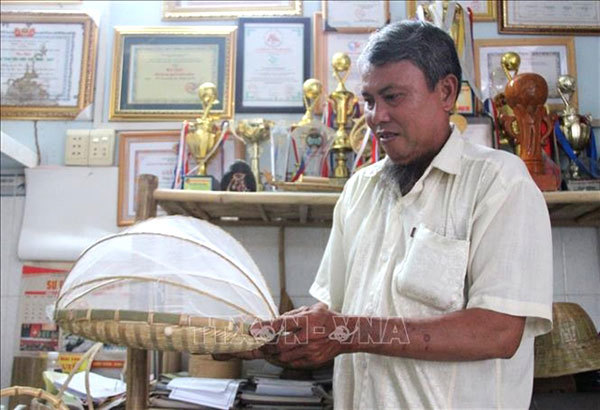 Le Van Quyet shows off one of his products which will be exported to Taiwan. VNA/VNS Photo Xuan Du-H.Chung
As a patient and enthusiastic businessman, Quyet continued to learn how to improve his production process. Gradually, he created more sophisticated products and the return rate decreased.
By 2005, after winning the trust of customers thanks to his experience in production and sales, Quyet established a company and starting to earn more contracts. He began to expand production by inviting skilled local people to work for him.
As he gained more and more success in the domestic market, Quyet began exporting products. Each year, he sends more than 10,000 products to Australia, Japan, South Korea, Malaysia and Chinese Taipei – his first foreign market.
His enterprise now provides jobs to nearly 100 workers, most of whom are locals. When he gets a large contract, he sometimes has as many as 150 people helping him fill it.
"At the peak of my business success, I could export between 20,000 and 30,000 units per month," said Quyet. "Customers favour bamboo boats, bicycles, dragonflies, butterflies, rucksacks and baskets of all kinds."
With business booming, his family earns between VND300 and 500 million (US$12,900-21,500) per year.
"To live off a career, there must be passion," he said. "Passion helps me overcome difficulties to create beautiful products with new designs every month. I introduce new products to our customers and guide our workers on how to produce them."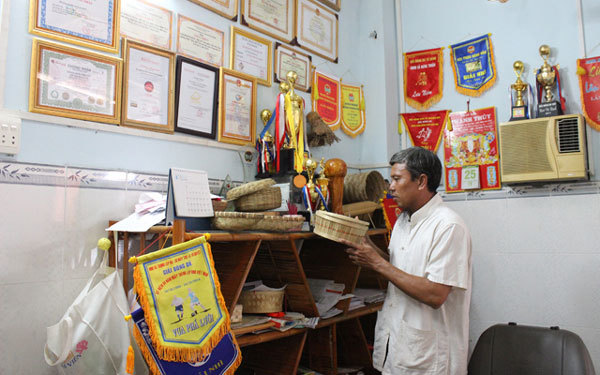 Le Van Quyet in a room decorated with the certificates and awards he has won for his bamboo and rattan products. Photo danviet.vn
The innovative businessman has done his own market research to develop new products customers will love. He has rice bowls, food containers, baskets for bread and fruit and chopsticks. His items are currently sold to tourists at restaurants in HCM City, with prices ranging from VND8,000 to VND100,000 per piece.
Local people have also started to embrace Quyet's business since he launched new lines of products such as handbags, suitcases, wallets and laptop bags.
In recent years, his products have won many prizes at contests and festivals in rural areas of Cu Chi District and around HCM City.
This year the HCM City Farmers' Association selected his suitcases and handbags to enter the final round of the HCM City Innovation Award 2019.
By Xuan Du and H. Chung
VNS