Tran Nguyen Kim Thi is a postdoc majoring in AI usage in medicine at the Huge Kaul Precision Medicine Institute at the University of Alabama in Birmingham (UAB) in the US.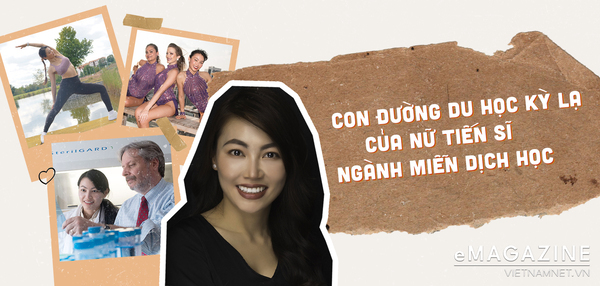 She obtained a doctorate in immunology in 2020 with research work on the factors of the immune system that affect chronic lung diseases.
Her research found that in patients suffering from uncommon pulmonary fibrosis of unknown origin, their immune systems have a variety of disorders that lead to immune cells attacking their lungs. The damages that accumulate over time turn into hard scarring that replaces normal lung tissue, impairing the lung's air exchange function.
"The result of the research has been used by Prof Steven Duncan, my teacher, to apply therapies or drugs that eliminate or inhibit the production of new antibodies to treat patients with severe pulmonary fibrosis," she said.
"Clinical experiments show very satisfactory results. About 50 percent of serious patients under the treatment of the professor have shown improvements. Some people who seem to be dying can get up and walk," she said.
However, Thi did not continue the project for her postdoc research. She decided to shift to do research on the application of AI in biomedicine. She no longer carries out experiments at biochemical laboratories, but does mostly programming at the computer.
"There is a bitter truth that the percentage of successful research in biomedicine laboratories, as well as other experimental sciences, is very modest. About 90 percent of projects of new researchers fail. There are researchers who still cannot gain achievements after five years to complete their doctoral course," Thi said, explaining her decision.
Another reason that led to her shift was that she believed she could help many people more directly and quickly with her current work – using AI in medicine to treat patients suffering from uncommon diseases, than by implementing biomedical projects as she did in the past.
Previously, her research was in severe and uncommon chronic lung diseases, including pulmonary fibrosis of unknown origin which has the rate of 1/10,000 people a year.
Now her research is applied to very rare diseases, with only few individuals in the world have, mostly because of genetic causes. The symptoms of the diseases show very early. Patients' relatives come to precision medicine institutes to find the answers why their children have the disease.
Liberal education

"I believed that studying at the (liberal arts) school would promote my abilities. If I had studied at a normal school, I would not have followed the path of doing scientific research that I am doing now because of the common thought that women should study economics, trade or finance,"
Tran Nguyen Kim Thi
Fifteen years ago, Thi, who was a ninth grader at a small school in Di Linh, Lam Dong province, decided to leave her hometown for Da Lat City to study at the city's school for the gifted.
After finishing high school, she passed the entrance exam to the Foreign Trade University, a prestigious school. However, she left the school after one semester, which was a shocking decision in the eyes of her friends and relatives.
She then spent time on learning English, attended standardized tests, prepared essays and searched for information to apply for full scholarships.
Thi chose St John's College, a liberal arts school, which offered a scholarship of $200,000 for four-year study.
"I believed that studying at the school would promote my abilities. If I had studied at a normal school, I would not have followed the path of doing scientific research that I am doing now because of the common thought that women should study economics, trade or finance," she said.
When following tertiary education, Thi spent her internship at a lab on immunology because she once suffered from an autoimmune disease.
"When learning about my disease, I read a lot of documents and found it very interesting, so I decided to study immunology in the second year at school," she recalled.
Thi got a letter of introduction from a teacher, which helped her obtain a scholarship.
When asked if it was hectic doing and studying many things, she admitted that she sometimes felt giddy.
"However, modern society needs people with specialized knowledge and broad knowledge. It would be better if you have deep and broad knowledge. For me, broad understanding both helps society and makes my life more interesting," she said.
Thi's life can be seen in her images of a young, healthy woman on her personal page. She travels, does physical exercise, participates in festivals, and has a special passion for dancing.
Because of her appearance and personality, she sometimes has trouble because she "does not look like a researcher".
"Asian people are thought to study well, work hard, have few opinions, and be reserved. But I don't look like this," she explained.
Thi is now striving for a balanced life and doesn't spend all her time on her career.
"I believe that I will learn all my life. I realize that what I like to do is to learn. But this doesn't mean that I have to study at school, because there are many ways to learn. You can learn something from an article in a fashion journal," she said. 
Ngan Anh - Phuong Thu

Nguyen Thi Lan Huong, 43, resigned from her post as a dean to which she was appointed at aged 27 to begin a new path of research about tertiary education.

As a scientist with 15 US patents, becoming a senior manager of a research and product development group at a corporation with revenue of nearly US$20 billion, Dr. Cong admitted he didn't know what major to pursue when he was younger.