Tu Doi villagers, every year, go on the hunt for field mice, which is considered a delicacy here.
With around 3,000 households, the settlement of Tu Doi (previously an ancient village in Kien Quoc commune, Kien Thuy district, Hai Phong) is famed for its diverse goods, but boiling rat flesh is the most popular meal.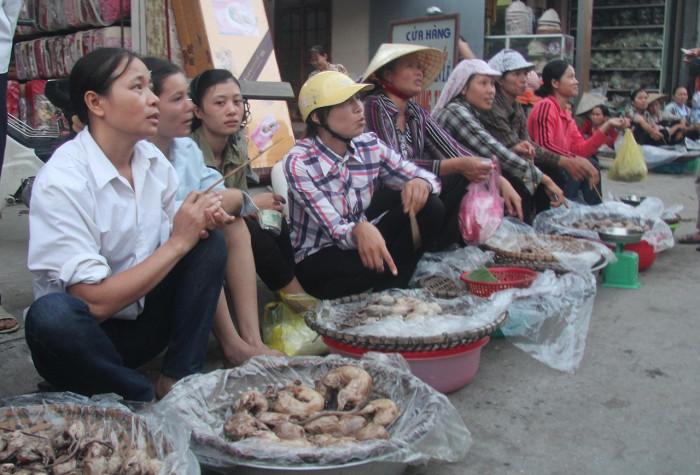 Boiled mouse meat sold at Tu Doi market, Kien Quoc commune (Kien Thuy district, Hai Phong).
At the entrance of Tu Doi market, a huge number of boiled mice are on sale in the early days of November. Mouse meat may be found at more than 20 vendors throughout the whole market.
"Covid-19 pandemic has affected people so the mouse meat here was marketed at around VND 100k, a lower price than usual. Normally every year, it was as costly as beef, VND 200-250k/kg," said a seller.
In Tu Doi, the mice hunting season coincides with the rice harvesting season. Mr. Dao Quang Long, a villager, claimed that there are a lot of mice in the nearby fields, but people have to go a long way to get the best mice because they fear mingling with mice.
Holding a small spade, Long attentively walked along the fields. As soon as he stopped and went down to the edge of the field, Long pointed to a dry cave with a cup-sized opening and many footprints showing the clawing and scratching back to the cave.
Shredded straw twisted together at the cave's entrance serves as a camouflage to hide the entrance. Using a shovel, Mr. Long discovered that the cave was split into several niches which normally are separated into three primary directions: the hole for birth, the main mouse-hole, and the oblique escape path.
Long leaped to the right of the "escape door" dug by mice beneath a huge boulder. He listened intently with his ear pressed to the ground before erecting a nylon net suspended from a basket to block the cave's entrance. Afterwards, he lit a fire to let in the dense smoke from the entrance. Soon after, a dozen 'coughing' mice dashed into the net.
When mouse meat was in high demand, each field session might bring in several million VND. He's currently selling mice for VND 120k/kg at home, and they are not even available in the market because they are highly sought after. Many of his buyers had to make reservations in advance since they were purchasing them to entertain visitors.
Myths about Tu Doi mouse meat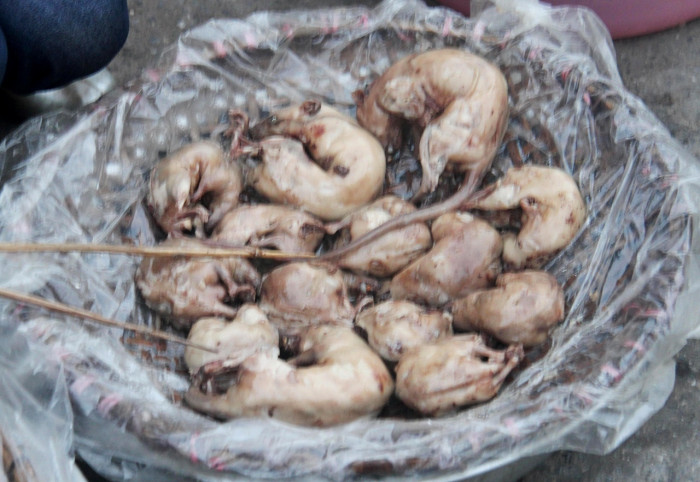 One of Tu Doi's most skilled "mouse hunters," Mr. Pham Hoang, explained that catching a mouse is crucial, but processing it is even more important.
Once they have been boiled, mice will be marinated in special leaves on bamboo stalks for the night. To serve, people cut the marinated mice that have turned firm into squares, slicing fresh lemon leaves and sprinkling on top white salt and red chili powder.
Mr. Hoang said it is true that Tu Doi people are fond of mouse meat, preferring it to chicken meat, but they only consume mouse meat marinated in leaves and do not eat newborn mice or raw mice, as is the case with many myths about the mouse meat history of the village, including the story that people here make mouse spring rolls, mouse salad, and so forth. These are not genuine. Also, Tu Doi villagers have no idea what people do with the boiled mouse flesh that buy and prepare at home.
"Only during the rice harvest season (September and October of the lunar calendar) are new mouse meat served in Tu Doi. Mice consume a lot of rice during this time of year because they need to build up fat to keep warm. Their flesh is nice and firm. Mouse meat is a delicacy that cannot be compared in this village. Visitors to Hai Phong are recommended to try it once," Hoang said.
"Field mice are a traditional food of the Tu Doi and the Kien Thuy region in general. It is a once-a-year gastronomic experience. As well as providing economic rewards, mouse capture also protects crops from rodent devastation, which is why field mice are sold, displayed and welcomed by locals and tourists alike at Tu Doi market during the rice-growing season." said Mr. Ngo Minh Khiem, Deputy Director of Culture and Information Office in Kien Thuy district.
Le Ha
Raw fish salad is not strange in Vietnam, but through a special recipe of the people of Nam O fishing village in Lien Chieu District, Da Nang City, it can become an "addictive" dish.