Following her gold medal at the 30th Southeast Asian (SEA) Games in the Philippines, weightlifter Vuong Thi Huyen has set her sights on the Tokyo Olympics later this year.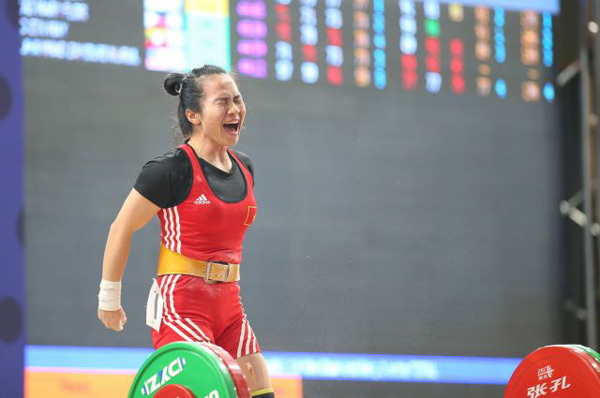 OVERCOME: Weightlifter Vuong Thi Huyen bursts into tears following her performance at the 30th SEA Games. Photo daidoanket.vn

The Bac Giang Province native will compete in the World Cup 2020 to be held in Rome, Italy on January 27-31 and the Asian Weightlifting Championship in Kazakhstan on April 16-25 to seek her berth.
"I am happy with the SEA Games gold medal which I took in the Philippines but I won't stop. My next goal is to gain a slot to the 2020 Tokyo Olympics so I won't stop training and will try my best," said Huyen.
According to International Weightlifting Federation rules, the lowest weight category to compete in the Olympics for female athletes is 49kg, which puts Huyen at a disadvantage, as she competed in the 45kg event in the Philippines.
"To compete in the Olympics, athletes must conform to all norms of the event's organising board. That is to compete in at least two Olympic qualifying events. So Huyen will compete in the two upcoming tournaments to qualify for the Olympics," said Do Dinh Khang, head of weightlifting section of the National Sports Administration.
The World Weightlifting Cup will take place on January 27 so Huyen won't be able to celebrate Tet (Lunar New Year) at home.
"It is the first time I won't celebrate with my family, however, I will make every effort because I have a national task," she said.
A gift for a late father
At the SEA Games at the end of last year, Huyen overcame pressure to take gold in the women's 45kg with a 172kg total lift.
The result was better than her Asian Weightlifting Championship's performance in which she won gold with 168kg.
"It was a wonderful achievement in my sporting career. I want to give this medal to my fans, training staff and especially my late father. Although my dad died, he still added strength and a driving force for me to surpass all my rivals," said Huyen.
"I have waited for this glory for a long time. It has given me great happiness. I have won both world and Asian gold medals, but it is my first gold medal in a SEA Games," Huyen added.
According to coach Nguyen Manh Thang, when his team were training in China in November, Huyen learned that her father had passed away suddenly so she asked him to return home to mourn him.
And after only three days of mourning, Huyen returned to China to train.
"I knew Huyen had to face her pain to train and compete as well as shoulder the burden of bringing the weightlifting team a gold medal in the Philippines. Huyen faced a great upheaval but we had full confidence in her skill, spirit and professionalism," Thang said.
The joy of winning a SEA Games gold medal left Huyen sobbing violently as she had overcome great obstacles and could now offer her late father a meaningful gift.
Six years ago, Huyen also suffered the pain of losing her mother when she had just been called up to the national team.
"In 2013, when I had just been with the national team for several days, my mother died. At her point of death, my mother told everyone not to tell me, so I didn't see my mother for the last time. After that, I often cried during training as I loved her very much and didn't get the chance to show my gratitude to my mother. The more I loved her, the more I trained. I wanted my mother to smile down from heaven. Now I believe my parents can be proud of me," Huyen said.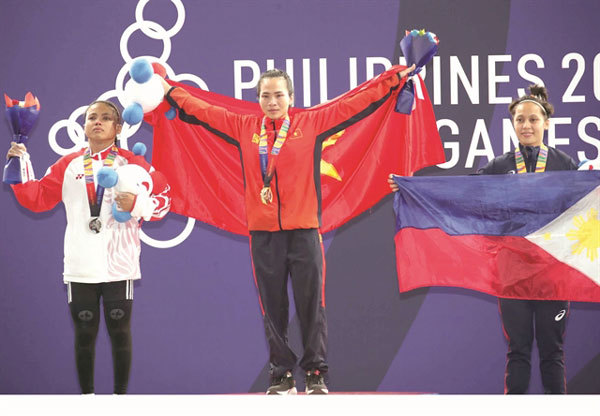 GLORY: Vuong Thi Huyen (centre) celebrates her SEA Games gold medal. Photo thethaohcm.vn
 
Hard training
After bagging regional gold, Huyen rushed into training immediately in the Philippines to maintain her physical strength.
"I don't want to take a rest. I want to earn a ticket to Tokyo," Huyen said.
"I missed a place to the previous Olympics so I'm determined to have it this time."
After the SEA Games concluded on December 11, Huyen competed at the National Weightlifting Championships in Da Nang in which she easily won the women's 45kg category with gold medals in the snatch (76kg), clean and jerk (93kg) and total (169kg) without getting out of second gear.
"I trained again after the national tournament. As I will compete in the 49kg category in the upcoming international events so I will be allowed to eat and drink comfortably. My task is training, maintaining and developing my results," said Huyen.
Achievements
Born in 1992 in a farming family in Tien Bo Village, Tien Thang Commune, Yen The District, Bac Giang Province, Huyen began training for Vietnamese martial arts in a club at the age of 15. A year later, she was selected to the national junior weightlifting team.
In 2012, Huyen became the top Vietnamese weightlifter in the women's 48kg in junior events.
In 2014, she broke the old record of 176kg at the National Sports Games with a new record of 181kg.
In 2015, Huyen became the first female weightlifter of Hà Nội to win Asian gold medal in the 48kg division. Later that year, she won two silvers and one bronze at the World Weightlifting Championship in the US.
In 2016, Huyen was among 23 Vietnamese athletes to qualify for the Rio de Janeiro Olympics.
Last year marked an outstanding performance for Huyen as she took three Asian gold medals; two golds and one silver at the World Cup, one bronze at the World Weightlifting Championship and her SEA Games gold. VNS
Thanh Nga

Ten outstanding young Hanoians will be honoured at a ceremony to be held by the Ho Chi Minh Communist Youth Union's Hanoi chapter on January 7.

Weightlifter Vuong Thi Huyen on April 21 earned three gold medals at the ongoing 2019 Asian Weightlifting Championships in Ningbo, China.