Five female provincial Party Committee Secretaries have made strong commitments and shown their priority issues while running for election to the 15th National Assembly (NA).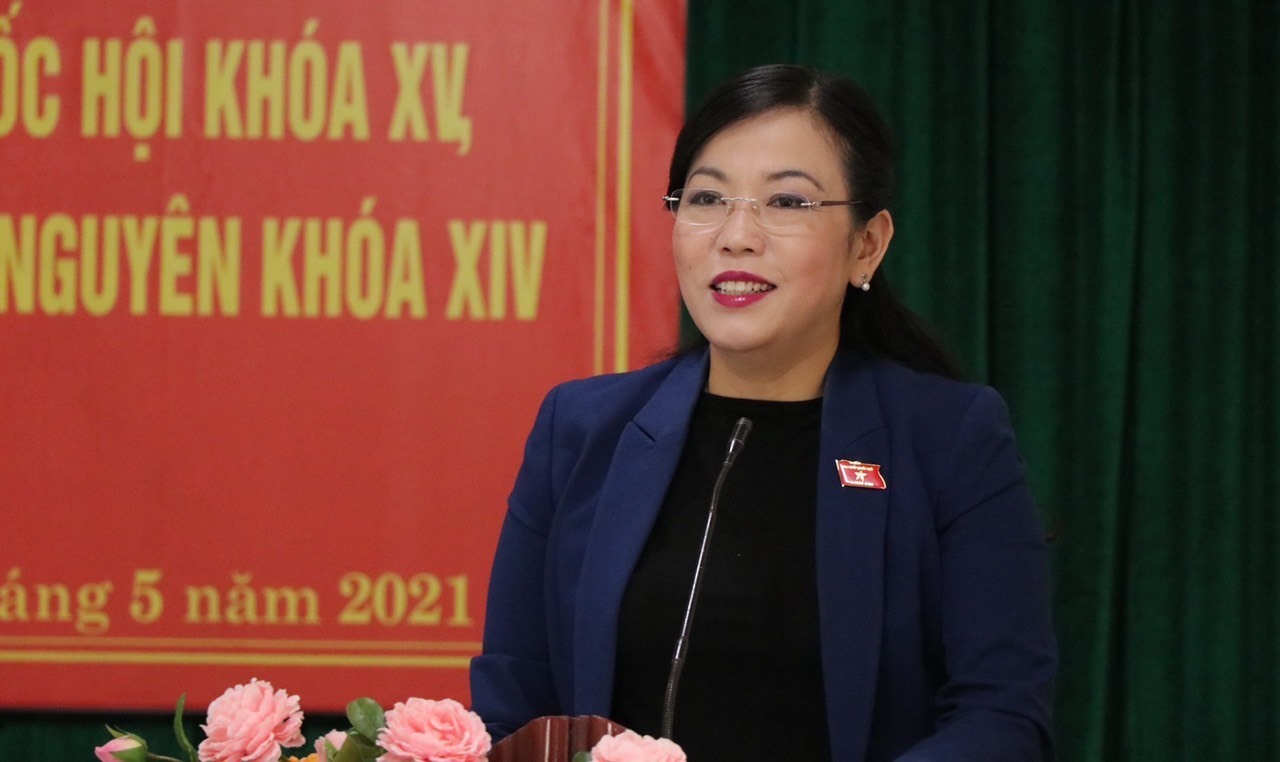 Thai Nguyen provincial Party Committee Secretary Nguyen Thanh Hai
Of 40 provincial Party Committee Secretary standing as candidates for the posts of the 15th NA Deputies, five are women. They are Ninh Binh provincial Party Committee Secretary Nguyen Thi Thu Ha; Thai Nguyen's Nguyen Thanh Hai; Bac Ninh's Dao Thi Hong Lan; Vinh Phuc's Hoang Thi Thuy Lan; and Lai Chau's Giang Pao My.
Ninh Binh's Nguyen Thi Thu Ha committed to contribute to the institutionalization of the Party's guidelines in building the political system, especially cadres at all levels, if she is elected.
Ha also wishes to contribute to the development of legal system and policies to promote growth and take care of people's lives.
She promises to contribute to continuing the innovation and improvement of supervision activities, with focus on monitoring major and pressing issues in socio-economic life such as the supervision of land and resources use management, and environmental protection in industrial parks and urban areas.
Ha, who was once chair of the Vietnam Women's Union, has great concerns about the issues related to women's advancement, gender equality, families and children. As head of the 14th Delegation of NA Deputies, Ha promises to continue acting as the bridge between the province and ministries, central branches and departments.
Thai Nguyen Secretary Nguyen Thanh Hai commits to focus on research and actively participate in the development of policies and laws that fit local conditions and social life, thus contributing to the development of the home province which targets becoming one of the modern economic and industrial centers of the Northern midland and mountainous region and the Hanoi region by 2030.
Hai commits to spend adequate time to meet, listen and collect opinions, thoughts, aspirations and legitimate recommendations from voters. At the same time, she will supervise the implementation of the Party's guidelines, State laws, NA resolutions, and issues of voters' concern such as health, education and other policies, and the fight against corruption.

Five female provincial Party Committee Secretaries have made strong commitments and shown their priority issues while running for election to the 15th National Assembly.
The Thai Nguyen Secretary also wants to contribute to finding solutions to overcome shortcomings, limitations, and obstacles in socio-economic development in the locality; actively participate in building policies to protect the legitimate rights of women and children, including training, fostering, planning, rotation, promotion and appointment of female cadres.
She also cares about accelerating administrative procedures and digital transformation, and wants to build a contingent of cadres, civil servants and officers at all levels, who are capable and prestigious, and regularly practice public service quality and ethics.
She will strictly handle cases of violating public service ethics to minimize and eliminate harassment and wrongdoings in public service performance in Thai Nguyen province, taking people's satisfaction as a goal for public services. It is also one of the criteria for assessing cadres, civil servants and public employees.
Bac Ninh's Secretary Dao Hong Lan pledges to always be a faithful and reliable representative of people in the country and voters in the province; and regularly stick with units, agencies and voters in the province to listen, collect and truly reflect the people's thoughts, aspirations and intelligence for submission to the NA, the Government, Party's agencies and government at all levels.
Regarding matters under her responsibility and authority, Lan will settle problems urgently and resolutely, ensuring the legitimate and lawful interests of people.
She also promises to try to understand the general situation of the province well; strengthen the connection between the central authority and Bac Ninh province; improve the leadership capacity and fighting strength of the Party, build the Party and administration, the Fatherland Front and socio-political organizations, and make them pure, strong and effective.
She will also apply solutions to continue economic restructuring, focusing on agriculture and new-style rural development, together with industrial development as well as create breakthroughs in trade and service development. In the immediate future, the province will focus on implementing measures to prevent and control the Covid-19 epidemic.
Vinh Phuc's Hoang Thi Thuy Lan will propose strategic content initiatives for the development of Vietnam in general and Vinh Phuc in particular towards sustainability, and inclusion, creating opportunities for all people to participate and contribute to the construction, development and mastery of the economy.
She pledges to put people at the center, not to leave anyone behind in development, especially disadvantaged groups in society.
Lan pays special attention to social security, health care, education, transportation infrastructure development, clean water, especially in rural and urban areas. She also commits to support initiatives to create stable jobs with high incomes for people.
She plans to reform the social insurance policy, especially the pension system for old people, all-people health insurance. In the immediate time, she will propose expanding health insurance to children aged six to 16 under the Law on Children.
Lai Chau's Secretary Giang Pao My promises to fulfill the responsibility assigned to elective deputy well.
She wishes to improve the quality and effectiveness of the 15th NA Delegation's activities, affirming that she will maintain contacts with voters as needed, especially voters in remote, border, and ethnic minority areas; and spend time listening to voters' thoughts and aspirations to forward to the NA, the Government, ministries, central branches and local competent agencies.
At the same time, she will monitor and urge the timely settlement of legitimate petitions of voters; strive to perform the duties as the representative of voter's interests, will and aspirations, thereby contributing to improving the lives of the people, making the province richer, more beautiful and more civilized. 
Thu Hang

To succeed, the first breakthrough a nation needs is institutional reform and laws. For Dinh Tien Dung, who has been elected as Hanoi's Party Secretary, this coincides with his view.

Many roads in Hanoi have been decorated with panels, flags, banners, and propaganda slogans for the election day of the 15th National Assembly and all-levels of People's Councils for the 2021 to 2026 tenure, which will fall on May 23.