Is it possible to go back in time without a time machine? Nguyen Duc Loc, a Vietnamese 9X, travels to the past everyday as he restores ancient Vietnamese attire worn hundreds of years ago before his grandparents were born.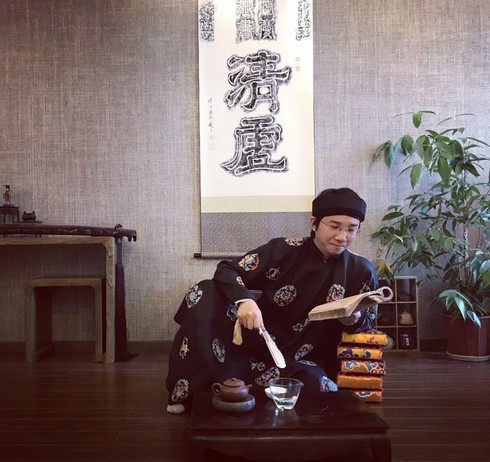 Former cameraman Nguyen Duc Loc wears the traditional Vietnamese Ao Dai for men that he restores.

Loc even established a company to pursue his passion of bringing the past back to life.
Having years of experience in film and television, Nguyen Duc Loc suddenly changed his career path to ancient wardrobe restoration based on his love for Vietnamese culture. He found like-minded souls along the way, and gathered a group of young people who shared his interest.
"It's very interesting to see that young Vietnamese are becoming more and more aware of their national identity. I believe it is our mission to uphold what our ancestors left behind for us," said Loc.
Together with his friends, Loc established the Y Van Hien company, which focuses on the research and restoration of ancient Vietnamese clothes that were worn hundreds of years ago.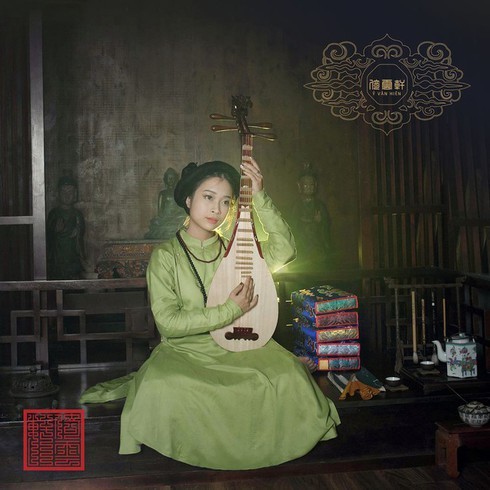 Vietnamese traditional Ao Dai. 
The company's goal is to preserve the core values and distinctive cultural features of Vietnam in the era of global integration.
As a startup, Loc was brave enough to enter a unique market that requires consumer knowledge and passion. The production process is no easy task, either. 
"Our process is far different from any ordinary production process. It involves lots of research. It takes much more time and effort than designing any other products," said Nguyen Van Hieu from Y Van Hien's product development research department.
Restoring ancient clothes is undoubtedly difficult, as there are many different kinds of wardrobe, with royal, military, and civilian clothes. Each type is accompanied by accessories like shoes, sandals, jewelry, and hair covers.
Duc Loc aims to honor ancient Vietnamese values through the costumes, at the same time making them suitable for the modern pace of life. At Y Van Hien, there is attire for festivals, performances, and tourism purposes.
"For example, this is a five-layered dress, each of which is called 'toc'," Loc said, "This was a popular dress in the Nguyen dynasty. Everyone from civilians to lords and Kings wore it. But it differentiates between classes based on materials and patterns."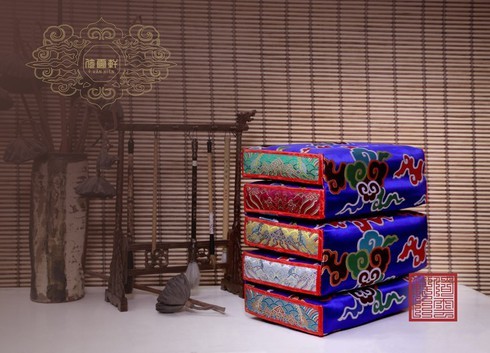 Pillows used in ancient palaces. 
The five-layered dress is being specifically designed for an upcoming cultural event in Quoc Oai district, Hanoi.
Thiep Thi Thu Huong, a tailor from the company, said, "I have been doing my job for 20 years, but this is a new experience for me as making ancient costumes is very different from making casual clothes. It is more sophisticated work."
The Y Van Hien company receives support from several renowned historians and cultural figures, such as Tran Quang Duc, the author of the famous book 'Ngan nam ao mu' (A thousand years of caps and robes), ancient art researcher Nguyen Manh Duc, and ancient jewelry restorer Vu Kim Loc.
One of Y Van Hien's special artisans is Mrs. Cong Ton Nu Tri Hue, the great great granddaughter of 19th century King Minh Mang. Based on her skills and memory, she has restored the pillows used in ancient palaces. She is partnering with Y Van Hien to restore more items and pass on her skills and knowledge to younger generations.
With the motto of understanding the past, embracing the present, and heading for the future, Nguyen Duc Loc aims to bring Y Van Hien's products to foreign markets to further promote the Vietnamese cultural experience. VOV