Abbess Thich Nu Duc Thinh of Long Cat Pagoda has overcome many challenges, but still insists that her role is to create a better future for poor children.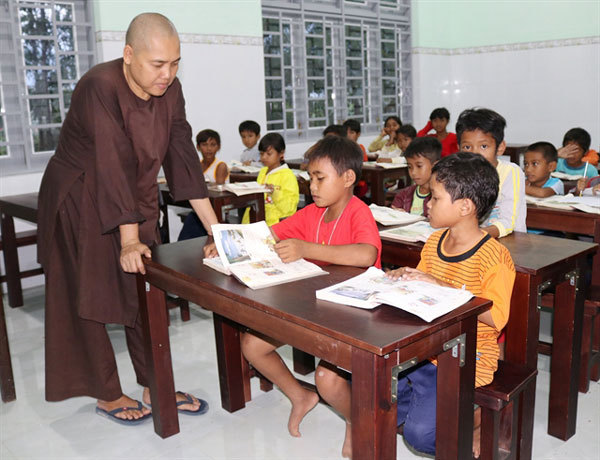 Abbess Thich Nu Duc Thinh and her students in the charity class. VNA/VNS Photo Nguyen Thanh
As the sun starts to set in Thuan Bac District in the southern province of Ninh Thuan, parents of the Raglai ethnic group can be seen taking their children to the pagoda for free lessons in the hope of giving them a brighter future.
Every Monday, Tuesday and Thursday, Katơr Thi Sanh from Cong Hai Hamlet takes her son Katơr Hoang Khuong, 10, to class at the pagoda.
Sanh said due to their tough situation, she and her husband were both illiterate, so they could not help with their kids' education. "My son, who is in grade four, had trouble following the lessons at school so we asked if he could enroll in the charity class," she said.
Kator Thi Hiem, a 5th grader, has another story to tell. "After finishing first grade, I had to drop out to help my family. Every morning, I take the cows to the fields and then take them back in the afternoon before heading to the pagoda. The nuns feed us before class, and all the teachers are enthusiastic and kind to me. They've given me an uniform and learning tools," said Hiem.
Nguyen Thi My Linh is one of those passionate teachers who feel compassion for the mountainous students.
"The class if made up of children from poor Raglai households whose parents cannot afford an education. There are some kids who can't read even at the age of 15. This is my third year here but each time it is totally different experience and I have to learn how to make things easier for my students to understand," Linh said.
In the 2018-19 school year, there are over 100 students enrolled from 1st to 5th grade at the pagoda.
Classes run from 5.30pm to 7.30pm, and the teachers are volunteers from the Cong Hai Elementary School who teach the national primary educational programme.
During the day, the teachers have full time jobs, but in the evening they teach maths, literacy and social skills, and encourage students to keep coming back for a proper education.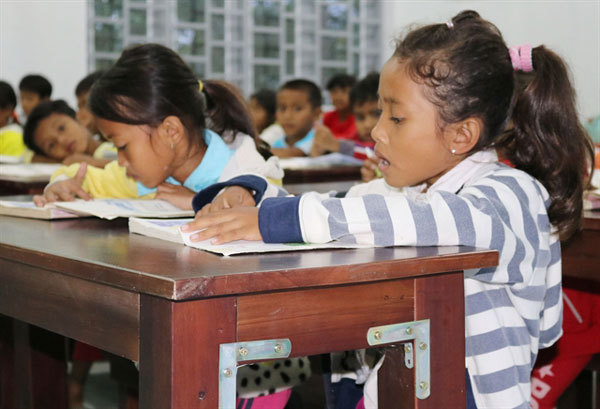 Poor students are encouraged by Abbess Thinh and Long Cat Pagoda's board to come to class regularly. VNA/VNS Photo
If a student is absent from class, Abbess Thinh and other teachers will travel for miles up to persuade them to return to school.
Abbess Thinh said that at the beginning of 2002, she found there were many local children who were illiterate and had trouble reading and writing.
"When they went out to work with their parents, they had no time for school, so we decided to set up free classes and called for volunteers. It turned out the teachers liked the idea, and now we have hundreds of children attending our classes every year," she said.
"Our work is based on the slogan: 'Give a man a fish and you feed him for a day; teach a man to fish and you feed him for a lifetime.' If we donate money or gifts to local people, they will spend it in a day. We want to create a long term future so that the children can learn to read and count so that when they grow up, they will have a better future."
Before starting class, the children enjoy a dinner or a bowl of instant noodles. They are also provided with books, pens and uniforms. On special occasions such as Lunar New Year festival, the pagoda also hands out clothes and footwear to help lessen the burden.
Mai Duy Bang, chairman of Cong Hai's People's Committee, said the pagoda was eager to assist the local community by eradicating illiteracy. Many of the students were now motivated and studying hard to get into higher education. Local authorities were always open to benefactors who supported the pagoda to help needy families.
Although there are many challenges ahead, Abbess Thịnh keeps telling herself to do her best for the pagoda and the people around her, and the results speak for themselves. Her 17 years of effort have helped many children's dreams come true and created a spark for education in this mountainous region.
Nguyen Thanh
VNS
RELATED NEWS
Free English class for children at pagoda
Free classes at pagoda teach Han Nom script to youngsters